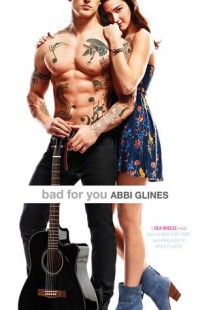 Bad for You (Sea Breeze #7)
by Abbi Glines
Purchase on: Amazon, iBooks, 
Book Depository
Add to: Goodreads


*4.5 STARS!*
I haven't read an Abbi Glines book in so long and I guess that's because and I'm going to hate saying this but the last couple books I had read, I just felt they was rushed and the same storyline as the rest, I decided to give this a go because I do adore Abbi's work. She definitely has a talent! Finally I have fallen for another one of Abbi's books!!
Bad For You was devastatingly lovely and raw! It had my emotions all over the place and at times I literally hurt for Blythe and Krit. They was both broken but never showed it to anyone they pretended they was happy and fine when really they was so lonely and falling apart.
Another thing about Blythe: She made me feel important. Needed. Like I was part of her life that she relied on. That felt good. Too good.

What's this story about?

Blythe has had a very hard upbringing, her young Mother died while giving birth to Blythe and she never knew who her dad was. The pastor and his wife of the church her Mother used to go to brought Blythe up, well I say brought her up but they didn't care for her,  Mrs. Williams (Pastors wife) was nothing but cruel to Blythe mentally and physically, Pastor Williams saw and heard it on occasions and yes he would stop Mrs. Williams but behind his back she still carried on and obviously he knew it was happening! Blythe leaves that house after a few things happen which I don't want to say too much, she moves to Sea Breeze where an apartment and job is waiting for her, this is where she meets Krit he lives in the same building as Blythe and first sees her when she is spinning around and around in her new home feeling free for the first time. Blythe is very innocent and pretty much scared of her own shadow but as the story goes on you see her getting braver and stronger thanks to Krit helping her and being the friend she has always needed. Krit has also had a sad past and has never truly felt wanted, he fell in love with a girl once who didn't love him back and since then he's kept a wall up and not let anyone in. He uses girls for one night only never more. He's forever trying to figure out why Blythe can't see how beautiful and kind hearted she is.
"Do not ever, ever, say that again. Do you understand me? Don't ever." I swallowed hard and took a deep breath. I had to gain control of my emotions. "You make everything better. Why can't you see that? Who fucked your head up so bad that you can't see how amazing you are?"
There was no insta love, this story starts with them being friends then to lovers, it's a slow build and at times frustrating but nothing too much. Of course we get the steamy parts, it wouldn't be a Abbi Glines story if we didn't *happy dance*! One thing I love about all of Abbi's books are they are easy reads with a lot of emotion and I can never put it down until I have read it all, they are so addictive.
I adored Blythe, she was innocent and at times naïve but with the upbringing she had you wouldn't really expect anything else. I never once got annoyed with her because to be honest the girl honestly broke my heart and I just wanted her to find the love she deserved. She saw the good in Krit and was forever trying to get him to believe that actually he was a great, loving guy. It was so lovely to see her trying to fix him and wouldn't give up.
"For what it's worth, I don't think you're fucked up. I think you're perfect too."
I loved Krit, yes he was a messed up hero who made mistakes and said things or acted a way he shouldn't but he was dealing with emotions he has never felt before and he just felt he didn't deserve some one as good and sweet as Blythe. He was hot-headed, possessive, quick tempered but also caring, sweet and patient. My gosh did that boy make me swoon, I had butterflies in my tummy from beginning to end.
I was completely obsessed with her. Addicted wasn't a strong enough word. She had surpassed my addictive tendencies, and I was full- blown obsessed. There was nothing I wouldn't do for her. All she had to do was ask. I would give anything up just to get to hold her like this again.
I noticed a few people didn't love the ending and I can see why as I think maybe the extra drama wasn't needed but it didn't bother me too much, it didn't last long and I knew I would get the happy ending I was dying for soon enough.
"You don't just fit into my world, Blythe. You are my world."
Really hoping Green (Krits best friend) gets a story of his own, I kind of love him! 🙂
Related Posts