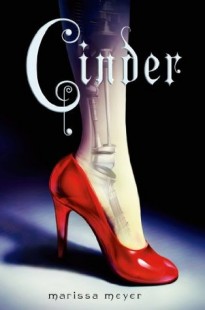 Cinder (The Lunar Chonicles #1)
by Marissa Meyer
Purchase on: Amazon, iBooks, 
Book Depository
Add to: Goodreads


*4.5 STARS!*
When I first picked up this book I had no clue what to expect.. Cyborg futuristic moulded in with Cinderella.. hmm, so I gave it a chance not knowing whether I would get it or not and fortunately I did get this and surprisingly loved it! Once I started it, it was very hard to put down.
While her sisters were given beautiful dresses and fine slippers, Cinderella had only a filthy smock and wooden shoes.
Ok so what's this story all about.. Cinder is a normal 16 year old except she is a cyborg.. half human half robot, where she lives not many people accept cyborgs so when Prince Kai goes to her shop to have something fixed she doesn't tell him she is a cyborg and hides all her metal parts i.e hand and leg.
He was the fantasy of every girl in the country. He was so far out of her realm, her world, that she should have stopped thinking about him. And yet, the memory of his fingers against her skin refused to fade.
Prince Kai finds Cinder to be refreshing and easy to talk to which he hasn't found in other people, so what will happen when he finds out she is a cyborg?
Not only is there the cyborgs but we also have Lunar which is a different planet of people that are magic and can make the humans see them the way they want and can brain wash people into getting what they want.
This book has so many twist and turns with different plots you would never even imagine. Its hard to explain them all with out spoiling it and I really think if you want to read this you should go in blind as the surprises really will WOW you.
The whole Cinderella twist to this with Cinder not telling Prince Kai the truth and her awful stepmother and sister was an added bonus to it! You had the one step sister that was lovely to her and was really her only true human friend.
"I think you should go to the ball with me."
Anyone who fancies a book completely out of the usual then they really should try this. You have the forbidden romance with action, disaster and a very clever storyline.
I cant wait to read all the books in this series and to see how far this authors imagination goes.
Related Posts