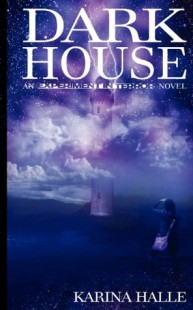 Darkhouse (Experiment in Terror #1)
by Karina Halle
Purchase on: Amazon
Add to: Goodreads


4.5 CREEPY, INTENSE, AWESOME HERO AND HEROINE STARS!
"Somehow, by dealing with the dead, I had never felt so alive."
I started this book a while ago and for some reason I couldn't get into it, maybe it was because I was busy through Christmas but whatever it was my mind just wasn't in it so I stopped. Ever since I stopped this book it has been on my mind, I needed to try again as I knew I was missing out on a potential favourite series. I am so pleased I tried again, this time I connected so well with the heroine and hero. I loved the story line and all the creepy bits, I read this book in less than 24 hours. I know I am going to be obsessed with this series. Just shows that sometimes your mind isn't into certain books and you just need to give it another chance.

I can see Perry being an all time favourite heroine she's funny and sassy. I loved how the author wrote her to be brave but also scared when anything went bump in the night, it made things more realistic when she would scream or jump. I also love that the author made her a normal pretty girl that isn't stick thing with perfect everything, just made it so much more real for me! I loved the chemistry between Perry and Dex I like how slow build this romance will be. Perry reminds me a lot of myself especially the bits she banters with her younger sister, at times those two made me laugh out loud thinking my gosh that's me and my sister.
"That I have swine flu! Goddamn it, Perry. Don't you listen to a thing I fucking say?" Though I had an admitted potty mouth, I still winced whenever my "sweet" young sister dropped the F-bomb. "Sorry. Continue."
Dex is an odd character and not your usual hero but I cant help but love him already. Some things he did for instant leaving Perry in a creepy lighthouse was to me chicken shit and a little cowardly but other things he did I liked which was be caring and protective towards Perry he hated if anyone said a bad thing about her. You can see that he is attracted to Perry but not too much yet as he has a girlfriend but I think as time goes on the chemistry and sexual tension will get hotter and hotter.
"There was something so maddeningly intriguing about him. His voice, his eyes, his mannerisms, his intensity – I wanted to learn more."
I found at times this book was creepy but not scary it was intense creepy where I would get goose bumps and maybe look around the room or move my feet away from the end of the bed. Reading this series at night will not be wise! The bits in the lighthouse I actually loved I'm one of these people that likes getting a bit creeped out. When they was in the lighthouse the author did such good work in making you imagine it like you was there. You was scared for Perry to turn around and you didn't want her to go upstairs. All the doors banging and the thumps of feet running around was super creepy but so well thought up. Even though it was so intense something would happen and Perry would scream or Dex would jump and you just couldn't help but laugh. It was good it wasn't all creepy and you had light hearted bits as well.
There was a bit in this book where Perry got lost and stumbled in the woods. I have this fear of getting lost in the woods (don't ask) so my heart just went crazy and I was literally scared for her. I cant fault anything in this book and I know they are going to get better and better.
On to the second one now. I have a feeling this series is going to consume me. It's already all I think about. I cant wait to see what's going to happen next. Yes my lamp next to the bed will forever be on while reading these books!
"You scare me, Perry," he growled and gave my arm a sharp squeeze. "You".
Related Posts