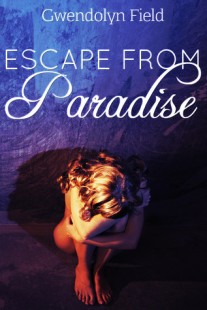 Escape from Paradise (Paradise #1)
by Gwendolyn Field
Purchase on: Amazon
Add to: Goodreads


WOW.. 5 INTENSE, GRIPPING, HEART WRECHING, SHOCKING AND AMAZING STARS!!!
This was just awesome, a book I will never forget!
What I loved about EFD was how different and realistic it was to all the other books about the girls that got kidnapped and turned into sex slaves but then turned into captor to lover which don't get me wrong I love, they are pretty much my favourite type of books to read. With this story it shows you that actually if someone did get kidnapped to become a sex slave and to live in the sex trafficking industry the possibility of falling in love with your captor is very low. You could be captured by the most ugliest of monsters but either way your emotions will always get twisted as these monsters will play with your mind by torturing you and then comforting you after! The author brought me away from the whole captor to lover fantasy and showed me the really dark life that sadly does exist in reality! For that reason I found this book much darker and much harder to read in some places!

I loved Angela. Poor, poor girl went through so much. To think your life you used to live was gone and you was trapped to become something that made you feel physically and emotional ashamed and yet be so strong and try to keep a normal head and not go crazy for me would be impossible.. I loved that we really got to see into her head through those two torturous years of living in that hell! Angela is definitely one of my favourite heroines I have ever read.
Colin.. Wowie that guy went through a lot and the fact he came out of it the other side to help people and try to save them was amazing. I couldn't wait for him and Angela to finally meet. I got butterflies! I felt it was kind of an insta love but one that didn't bother me in the slightest. After having half the book with mostly dark and grittiness I couldn't wait for the romance to come although I didn't miss it in the first half as there was just so much going on!
The ending for me was so good although something in the end that I didn't see coming really did upset me, even with that I still loved the ending and the epilogue. This whole book was EPIC!
I cant wait for Joesf's book to come out I liked him a lot he was such a sweetie towards Angela and a real friend! I'm hoping more books will come out for some of the other characters as well!!!
Well done Gwendolyn Field, you wrote a truly amazing book and I cant wait to read more of your work!
Purchase on Amazon

Related Posts