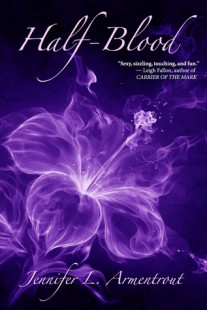 Half-Blood (Covenant #1)
by Jennifer L. Armentrout
Purchase on: Amazon, iBooks, 
Book Depository
Add to: Goodreads


5 AWESOME, GIVES ME BUTTERFLIES STARS!!
"You will kill the ones you love. It is in your blood, in your fate. So the gods have spoken it and so the gods have come to foresee it."
Half blood is different to all the other paranormals I have read. It wasn't the usual vampires and werewolves this was about gods and daimons. I could not put this book down!!
I was totally hooked to this after the first page and knew I would love it after Alex made me laugh straight away, her humour was so funny she was brilliant, feisty and sassy. I couldn't help but laugh out loud at her one liners..
"I'd be super-pissed in the afterlife if I died a virgin in this craphole."
Aiden is now a top BBF he is so swoon worthy, I fell in love with him instantly. He is exactly how I love a hero.. slightly moody, possessive and caring. I love the whole forbidden love, they cant be together as Alex is an half blood and Aiden is a pure and it is against their laws for them to be together which made the sexual tension epic!
"I wondered if his lips felt as good as they looked… because they looked awesome."
"You don't have anything to worry about, Alex. I'm not going to let anything happen to you."
Aiden is training Alex as she has been away form the Covenant for 3 years and needs to catch up before she is aloud back into the classes. They spend 8 hours a day training so not only have you got the hot sexual tension and chemistry but you also have the wicked banter between the two..
"I glanced down at the dumbbell and pictured it flying across the room-at his face. But it was such a nice face, and I'd hate to ruin it."
There was something always going on from training to fighting daimons to banter with the friends (who was all awesome) This story was epic and I know it will get better and better.
Certain things in this book broke my heart especially for Alex and I actually got tears in my eyes a few times. I just found Alex so strong she is definitely being added to me awesome heroines shelf!
Yes I think this will turn into a tiny love triangle now Seth has showed his face but I think Alex has fallen too deep for Aiden and so I wont have too much to worry about.
I am so excited to read Pure next and get more of Aiden *swoons*! Thank you Chelsea for going on about this series and finally getting me to read it!!
Related Posts