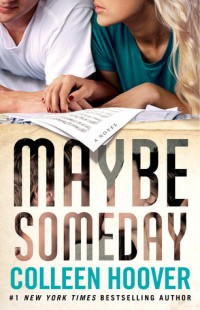 Maybe Someday by Colleen Hoover
Purchase on: Amazon, iBooks, 
Book Depository
Add to: Goodreads


*5+ STARS!*
I'm not sure what to say about this book, I feel whatever I say just wont completely sum up how fantastic this book is. I have never felt the intense emotions that I felt while reading this book before. Maybe it was listening to the music that Colleen had done (which is completely genius by the way!) or the whole twist that I just wasn't expecting but whatever it was I have never felt and maybe won't feel again.

What's Maybe Someday about?

Without giving too much away, this book is about Sydney and Ridge, they are both talented with music and have a deep love for it. Every night at 8pm Sydney goes out on her balcony to listen to ridge play his guitar, he doesn't sing and always plays the same songs. On one of the nights Ridge notices Sydney singing lyrics to the song he is playing and so he gets her number and asks to send the lyrics to him. Ridge knows that Sydney's roommate and boyfriend are having an affair and decides to tell Sydney. She has no where to go and so stays in the spare room at Ridges with his two other roommates. This is where everything gets interesting and lives start to change..
Before I go any further I want to say I DO NOT agree with cheating at all. I hate it, but for me this was NOT cheating, yes Ridge has a girlfriend who is absolutely lovely but Ridge and Sydney fight their feelings over and over again. They are torturing themselves and with most people not caring and end up giving in to their temptations Ridge and Sydney never do. I guess the things they may of said wasn't always appropriate but they both knew it and tried to stop. I think when you read this book you realise that sometimes you cant help who you fall for and even though you don't want to hurt other people you have to be honest. This book was a rollercoaster of emotions, it was beautiful and raw, intense and angsty but friendships was made and hearts was broken.
Be still, heart, please, be still. I don't want him standing here in front of me. I don't want him to be looking at me, wearing the expression that mirrors my own feelings. I don't want him to hurt like I'm hurting. I don't want him to miss me like I'll miss him. I don't want him to be falling for me like I've been falling for him.
At times I got mad and just wanted them to tell the truth and be honest with their feelings but then you will see while reading this, there is so many twists to this story that makes you realise why Ridge is holding back. That young lad is so selfless and would rather put other feelings first before his own. He loves his girlfriend Maggie but he's also fighting this chemistry with Sydney. He feels like his heart has been broken in half and one half is for Maggie and the other is for Sydney and he just doesn't know what to do. He literally killed me a couple of times and left me with tears streaming down my face.
There isn't a doubt in my mind that we could be perfect for each other's life, Sydney. It's our lives that aren't perfect for us.
Anyone wanting to read this just remember to keep an open mind leave all thoughts outside the door and jump in knowing some things will be hard and not everything you will agree with but you will realise why and how things like this does happen. I found this story incredibly beautiful and very moving. Colleen has been very brave writing this but to me it paid off, she has wrote a book that I will never, ever forget. For me this is my favourite book Colleen has wrote yet! Its been a week since I read this and I still think about it, plus it left me in a HUGE book hangover!
I could go on and on about this but whatever I say just won't describe how awesome and perfectly detailed this book is. GoodRead friends take a risk and read this but just know you are in for a hell of an emotional journey but jeez its worth it!
It's not easy when you're trying to win a war against the heart.
Related Posts