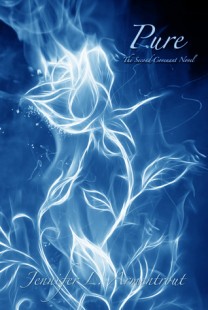 Pure (Covenant #2)
by Jennifer L. Armentrout
Purchase on: Amazon, iBooks, 
Book Depository
Add to: Goodreads


5 SUPERB, ACTION PACKED, HEART STOPPING STARS!!
This series just gets better and better!
I fell in love with Half-Blood and wondered how it could get any better. OH MY GOD Pure just doubled the amount of love I have for this series. I cant stop thinking about it.
Alex is the most AMAZING, SASSY, KICKASS heroine ever.. Not once has she annoyed me yet. With the whole love triangle going on in this book I seriously thought I would be frustrated or annoyed but I wasn't, I think that was because I know Alex loves Aiden with her whole heart and just kind of got mixed up for a bit with everything going on and Aiden pushing her away I totally understood her. Saying that its time Alex and Aiden sorted their shit out and just got together but I guess that's the whole greatness about this series its a serious forbidden love and it really truly is epic! I found Alex's one liners and fights with Lea just got funnier in this book. Alex never fails to make me laugh out loud!
"I didn't think the apple would break her nose."
I found with Pure we didn't see much of Aiden which in a weird way I didn't mind, we did see too much of Seth and even though I think he is decent, hmm there is just something not right I don't trust him a great deal and I have a funny feeling something will happen in the next book with Seth showing his true colours. Even though I don't trust Seth a great deal I did think in this one he really was there for Alex and supported her through everything that was happening and that's why I can see where feelings got blurred. Even though I am TEAM AIDEN I mean how can you not.. Some of the scenes with Alex and Seth was hot but I found them to be more just attraction and Alex just settling then sweet and heart stopping.
Now Aiden and Alex, WOW. Ok we didn't have a huge amount of scenes with them together but every time those two was together my heart started going so fast and I had a million butterflies taking flight in my tummy. These two are amazing together and it just breaks my heart. This is forbidden love at its best. Aiden pushing Alex away and knowing she is ending up in Seth's arms breaks my heart for Aiden. He is so caring, thoughtful, possessive and just a very decent guy. The things he did in this book for Alex was selfless and beautiful. I love the little things that happen between them both even if its just a sneaky hand hold or a kiss on Alex's head you can just see it means so much to them. The things Aiden said to Alex in this one just made me swoon and break my heart even more..
"I think… I'll remember how you looked last night for the rest of my life. Gods, you were so beautiful."
"I remember everything you say."
Then Aiden would say something that would just make me want to cry. He seriously accidentally ripped my heart out a few times in this book.
"You'll become the center of someone's world one day. And he'll be the luckiest son of a bitch on this earth."
Some things happened in this book that was just so sad and shocked me so much I had to stop. Some scenes I cried my eyes out and I'm still devastated and angry certain things happened!!!!
Pure was so mysterious, thrilling and action packed. It was fast paced and always had something going on. Not once was I bored or thought it dragged on. So many things I tried to guess what could be happening and I had to give up and just go on the rollercoaster ride. This series is shocking the hell out of me and I am loving it!!
❤ TEAM AIDEN ❤
"I was going to say 'stunning'. You're stunningly beautiful."
Related Posts