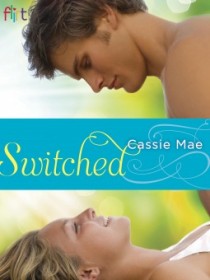 Switched by Cassie Mae
Purchase on: Amazon, iBooks
Add to: Goodreads


5 CUTE, LOVELY, FUNNY, SWEET STARS!!!
WOOOOOOW!!!!!!!!!!!!! This book was SHAMAAAAZING!
Sometimes I feel like reading a book that is YA, angst and drama free and Switched was perfect! It was a cute, fluffy and funny read.

I loved all the characters especially Wes everyone needs a funny person in their life he was perfect! Kayla was super awkward and reminded me of myself when I was at school *cringe* I loved her sarcastic and funny ways.
The whole time reading this book I was just waiting for the plan to completely back fire and turn into drama but it didn't. This book was so calm and refreshing. It was exactly what I needed and I had a grin on my face from the beginning to the end!
I was not expecting that little twist at the end which made me smile and laugh even more.
If you want a book that is full of fluff and a feel good book then you need to read this!!!
Related Posts