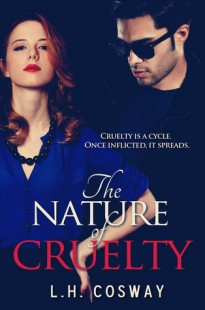 The Nature Of Cruelty by L.H. Cosway
Purchase on: Amazon, iBooks, 
Book Depository
Add to: Goodreads


3.5/4 stars!!
This book has been on my kindle for so long that I decided I would finally give it a try. I was fancying a easy, fun read and you do get that with this book but you also get a lot of urmm other elements..
This is about love/hate at it's craziest, Robert (hero) and his twin sister move to Ireland from London at age 14 when their parents divorce, Robert kind of rebels as he wants to be in London with his friends. When he first meets his neighbour Lana who is two years younger, he thinks she's pretty but straight a way her sister gets close to Lana and he hates her for it, he thinks if Sasha hated it in Ireland it would be easier to move back to London with their dad, so because of this he decides to make Lana's life a misery. You find out when his little POVs come that actually he fell in love with her but didn't know how to love or feel those kind of emotions so he ended up always being nasty. Now Lana is 22 and both Robert and Sasha live in London so Lana decides before she goes to college for her PHD she will go and stay with Sasha for the summer, not realising Robert is planning on staying at Sasha's as well!
"You were always something, but you really turned into a swan, didn't you, lana?" he whispers.
So I'm going to start with the hero, every time I have thought about Robert today I would either laugh or cringe a little, this is because although he was hot and had swoony moments, this book creeped me the hell out!!! Certain things he did was just not cool, he would take pictures of Lana when she was sleeping or look under her skirt.. for me that's just plain weird!
Saying all that he did have his good side and was rather sweet to Lana (in the end). Now he's older he has realised what he did and how he acted towards Lana was wrong and he wants to get her trust but to me he was going about it the wrong way (being creepy!) I also found him a little immature the way he spoke, he's supposed to be 24 but he was acting like a teen at times which just annoyed me.
Lana, I really liked her she found it hard when she was younger because deep down she loved Robert and couldn't understand why he was treating her so bad, he really was spiteful! She has the shock of her life when he starts acting decent and protective towards her, she doesn't know if he's being genuine or has a horrible game plan. At times I found her a little naïve but she never annoyed me. I did find it hard to feel any chemistry between them both but maybe it was the whole creepy Robert that ruined that for me.
After reading a lot of very angsty books this calmed me down, it was the perfect time to read this and I'm glad I did!
Related Posts