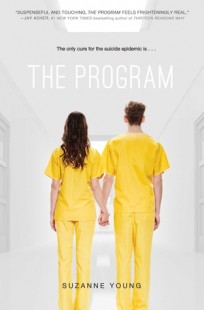 The Program (The Program #1)
by Suzanne Young
Purchase on: Amazon, iBooks, 
Book Depository
Add to: Goodreads


Usually when I love a book as much as I did with this one, I normally can't wait to write a review, things will pop in my head and I even just start writing things down in my notes if I'm busy. With this I couldn't do either of those things just because of the fact it is so hard to review. I actually feel like this could be the trickiest book to explain, this is because it's one of the most angsty, twisty, mind fuckery, heart-breaking, depressing and so out of the ordinary books I have ever read.
The first 13% to me was a tiny bit slow but it had a nice gradual build before shit completely hit the fan, I really want to try and express my feelings and go into detail without giving too much away or feeling like I have gushed too much.
Sloane who is the heroine, she goes to school and tries to act completely normal, why? well teenagers from the ages 13-17 are being taken away when they have risks or symptoms of depression. Who ever has these symptoms will be taken into the program where their memories and anything that made them sad, angry, happy will be wiped away, these handlers say it's like having a new life 'a clean slate' but what happens when they come out and they don't remember anyone or anything? Well Sloane wants to avoid this, she wants her memories, she wants to remember her brother who sadly committed suicide rather than being taken into the program, she wants to remember and be happy with her boyfriend and love of her life. Will she be able to keep on faking happy and normal even though this depression is grabbing her? Sloane was a strong heroine and even though everyone around her are either dying or being taken she tries her hardest to stay strong, or act strong at least.
"I know you do." he answers seriously. "And that's why I won't let anything happen to you. It's me and you, Sloane. Forever just us."
James, he was the one who tried to hold everyone together, to keep everyone strong, but what happens when everyone falls apart in front of him? His and Sloanes relationship Killed. Me. the times I had to pick up my broken heart and fix it while reading this book was just silly, the love they have for one another is so strong and beautiful that you can feel it, you just want everything to be ok so they will be ok. He was perfect and I loved every scene he was in, that boy gave me billions of butterflies but his story, this story shattered my heart!
All characters was incredible in this, the good and bad, you didn't know who to trust. I was forever wondering who to trust, this story plays games with your mind and I loved that!
I absolutely adore a dystopian, it's something about them, the feelings I get that I don't get from a NA, you feel everything, their worlds and lives are crashing around them and I feel it. This book the angst, drama, little love triangle and pretty much every chapter had some heartbreak, it left me tired and so so drained but I could not stop until I had read it all, I read this in one setting, I went to bed with a migraine and woke up with a headache but I didn't care this book was so worth every single painful emotion I had.
I wish I could explain this book the way it deserves but I just can't. I would so love for all my friends to read this and feel what I felt but I understand dystopian isn't for everyone. This has and will always be a forever favourite. it was epic ♥
Save
Save
Related Posts