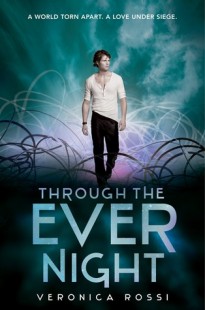 Through the Ever Night (Under the Never Sky #2)
by Veronica Rossi
Purchase on: Amazon, iBooks
Add to: Goodreads


5 THROUGH THE EVER NIGHT STARS!!!
Wow.. I didn't think it could get any better then Under The Never Sky but wait it just did!
I am loving this series so much! I never thought I would enjoy it as much as I have.
I found with this one there wasn't that much romance but you honestly didn't need it because there was so much going on you didn't have time to miss it and the bits that was romantic was so lovely and epic it was enough.


I really liked how Perry and Aria both went on their own adventures.. I found I got to know the rest of the characters better. I loved Roar my heart broke for him I cant wait to see how he's getting on in the Third book. Was nice getting to know the good and bad of the tide!
My Perry

Perry has to be one of my favourite hero's he's so sweet and mature I keep forgetting he's only 19 as everyone relies on him so much! Its nice to see how much he loves Aria and how loyal he is.
My Aria

I loved reading Aria's POV she's such a strong heroine everything she has been through and I don't think she has moaned once!! Her love for Perry is so lovely and she's so faithful and understanding!
I seriously cant wait to read the third and final in the series and just hoping all the characters will be ok and have their happy ever after!
I am a huge fan on this authors writing. Everything flows so well and never feels rushed!
I need Into The Still Blue NOW!!!!
Reading Order & Links:
Click book covers below to order on Amazon


Our Reviews:
(Under the Never Sky – Chelsea) (Under the Never Sky – Harriet)
★
(Through the Ever Night – Chelsea) (Through the Ever Night – Harriet)
★
(Into the Still Blue – Chelsea)
Related Posts