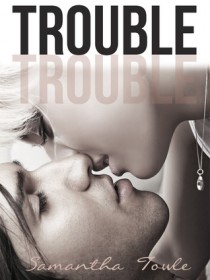 Trouble by Samantha Towle
Purchase on: Amazon, iBooks, 
Book Depository
Add to: Goodreads


Wow…
5 TRULY AMAZING HEARTBREAKING STARS!!!
I didn't really know what I was expecting to find reading this book as the blurb was very secretive and I tried not to read too many reviews… I was definitely not expecting what I read, at first I kind of thought it was going to be a bad boy meets good girl that changes him for the better and that bit was right but OMG there was so much more to this heartbreaking story…
Trouble, literally has everything from a gorgeous, sexy, tattooed bad boy with a sad past to a lovely strong girl with a horrific past.. It had angst, sexual tension (that had me fanning myself), abuse, good friends, funny laugh out loud moments, heart stopping romance scenes (that had my tummy filling up with millions of butterflies) and an amazing hilarious dog called Dozer.
Jordan is probably one of my favourite book boyfriends he is the whole package for me.. tattoos, gorgeous body, bad boy image but he's also sweet, caring, trustworthy, loyal and so in love with Mia that he would do anything for her. It was so nice to see him develop from a lad that slept around and didn't care to a man that ended up caring an awful lot.
Mia, WOW, don't even know where to start, I was so shocked from the first page as I didn't exactly know what was coming, I was so hooked I needed to know this lovely, sweet girl would be ok and have a truly deserved HEA! I adored her after everything she went through she still tried to trust, care and love Jordan and other people for that matter. What she did for Dozer made me adore her even more, that's when you saw the real Mia come out when she finally felt free! Defiantly one of my favourite heroines yet.
I'm pleased I went into this book not really knowing what was going to happen, I absolutely love reading reviews but sometimes I like diving into a story and having all the surprises, I'm so pleased I did that with this book!
For me I loved the style of writing, it flowed perfectly and I was sucked straight in from the first page, I actually felt like I was holding my breath through this whole book and couldn't breathe properly until it was over.
I will definitely be recommending this book to my GR friends. I will remember this story for a very long time!
Well done Samantha Towle!!
Related Posts