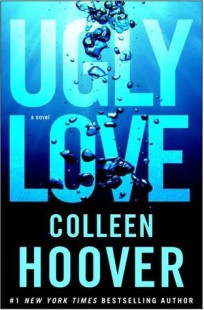 Ugly Love by Colleen Hoover
Purchase on: Amazon, iBooks, 
Book Depository
Add to: Goodreads


*5 Heart wrenching stars!*
This. Book. Was. Heartbreakingly. Beautiful.
I was very close to not reading this book due to reading a lot of mixed reviews and talking to different friends that had read this book, some loving it and some disliking it. I didn't think it would be for me. Luckily, I was persuaded by a couple of my best GR friends. after reading a fantastic book, I just needed to dive into another and hope for the best. Well thankfully, it turned out for the best because I'm now one of those who has fallen head over heels in love with this book. it's raw, unique and breath-taking.
Ugly Love seems to be very much a love or hate story. I must admit starting this book I was nervous and after reading Miles first POV I wasn't sure if I would get on with the style of writing. At first I did get put off by it but because the first chapter had already left me wanting more and left me feeling so intrigued I just had to give this book more of a chance. The third chapter was just as amazing as the first and so when it went back to the past and back to that style of writing, which I must say CoHo you are one very brave lady, I ended up enjoying it. I was pleased we had Miles past as you really get in his head and your heart breaks for him. You're forever second guessing what could of possibly gone wrong for Miles and Rachel. They seemed so perfect and I did love them but my heart was just rooting for Miles heart to mend and to try a second chance at love with Tate!
He brings his hands up and slides them through my hair, brushing his thumbs across my cheeks. He inhales a shaky breath while looking down at my mouth. "You make it so hard to breathe."
Tate, was brilliant and not annoying at all, I also would never describe her as a 'door mat', yes she would go back to Miles time and time again but I've learnt from personal experiences that when you become infatuated with someone or so attracted that it's hard to breathe you fully go in with your heart and sometimes not your head, you will get hurt multiple times and sometimes it works out for the best other times it wont, Tate did it because she believed there was more to her and Miles than just sex, she knew that he liked her and was attracted to her but if she stopped and walked away she would of lost him and at the same time know deep down that it would kill them both, she needed to knock down Miles barrier and for her to do that she had to keep going back and she had to get hurt because at the end of the day love isn't always plain sailing but once you meet 'the one' it's damn worth all that hurt. She was patient, selfless, caring, hard working, fun and all around a beautiful person.
That's how it is when a person develops an attraction toward someone. He's nowhere, then suddenly he's everywhere, whether you want him to be or not.
Miles, is actually the most broken hero I have ever read about and possibly could always be. That young guy has gone through more heart break than anyone should do at that age or even in your entire life, I wouldn't wish that brokenness and loneliness on my worst enemy. I cried no actually I sobbed for him, he made my heart hurt and I completely felt his pain. I was nervous about going into this as I heard a few things about 'second-best'. No way was this a second-best type love. When anyone reads it and connects like I and a few other readers have, you will realise that what Miles does, goes through and choses to do is huge and breath-taking, the love he finds with Tate is genuine and at times devastating, yes some of the things he did made me mad but he was forever kind and never ever lied to her, he was caring and sweet, but damaged and only Tate could fix that. You try to figure out what happened to leave him as angry and closed off as he was and although you may guess it right, you would never imagine in what depth had truly happened and that will rip you apart, it did me, I was sobbing and shaking.
"I just don't want to like you. I don't want to like anyone. I don't want to date anyone. I don't want to love anyone. I just…"
I'm tempted to put spoilers but I wont, I just feel I have to get this out. This book forever made me giddy but one chapter in particular about a different character made me so, so mad, yes you understand something so life shattering happened and my god no one could really cope with it but the way a certain person acted was selfish, cold-hearted and actually to me disgusting. The way things was left and how that person left things, well I was fuming at one stage I got so angry I literally shook my iPad and it was very close to being chucked across the room, I have never been that angry through a book and so angry for one broken character, how I managed to calm down and read the next chapter I don't know but I did and luckily my heart and breathing (I was like a fricking bull) calmed down and once that chapter was over my butterflies came back and I could be happy again. One thing you will get from this book is an over whelming sense of feelings and emotions that at times will be close to knocking you off your feet, the good, the sad, the bad and the happy.
"If I were capable of loving someone… It would be you."
I fell head over heels in love with Miles, that boy will forever be planted in my brain. I ended up loving his flash backs because when you get back to the present and his pulling away from Tate or not smiling you understand why, you know deep down Miles was the type of guy to have his heart on his sleeve and you can't wait for that Miles, that happy side of him, the one that loves so deeply to come back. Everything he said to Tate made my heart break a little more for him and you will fall a little bit more in love with him.
I love the way he groans when our bodies join together. Guys usually tend to hold back their sounds more than girls do. Not Miles. Miles wants me, and he wants me to know it, and I love that. God, I love that.
Not a lot of books will keep me up all night, this one did, I kept thinking one more chapter then sleep, I would finish that chapter and something would happened so I would read another and another, by the time I got to certain scenes that pretty much killed me, no way could I go to sleep until I had finished it, I needed that ending then I could sleep happily… But wait no I couldn't as by the time I had finished, it was time to get up for work, this story made the time go so fast. This book was so worth running on empty and so worth reading rather than sleeping.
I thought CoHo was brave with Maybe Someday but oh no she took brave to another level with this book and to me it paid off, I will reread Ugly Love and eventually be buying it for my book shelf. The fact that I so nearly missed this book makes me so mad I get close to slapping myself. I'm so pleased I met Tate and Miles, I'm so glad I got to go on their crazy but difficult bumpy journey. The ending was beautifully done and in the end I had such a happy smile on my face and of course happy tears. These books have made me such a hormonal wreck!
Related Posts