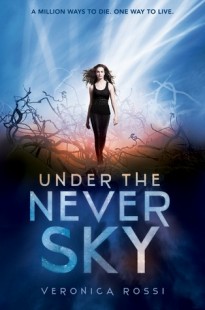 Under the Never Sky (Under the Never Sky #1)
by Veronica Rossi
Purchase on: Amazon, iBooks, 
Book Depository
Add to: Goodreads


5 AMAZING, INTENSE, ADVENTUROUS, THRILLING STARS!!!


Aria Is an amazing Heroine I found her so strong.. She lives in a different kind of world shall we say.. in a pod which she likes as she has never known or seen anything different until something happens and she gets kicked out… She has to survive on the outside, she doesn't know how to hunt and isn't used to getting hurt. She's all alone until she meets Perry.. Again!
Perry Is a total swoon worthy hero I loved him right from the beginning. He had already saved Aria once.. He is now on the move to try and find someone then he bangs into Aria which he blames her for everything that has happened because of where she lived, so he makes her help him with a little black mail and a promise to get her home.. This is where the adventure begins.
I loved the other characters Tarron, Maron, Cinder especially Roar he was a good friend to both and full of fun. I cant wait to see more of them all in the second book!
Where ever Aria and Perry ran it wasn't far enough some how they would run into more danger. Always had people running after them which made it so thrilling.
I found this book so intense, gritty, raw, emotional and full of adventure I never wanted to put it down and when I did, its all I thought about! I loved Perry and Arias relationship from enemies to understanding to friendship and slowly more. The pace was fantastic it was nice and gradual no rushing and very realistic.
I cant praise this book enough! I'm going straight to the next book for more adventure and romance. I would seriously recommend this to any friend that would like to try something different.. you are missing out!!!
Related Posts