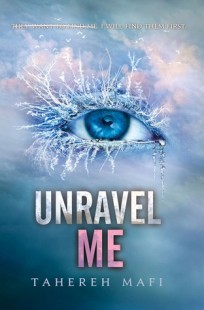 (
Shatter Me #2
)
by
Tahereh Mafi
Purchase on:
Amazon
, 
iBooks
Add to:
Goodreads
2.5 I DO NOT CARE WHO STUPID JULIETTE GOES WITH STARS!
I ended up getting to page 261, chapter Forty Two and decided to give up. I hate not finishing books and this series started out so well.. In the first book I loved Juliette and Adam and didn't care for Warner then in Warner's Novella I liked him then I start reading this book and it has turned into a DISASTER!!!
Juliette has turned into the most annoying heroines I have read in a while she is so whiney I just wanted to kick her up the ass, she thinks her life is so horrible yes you have a terrible curse but god STOP GOING ON!!
Adam Urgh I do love him and in this book he was constantly breaking my heart but also turned out to be whiney and just sad we lost the kick ass Adam from the first book.
Warner can't say much about him as hardly saw him in this book I know I was close to him getting more into the story but by the time I got there I just didn't care anymore.
The only person I really liked in this book was Kenji he is AWESOME!
I gave 2.5 stars because I did enjoy the beginning and I like the writing. It's such a shame as the first book and novella was amazing but for me I just couldn't go on with this.
JULIETTE DOESNT DESERVE ADAM OR WARNER!
Related Posts