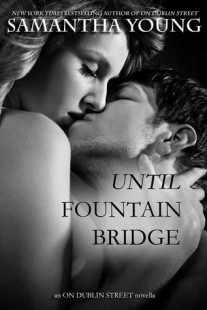 Until Fountain Bridge (On Dublin Street #1.5)
by Samantha Young
Purchase on: Amazon, iBooks
Add to: Goodreads


5 BEAUTIFUL, ROMANTIC STARS!!!
After reading On Dublin Street I fell in love with Ellie and Adam! I was dying to know their history and how they fell in love so when I saw Ellie had a short book I was super excited and had to read it straight away.

This book was so sweet and romantic. I loved reading their past. I am a huge fan of books about falling in love with your brothers best friend, I just love the angst of it! This was different as Adam was reading Ellie's diary so it goes to flash backs which I loved.
I must admit I had happy tears coming to the end as you see how hard their journey was and Adam battling with loving Ellie but not wanting to ruin his friendship (bromance) with Braden.
I so wish this book was longer as I could of read about their relationship for hours!
They both went through a journey of ups and downs but finally Adam realised his love for Ellie was too strong to let go of.
Related Posts