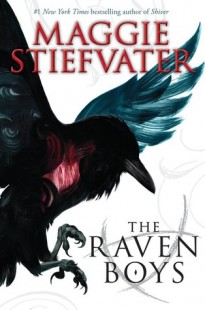 The Raven Boys

(The Raven Cycle #1)
by Maggie Stiefvater
Purchase on: Amazon, iBooks, 
Book Depository
Add to: Goodreads


Synopsis:

"There are only two reasons a non-seer would see a spirit on St. Mark's Eve," Neeve said. "Either you're his true love . . . or you killed him."

It is freezing in the churchyard, even before the dead arrive.

Every year, Blue Sargent stands next to her clairvoyant mother as the soon-to-be dead walk past. Blue herself never sees them—not until this year, when a boy emerges from the dark and speaks directly to her.

His name is Gansey, and Blue soon discovers that he is a rich student at Aglionby, the local private school. Blue has a policy of staying away from Aglionby boys. Known as Raven Boys, they can only mean trouble.

But Blue is drawn to Gansey, in a way she can't entirely explain. He has it all—family money, good looks, devoted friends—but he's looking for much more than that. He is on a quest that has encompassed three other Raven Boys: Adam, the scholarship student who resents all the privilege around him; Ronan, the fierce soul who ranges from anger to despair; and Noah, the taciturn watcher of the four, who notices many things but says very little.

For as long as she can remember, Blue has been warned that she will cause her true love to die. She never thought this would be a problem. But now, as her life becomes caught up in the strange and sinister world of the Raven Boys, she's not so sure anymore.

From Maggie Stiefvater, the bestselling and acclaimed author of the Shiver trilogy and The Scorpio Races, comes a spellbinding new series where the inevitability of death and the nature of love lead us to a place we've never been before.
 5 MAGICAL STARS
This book is different.
That's the first thing that comes to my mind when I think of The Raven Boys. Or when I try to describe it, to put my feelings into words. There's something about it that makes it stand apart from anything else I've read so far. It wasn't obvious from the beginning though. This book crept slowly into my mind or heart or soul or maybe all of the three without me really realizing at first. But after reading it for three hours straight, it suddenly became obvious that there was something about this book that prevented me from putting it down. I just couldn't. It was as simple as that. And I didn't even know how it happened.
For a moment, Blue was actually lost for words. She had never believed people who claimed to be speechless, but she was. She opened her mouth, and at first, all that came out was air. Then something like the beginning of a laugh. Then, finally, she managed to sputter, "I am not a prostitute."
You see, The Raven Boys is told from alternating POVs.
There's Blue, obviously. Our MC. The psychic's daughter. Then there's Gansey and Adam, two of the Raven Boys which is a nickname for the boys attending Aglionby Academy. And lastly there's Whelk, a teacher at Aglionby whose POV is splattered in there quite mysteriously from time to time. I feel like the different POVs are definitely a part of why I couldn't seem to put it down. They added to the already very much present mystery of the plot and enhanced it in the most beautiful way.

'You will live because of Glendower. Someone else on the ley line is dying when they should not, and so you will live when you should not.'
Also, you need to know that Maggie Stiefvater's writing is magical. I don't know how she does it, but it's so easy to be carried away by her words, to live in the world she's created with them and spend hours there without realizing. Her writing sucked me right into the story and there was no escaping it. Not that I wanted to or anything. Because it was absolutely beautiful there and I can't wait to return later in means of the second book. ♥
"Is that all?" she whispered.
Gansey closed his eyes. "That's all there is."
The characters in The Raven Boys are as complex as everything else in this book and I came to care for all of them in different ways, although I liked some more than others. My absolute favorites are definitely Gansey and Ronan.
Ronan is Gansey's roommate and also a Raven Boy. He's rude and sarcastic with a complicated and rather tragic past that he doesn't talk about, and everything else a girl could wish for in a fictional character. Ronan made me laugh and stole my heart fast. There's just something about him that you can't help but love as a reader. I can't wait to find out more about his crazy ass in the next book. I'm sure there's way more to him than what we got to know so far. Especially because of that last sentence that's driving me insane right now! What in the world was that supposed to mean??
Ronan shoved himself from beneath the car and stared up at Adam. He'd let his five o'clock shadow become a multiday shadow, probably to spite Gansey's inability to grow facial hair. Now he looked like the sort of person women would hide their purses and babies from.
Gansey is pretty much the opposite of Ronan. He's polite – although he often sounds condescending without meaning to – and full of restless energy. But then again, there are two sides of him. The public version that Blue calls President Cell Phone boy, which represents his heritage, coming from old money and all. I mean, his Christian name is Richard 'Dick' Campbell Gansey III. That version is all about politeness and confidence, convincing fake smiles and underlying power. But then there's this other Gansey, the crazy explorer, the obsessed scholar, the one who's desperately trying to find Glendower, who needs to do something meaningful with his life. That Gansey sometimes shows a vulnerable, desperate side of him, if you're lucky. But honestly, I loved everything about him, no matter which version he was showing at the moment. Like I said, he's such a complex and interesting character that I couldn't not like him. There's just something about him… that made my heart beat a bit faster when he was present. I'm so excited to read more about him. It's starting to become a bit of an obsession.
"I don't want you to buy me food!" Blue said. "If you pay for it, then it's like I'm… be- be-"
"Beholden to me?" Gansey suggested pleasantly.
"Don't put words into my mouth."
"It was your word."
"You assumed it was my word. You can't just go around assuming."
Blue is a great heroine in my opinion. She's not exactly one of my favorites, but I feel like there's more to come where she's concerned. I don't even know how to describe her really. She's grown up with her mother living in a house full of psychics. Her cousins, her mom's friends and such. Only women. Most of them a bit.. mad. Eccentric. But very interesting and entertaining. I loved both Calla and Persephone so much. Calla is loud and blunt and really likes confrontation. She seriously says the funniest things. Persephone on the other hand is quiet with a lot of long hair and doesn't say much. But when she chooses to say something.. well she's equally funny as Calla. But I'm digressing… Blue grew up in the middle of that, not being psychic herself for some reason. She's very down to earth, grounded, kind, but with a sort of sassy side to her as well. And sensible. That's how others mostly seem to describe her: sensible.
Like I said, I don't quite know what to think of her yet, but I think I'll find out in The Dream Thieves. But in any case, I really like her relationship with the four Raven Boys. Well maybe not so much Adam since he annoyed me a bit, but definitely with the others. Especially with Noah. She's always so sweet to him!
There's just something about this group that speaks to me. Maggie Stiefvater really knows how to make her characters come alive. I approve.
"Is it as painful as conversations with Ronan?"
Gansey cast a glance over to Ronan, who was a small, indistinct form by the trees. Adam audibly swallowed a laugh.
"Depends on if Ronan is sober," Gansey answered.
Adam asked, "What is he doing, anyway?"
"Peeing."
"Trust Lynch to deface a place like this in five minutes after getting here."
"Deface? Marking his territory."
"He must own more of Virginia than your father, then."
If you haven't read these books yet, I recommend you do because they're magical and complex and different.
I'm off to jump back into their world. Dream Thieves, here I come! ♥
Related Posts