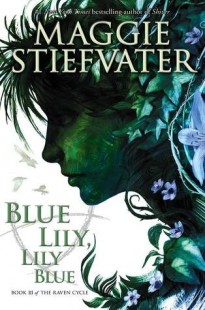 Blue Lily, Lily Blue (The Raven Cycle #3)
by Maggie Stiefvater
Purchase on: Amazon, iBooks, 
Book Depository
Add to: Goodreads


Synopsis:

There is danger in dreaming. But there is even more danger in waking up.

Blue Sargent has found things. For the first time in her life, she has friends she can trust, a group to which she can belong. The Raven Boys have taken her in as one of their own. Their problems have become hers, and her problems have become theirs.

The trick with found things though, is how easily they can be lost.

Friends can betray.
Mothers can disappear.
Visions can mislead.
Certainties can unravel.
Review:
This book is freaking intense. Enthralling. And magical.♥
Spoilers if you haven't read The Dream Thieves!
Now he could see that it wasn't charity Gansey was offering. It was just the truth.
And something else: friendship of the unshakable kind. Friendship you could swear on. That could be busted nearly to breaking and come back stronger than before.
Honestly, I feel so much love for this series and these characters, it's unreal. I love that group of friends so much that I find myself wishing I knew them in real life. Not just Gansey, but all of them. I wish I could go on crazy adventures with the four of them, driving in the Camaro, exploring strange worlds and creepy caves. I'd even listen to Ronan singing his murder squash song. They've all grown on me so much that my heart breaks a little at the thought that there's only one more book left. And I'm both devastated and relieved that I have to wait another year or so for the release date. I'm not ready for it to end. I'm not ready to have my heart ripped out and shredded into peaces. I'm not ready for someone to die. YOU CAN'T KILL GANSEY! Please Maggie, don't kill Gansey.
Casually, out of view of Ronan, making sure Adam was still sleeping, Gansey dangled his hand between the driver's seat and the door. Palm up, fingers stretched back to Blue.
This was not allowed.
Oh my gosh, there was so much angst in this installment, my heart couldn't take it at times. This thing between Blue and Gansey that wasn't even quite there in the prequels was quite palpable now and developed to something wonderful and magical and heartbreaking. Beautiful, but heartbreaking as hell. So much is happening in this installment, crazy, mindblowing things that both Gansey and Blue come completely undone at times, but they still can't act on their feelings and it broke my heart! Their little phone conversations and midnight drives gave me a serious case of butterflies and made me so sad at the same time. Oh my heart.
"Blue," he warned, but his voice was chaotic. This close, his throat was scented with mint and wool sweater and vinyl car sear and Gansey, just Gansey.
She said, "I just want to pretend. I want to pretend that I could."
He breathed out.
What was a kiss without a kiss?
Oh yeah, and then there's the fact that Gansey is going to die!?!?! I sometimes manage to forget about it and then, when I remember it hits me like a runaway train. Please don't kill Gansey, Maggie!
All of that, in combination with all the other crazy revelations of this installment in complete Maggie Stiefvater style, made sure that I. Could. Not. Put. This. Down.
Then she called Gansey.
It rang twice, three times, and then: "Hello?"
He sounded boyisch and ordinary. Blue asked, "Did I wake you up?"
She heard Gansey fumble for and scrape up his wireframes.
"No," he lied, "I was awake."
"I called you by accident anyway. I meant to call Congress, but your number is one off."
In Blue Lily, Lily Blue their crazy hunt for Glendower continues and it's even more epic than before. New people are thrown into the scene, leaving the reader always guessing what their purpose and intention might be. The friends are met with more dangerous obstacles than before and everything just becomes more deadly. Time is running out and they know that something is going to happen soon. All of that left me at the edge of my seat, heart pounding and emotions running wild.
Soon it would be behind him. Soon this school year, too, would be behind him. Soon they would find Glendower, soon they would all be kings. Soon, soon.
And if you need to know one last reason as to why I love those books more than I could've hoped, it's Noah's one liners.
"I'm dead," Noah replied. "Not stupid."
Yep, Noah's quite the sass master. With him and Ronan and Blue who's a real firecracker herself, those books are just never boring. Every single character has something that I absolutely love. From Mr Gray's grayness to Calla's and Ronan's temper to Persephone's weirdness to Gansey's EVERYTHING, there's always something to laugh or smile about. I have the utmost respect for Maggie Stiefvater. She knows how to write badass novels and I'm prepared to read anything she writes. She rocks.
GO READ HER BOOKS!♥
PS: Special thanks to my dear friend Chelsea who recommended this series to me. I will be forever grateful.
Related Posts