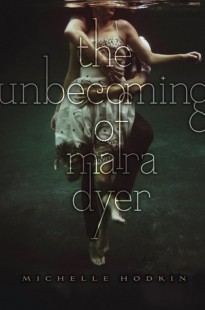 The Unbecoming of Mara Dyer (Mara Dyer #1)
by Michelle Hodkin
Purchase on: Amazon, iBooks, 
Book Depository
Add to: Goodreads


Synopsis:

Mara Dyer doesn't think life can get any stranger than waking up in a hospital with no memory of how she got there.
It can.

She believes there must be more to the accident she can't remember that killed her friends and left her mysteriously unharmed.
There is.

She doesn't believe that after everything she's been through, she can fall in love.
She's wrong.
Review:
This was strange. I don't even know what I'm feeling right now.
"Thinking something does not make it true. Wanting something does not make it real."

I really don't know how to feel about this book. My thoughts are still all over the place and honestly, I just wanna jump right back into this world to figure out what the hell is going on! But I guess writing down some of my feelings won't do any harm, so here goes.
Feeling number 1: Impression
I'm seriously impressed because this story is utterly captivating and such a page-turner. I got sucked right into the strange world of Mara Dyer and didn't want to leave. There is so much mystery and weirdness in it, which ensured that I wasn't bored even once because I always wanted to read more, find out more about it, and get some damn answers!! But of course, all I got was more questions instead. Michelle Hodkin did an exceptional job plotting this story in a way that left me both intrigued and bewildered.
Feeling number 2: Confusion
Let's be honest here, I was confused for at least half of the time I spent reading this, probably more. I went into this without even knowing for sure whether this is fantasy or contemporary which made this even more exciting and, you know, confusing. Sometimes I thought I figured out what was going on, but then something else happened and I was back to square one, just as clueless as before. And I loved that! Because of it I just couldn't put this down and found myself still reading at 3am, desperately trying to figure out what I was missing and wondering how I ended up being in this utter state of confusion.
Feeling number 3: Amusement
One of my favorite things in books is great humor and some sassy back and forth between the characters. And Michelle Hodkin definitely delivered. I so enjoyed the funny banter between Noah and Mara in the beginning of the book, and generally most of the conversations between the characters in The Unbecoming. But especially the banter. Noah, all cocky, confident attitude, flirting with a slightly annoyed and bitchy Mara was extremely entertaining and made me smile more than once. Thumbs up for the great laugh-out-loud moments!
Feeling number 4: Annoyance
I'm probably going to get all the hate for this one, but thus far I'm not a huge fan of the romance in this book. While Mara and Noah both appealed to me individually, they didn't quite do it for me together, at least not from the moment their relationship changed a bit around page 150. Like I said, I loved the banter in the beginning and enjoyed their bickering and obvious attraction to each other. But then something happened and suddenly it was all too insta-loveish for me. I really enjoyed how sensible Mara was at first, realizing that she had enough problems and that she didn't need to add Noah Shaw to the mix. But then he goes and does one nice little thing for her and she's a goner.  View Spoiler »There's this one thought she has that really made me cringe: "and just like that, I was completely, utterly, and entirely His." Yes, she actually went there after 171 pages. She barely even talked to the guy and suddenly she belongs to him or something??? No, just no. That sentence was one of my major issues with this book. « Hide Spoiler
Mara's brain and sensibility went out the window. Just like that. And I'm not so sure she ever really got it back, at least when it comes to Noah.
Also, Noah and some other things were just so clichéd. Sometimes I don't mind that, but this time I did. I found myself rolling my eyes quite a few times because some things were just a bit ridiculous.
All those things combined made sure that I just couldn't enjoy the romance as much as I hoped I would. They didn't give me butterflies or made me swoon, and I really hope this will change in book two. I wanna see some great romance dammit! One that makes me feel everything and more. Pretty pleaase.
Conclusion:
So, as you can see, I really liked The Unbecoming of Mara Dyer and could definitely recommend it, although I had some minor issues with some parts. It was quite the surprise for me that I enjoyed the mystery of the book more than the romance, but that's not a complete bad thing. Just different. Which fits this whole book pretty well, I might add. Go figure.
Related Posts