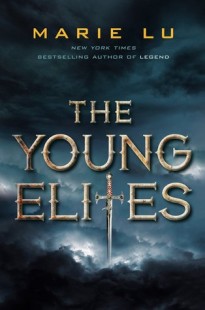 The Young Elites (The Young Elites #1)
by Marie Lu
Purchase on: Amazon, iBooks, 
Book Depository
Add to: Goodreads


Synopsis:

I am tired of being used, hurt, and cast aside.

Adelina Amouteru is a survivor of the blood fever. A decade ago, the deadly illness swept through her nation. Most of the infected perished, while many of the children who survived were left with strange markings. Adelina's black hair turned silver, her lashes went pale, and now she has only a jagged scar where her left eye once was. Her cruel father believes she is a malfetto, an abomination, ruining their family's good name and standing in the way of their fortune. But some of the fever's survivors are rumored to possess more than just scars—they are believed to have mysterious and powerful gifts, and though their identities remain secret, they have come to be called the Young Elites.

Teren Santoro works for the king. As Leader of the Inquisition Axis, it is his job to seek out the Young Elites, to destroy them before they destroy the nation. He believes the Young Elites to be dangerous and vengeful, but it's Teren who may possess the darkest secret of all.

Enzo Valenciano is a member of the Dagger Society. This secret sect of Young Elites seeks out others like them before the Inquisition Axis can. But when the Daggers find Adelina, they discover someone with powers like they've never seen.

Adelina wants to believe Enzo is on her side, and that Teren is the true enemy. But the lives of these three will collide in unexpected ways, as each fights a very different and personal battle. But of one thing they are all certain: Adelina has abilities that shouldn't belong in this world. A vengeful blackness in her heart. And a desire to destroy all who dare to cross her.

It is my turn to use. My turn to hurt.
Review:
Okay, honestly? I don't know how to feel about this one. I'm not sure what to think at all. I… liked it. I found it extremely interesting, its characters definitely intriguing, the plot fast paced, the story beautifully written, just like I expected from Marie Lu.
This should be the end of it. But. I would love to just stop here or continue with ravings, but unfortunately there's a but. Truthfully, it's a rather small but, but it's there. I need to stop saying but.
"Fear creates the strongest illusions. Everyone has darkness inside them, however hidden."
My problem was that I didn't really like the characters. Again, they were intriguing. Interesting, for sure. But was I really fond of them? Sadly, no. And I can't exactly pinpoint the reason behind that either, can't put my finger on why I didn't love them as much as I expected to, but still thought they were really great characters! I feel like a hypocrite now. Am I Teren? There was just something missing, at least for me. Something that kept me from really feeling for them, caring for them, shipping them.
"Be true to yourself. But that's something everyone says and no one means. No one wants you to be yourself. They want you to be the version of yourself that they like."
Let's start with the MC, Adelina Amouteru. On one hand, she's this really complex and kinda dark character that fascinated me thoroughly. She is different from other heroines for sure and honestly, Marie Lu deserves all the respect for that. She managed to create a heroine that stands out from this huge crowd of fantasy heroines. A round of applause for that.
Adelina has good intentions. At least that's what I think. But at the same time, she has a darkness inside of her that she has to fight every day and she hates it. She hates how she actually likes when others are in pain and other stuff that she knows is really bad. But some parts of her do like it and she struggles with it every day, which triggers even more anger and frustration inside of her, fueling her bad side. A vicious cycle indeed.
I loved reading from her POV, watching her struggle with it, fighting it, but at the same time being so tired of fighting it, making mistakes and so on. Like I said, it was fascinating.
At the same time though, I felt a bit detached from her at times. I just couldn't connect with her as much as I wanted to and I think it's because while she intrigued me, I didn't like a lot of her decisions, didn't agree with them, which in turn kept me from completely loving her and feeling for her. Which is indeed very annoying since I think she's a fantastic character. See my dilemma?
Also, sometimes it seemed like she was always just fighting to belong. To belong somewhere, anywhere. And she did whatever she could to achieve that. I felt she did things, she actually didn't really want to do. Adelina often seemed to just tag along because she didn't know what else to do anyway. So I really wanted her to take action and be true to herself more!
I'm very excited to see where her journey takes her in the next book and maybe I'll come to love her completely in that installment. For now it's this kind of love-hate relationship.
"To love is to be afraid. You are frightened, deathly terrified, that something will happen to those you love. Think of the possibilities. Does your heart clench with each thought? That, my friend, is love. And love enslaves us all, for you cannot have love without fear."
Teren Santoro is a weird villain. If I can even call him that. Sometimes I wasn't sure. He's the Lead Inquisitor, Queen Giuliana's puppy and has sworn to rid his country of malfettos, people like Adelina.
He's the guy I loved to hate. From the moment I met him, I thought he was a bit mad. And when I continued reading, I realized I was only partly right because really, he's completely insane. This guy probably hit his head too hard sometime in his childhood because most of what leaves his mouth makes no sense whatsoever. He genuinely thinks that the gods (yes, THE GODS) have given him this task of getting rid of the malfettos, that he's some kind of savior, alive to destroy them because it's for their best. Most of the time I could only shake my head in astonishment. Teren Santoro. What an idiot. But definitely a very interesting villain. Let's see what book two brings for him and his crazy ass.
"Tell me, little wolf. Do you want to punish those who have wronged you?"
Then of course, there's Enzo Valenciano. The love interest.
I think if I had to decide, he'd be the one I'd crown my favorite character of this book. Enzo is interesting. Mysterious. Enigmatic. Powerful. Ruthless, but kind. How that's possible, I don't even know. But who cares right? Because I love this guy to bits, although I still feel like I don't know him at all. Who's he really, I kept wondering. What does he want exactly? And hopefully I get to find out in The Rose Society.
"Embellish your flaws. They will turn into your assets."
Some of my favorite scenes were definitely between him and Adelina, though truthfully there weren't very many. The romance in The Young Elites, while present, is only palpable in some moments and mostly in the periphery. But in my opinion that only added to its otherness and mystery. I never really knew where this was going and I loved it, the unpredictability of the story. The plot is fast-paced, just how I've come to expect from Marie Lu. The action scenes are amazing and the whole setting of this story, in this Renaissance-like mess of a world where magic is unwanted and forbidden, is dark and magical. Just the way I like my fantasy worlds.
As you can see, I'm both in love and a bit frustrated with this one, but it's a good kind of frustration, I think. Does something like that even exist? Whatever it is I'm feeling is slightly confusing and can only be cured with another book.
I'm very excited for the next book in The Young Elites trilogy and here's to hoping I'll be completely blown away by it.


Related Posts