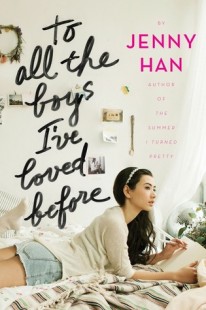 To All the Boys I've Loved Before (To All the Boys I've Loved Before #1)
by Jenny Han
Purchase on: Amazon, iBooks, 
Book Depository
Add to: Goodreads


Synopsis:

Lara Jean keeps her love letters in a hatbox her mother gave her.

They aren't love letters that anyone else wrote for her, these are ones she's written. One for every boy she's ever loved—five in all. When she writes, she can pour out her heart and soul and say all the things she would never say in real life, because her letters are for her eyes only. Until the day her secret letters are mailed, and suddenly Lara Jean's love life goes from imaginary to out of control.
Review
My feelings are seriously all over the place. This book. *Deep breath*
Woah, this book. I still can't believe how much I enjoyed it. I stayed up until 5:30am for it and basically read it in one setting. That's how much I loved it! It was such a surprise.
Don't get me wrong, I expected to like it, otherwise I wouldn't have picked it up. But did I expect to be blown away by it? Probably not. I was skeptical, even though many people seemed to love it. And I wasn't even in the mood for contemporary. I only forced myself to read some before diving into the next fantasy series. I always try to change it up a bit because it helps me liking the books more. Reading the same genre for too long might possibly lead to a reading slump. At least it's like that for me and of course, I want to avoid that at all costs. But I'm digressing.
I started To All the Boys I've Loved Before for the sake of variety and hopefully some cute light romance. Needless to say that this book has exceeded all of my expectations. It accepted them and threw them right back at my face, laughing maniacally.
I run up to Peter and launch myself into his arms like a shot out of a cannon. I've got my arms around his neck and my legs hooked around his waist. It's like we're in a movie and the music is swelling and waves are crashing around us. Except for the fact that Peter's expression is registering pure shock and disbelief and maybe a drop of amusement, because Peter likes to be amused. Raising his eyebrows, he says, "Lara Jean? What the-?"
I don't answer. I just kiss him.
That was Lara Jean's reaction to her crush Josh – who unfortunately is her sister's ex-boyfriend – finding out about her infatuation with him. See, Lara Jean writes love letters. Not for the actual boys she writes about, but for herself, as a way to get over her crush. So obviously she never wanted anyone to read them, much less for them to get sent to the boys. But that is exactly what happens and it brings a whole wave of drama and chaos into her otherwise organized life.
"It's Josh Sanderson."
"Doesn't he go out with your sister?"
I nod. I'm surprised he even knows this. I didn't think Josh and Margot would be on his radar. "They're broken up now. But I don't want him to know I have feelings for him…for obvious reasons. So…I told him you were my boyfriend."
"So you used me to save face?"
"I mean, basically." Basically exactly.
"You're a funny girl."
In a moment of panic, she claims to be dating Peter Kavinsky and kisses him in a school hallway in front of basically everyone. Peter himself just got dumped by his popular, possessive girlfriend, so to fight that humiliation and to make his ex jealous, he asks Lara Jean to actually play the charade for a while longer. And that's how those two end up in a pretend relationship with each other. Screams drama, right?
"I just…wish all of these firsts were happening for real and not with you."
Peter seems to be thinking this over. He says, "Huh. Okay. Let's just save some stuff, then."
"Yeah?"
"Sure. We"ll save some stuff for you to do when it's the real thing and not for show."
I'm touched. Who knew Peter could be so thoughtful and generous?
"Like, I won't pay for stuff. I'll save that for a guy who really likes you."
The two of them don't really get along at first. Peter's very cocky, self-confident, liked by basically every girl everyone in school and has this way that drives Lara Jean crazy. They fight a lot in the beginning and give each other shit all the time. It was so so entertaining.
"Then let's talk strategy for a second. All you have to do is act like you're in love with me. That shouldn't be too hard."
I still can't believe how much I related to Lara Jean! I understood her because of the silliest things that we have in common and just the general feeling the author created writing from her POV.
Lara Jean is not the most outgoing or social type of girl, so dating Peter, even fake dating Peter, gets her out more which is good since her older sister just left for College and Lara Jean is pretty lonely without her. It was especially adorable to see how much Peter's friends like her! There was this one scene that was so cute, I read it three times and couldn't stop grinning.
"Hey, Lara Jean, did you know that if you say your name really fast, it sounds like Large? Try it! Larajean."
Dutifully I repeat. "Larajean. Larjean. Largy. Actually I think it sounds more like Largy, not Large."
Gabe nods to himself and announces, "I'm going to start calling you Large. You're so little, it's funny. Right? Like those big guys that go by the name Tiny?"
Peter was so good for her in many ways and vice versa. Through Lara Jean, Peter turned into someone who had no problem staying in and having fun with her younger sister. God, how adorable he was with Kitty! Kitty is an awesome 9 year old: she's sassy and knows how to get what she wants. Her and Peter together made for the funniest and cutest scenes. I couldn't get enough of that.
And not just that. As Peter and Lara Jean began to hang out more and actually started to get along, there were so many scenes that made me smile because of the cuteness. They gave me a serious case of butterflies and made my heart pound! Like pound really fast as if I've been running. I've never experienced anything like it while reading. At least not that I remember. This book captivated my full attention for a complete night and there was nothing I could do, except to read on and enjoy the ride. I'm still amazed by how much this book hooked me.
"No. I'm not giving you the satisfaction of being right."
Darrel hoots with laughter. "I'm jealous of you, Kavinsky. I wish I had a girl to feed me my lunch. Lara Jean, if he doesn't take it, I will." He leans forward and opens his mouth for me.
Peter shoves him to the side and says, "Step off, it's mine!"
He opens his mouth and I pop it in like he's a seal at Seal World. With his mouth full of rice and his eyes closed, he says, "Yum yum yum."
I smile, because it's so cute. And for a second, just for a second, I forget. I forget that this isn't real.
Of course things get messy. There's still Josh who might have feelings for Lara Jean after all, and Peter's ex, and the fact that it was all pretend. Mistakes are made, feelings get hurt, facades come crumbling down. Lots of drama. The good kind of drama.
Honestly, this book completely took me by surprise. I couldn't even figure out who Lara Jean would actually fall for in the end or what was going to happen whatsoever. I thought I did in the beginning, but boy was I WRONG. Actually, since there's a second book, I'm still not one hundred percent sure who Lara Jean is going to end up with, but I can't wait to find out! And of course I have a favorite which becomes obvious just by looking at my quotes and my gushing. PETER KAVINSKY ♥
Really, this was such a page-turner for me. There wasn't one second when I was bored or annoyed with this book. I could restart it right now and enjoy it just as much, I'm sure of it. Actually, I kind of feel like re-reading it right away. I wanna stay in this little world Jenny Han created and live there for a while longer. But I'm going to save that for June, for the time when book two comes out. I can't wait.
Related Posts