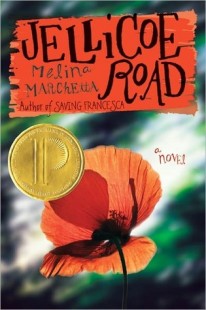 Jellicoe Road by Melina Marchetta
Purchase on: Amazon, iBooks, 
Book Depository
Add to: Goodreads


Synopsis:

I'm dreaming of the boy in the tree. I tell him stories. About the Jellicoe School and the Townies and the Cadets from a school in Sydney. I tell him about the war between us for territory. And I tell him about Hannah, who lives in the unfinished house by the river. Hannah, who is too young to be hiding away from the world. Hannah, who found me on the Jellicoe Road six years ago.

Taylor is leader of the boarders at the Jellicoe School. She has to keep the upper hand in the territory wars and deal with Jonah Griggs - the enigmatic leader of the cadets, and someone she thought she would never see again.

And now Hannah, the person Taylor had come to rely on, has disappeared. Taylor's only clue is a manuscript about five kids who lived in Jellicoe eighteen years ago. She needs to find out more, but this means confronting her own story, making sense of her strange, recurring dream, and finding her mother - who abandoned her on the Jellicoe Road.
Buddy read with my lovelies Chelsea, Jen, Anna, Jennifer and Harriet.
This book made me feel things I don't think I've ever felt while reading. It made me feel all the emotions. EVERYTHING. Confusion, annoyance, shock, love, awe, sadness, anger, heartbreak, hope…. Everything!
I will need a lot of time to get over this book. It snuck up on me when I least expected it, hooked me and never let me go.
So why would I want someone to be my everything when one day they might not be around? What will be left of me then?
Wow. This book was so much more than I expected it to be. When I was done, I wanted to start it again because.. just because I needed to experience these feelings again. I can't explain why I loved this book as much as I did, but boy did I love it.
"If you weren't driving, I'd kiss you senseless," I tell him.
He swerves to the side of the road and stops the car abruptly.
"Not driving any more."
I was hooked from page one and that was mostly because I was so confused. The beginning of the book just doesn't make any sense without the knowledge we gain later on. So it was mostly the mystery that hooked me, the strangeness of the story, and wanting to understand what was going on. I'd be lying though if I said that the mystery, the not knowing what was happening, didn't frustrate me. Because it did. But for some reason it didn't make me want to stop reading or made me enjoy the read any less. Honestly, my annoyance just fueled my need to keep reading, to figure out the root of this special, confusing story.
"Hold my hand because I might disappear."
Because when I started to understand more and more, it was so worth it for me! This story is just not like anything I've ever read before and I really did love every second of it.
The characters are some of my absolute favorites ever. From Tate, Webbs, Narnie, Jude and Fitz to Taylor, Jonah, Ben, Jessa, Santangelo and Raffe, they are all so special and kind of everything to me. I couldn't get enough of their stories and my heart hurt so much because of what they all had to go through. Their character development was astounding and their dialogue made me laugh and tear up, depending on the topic. I loved every second of it.
"He stops and looks at me. 'I'm here because of you. You're my priority. Your happiness, in some fucked way, is tuned in to mine. Get that through your thick skull. Would I like it any other way? Hell, yes, but I don't think that will be happening in my lifetime."
There were so many moments that warmed my heart, so many scenes I just had to highlight and I wish I could share every single one with you, but I had to limit myself to only a few, unfortunately.
"Who do you in believe in?" she had repeated as if it was the dumbest question she'd ever heard. "I believe in you, Taylor Markham."
I think one of my favorite characters is actually Raffe. Her constant optimism, her faith and loyalty, especially towards Taylor makes her one of the most amazing friends and I have so much love for her.
Now that I think about it, there's some quality in every one of the characters that I could rant and fangirl about, but I'm trying to keep this review at least somewhat short, so just know that I love every single one of them in their own crazy way.
"Any pain inflicted on Richard warms my heart and it warms yours as well. Go on, admit it. When he hit the ground and the blood went flying and you knew in your heart his nose was broken, didn't you just want to jump for joy and stomp on his ugly face."
While the beginning was confusing, and huge parts of the middle extremely funny and entertaining, the ending… oh god the ending broke my heart, in the best way possible. Now that I know what was going on in the beginning, I would love to go back and read it again. I'm sure it would be even more heartbreaking now (Anna already told me so), but what can I say, I'm a masochist.
"She's the only person who gets away with calling Santangelo a "little shit" and once in a while she'll go for the collective and refer to both Griggs and Santangelo as those "two little shits." Most of the time the "two little shits" take it on the chin but sometimes Santangelo says, "I'm fucking out of here," and his mom warns, "Don't you dare swear, you little shit."
Seriously, this story is so fucking special and just everything. Definitely already one of my 2015 favorites and sure as hell one of the best books I've ever read. Do yourself a favor and read it. I sure will return to it many times.
Related Posts