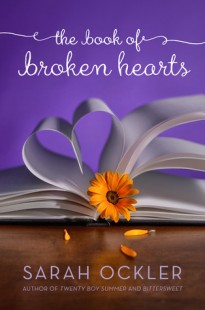 The Book of Broken Hearts by Sarah Ockler
Purchase on: Amazon, iBooks, 
Book Depository
Add to: Goodreads


Synopsis:

When all signs point to heartbreak, can love still be a rule of the road? A poignant and romantic novel from the author ofBittersweet and Twenty Boy Summer.

Jude has learned a lot from her older sisters, but the most important thing is this: The Vargas brothers are notorious heartbreakers. She's seen the tears and disasters that dating a Vargas boy can cause, and she swore an oath—with candles and a contract and everything—to never have anything to do with one.

Now Jude is the only sister still living at home, and she's spending the summer helping her ailing father restore his vintage motorcycle—which means hiring a mechanic to help out. Is it Jude's fault he happens to be cute? And surprisingly sweet? And a Vargas?

Jude tells herself it's strictly bike business with Emilio. Her sisters will never find out, and Jude can spot those flirty little Vargas tricks a mile away—no way would she fall for them. But Jude's defenses are crumbling, and if history is destined to repeat itself, she's speeding toward some serious heartbreak…unless her sisters were wrong?

Jude may have taken an oath, but she's beginning to think that when it comes to love, some promises might be worth breaking.
Review:
There might be some minor spoilers in this review.
'Hey Jude, don't make it bad
Take a sad song and make it better
Remember to let her into your heart
Then you can start to make it better
Hey Jude, don't be afraid
You were made to go out and get her
The minute you let her under your skin
Then you begin to make it better…'
Huh? Oh, don't mind me. I'm just sitting here, singing that Beatles song because it's been stuck in my head since that Marcus guy first sang it to Jude. And now I'm listening to it on replay. Again and again. Damn you, Marcus.
Just kidding, it's all good. It actually fits my mood pretty well right now, peaceful, nostalgic and all that.
Anyway. The book. It was soo good. I enjoyed it so much and absolutely loved the story, the characters, everything.
"There was no going back to the way things were, because all you ever got was the way things are." – Jude Hernandez
The story itself was actually a lot sadder than I expected. I knew that it involved Jude hiring someone to restore her dad's old motorcycle, but I had no idea about the reason behind it. See, Jude's dad, Papi as he's referred to in the book, he has early onset Alzheimer's. Sometimes he's completely fine, but then a moment later he forgets the way home. And since there isn't a cure, it's only going to get worse. But when he talks about his old motorcycling days, about touring South America, he lights up and remembers. So, as an attempt to make his episodes stay at bay, Jude hires Emilio to restore the vintage bike with them and make her dad remember.
Watching Papi through Jude's eyes losing his memories, having to fight for them, for his sanity and control, everyday, was so so heartbreaking. Instead of spending her last summer before College with her friends, Jude spends it taking care of her father while her mother's working. She puts all her hope in the bike and convinces herself that Papi will get better if they just restore his bike to the way it used to be, even though she knows deep inside her heart that he won't.
But then something goes not quite according to plan. The mechanic she hires is no other than Emilio fucking Vargas.
"Don't settle, okay? Not for anything. I mean it. You only get this one chance at life, far as I know. Take it. Even if its not with me."
Emilio Vargas.. Where do I start? His dimples? His constant smiling and playful mood? The way he never turns his back on Jude, even when everyone else does because of her dad… even when she pushes him away. The way he calls her princesa!!! It was fucking adorable. He is now definitely one of my favorite YA book boyfriends. I loved everything about him.
But, you see, Jude has been warned about Emilio Vargas her whole life. Even made an oath to stay far away from him, no matter what. Because the Vargas boys are heartbreakers. All of them.
"This is more than Johnny and Miguel," Mari says. "We'd be doing the world a favor. That family is cursed. Dark hearts, every one."
For her Papi though, Jude decides to bend that rule a bit and to let him work on the bike. And surprise, surprise, he turns out different than she expected.
What I loved the most about Emilio was the way he just takes that whole family the way they are, no questions asked. He is so good to Papi, doesn't talk to him like he's a baby, doesn't avoid him like Jude's friends, and isn't helpless when he has one of his episodes. He makes Jude question everything and helps her immensely. Even when she pushes him away or something, he doesn't play any games. There wasn't any unnecessary drama between those two and I enjoyed that a lot.
Jude's sisters Lourdes, Mari and Celi are a crazy bunch and added some more charm to the story. Especially Mari, the Wrecking Ball as they used to call her, is an amazing character. Even though I wanted to hit her sometimes for bossing Jude around so much, she was just so much fun with her chain-smoking, melodramatic ways.
The book also has so many beautiful inspirational quotes that.. well inspired me and made the read even better. I especially loved this one part about taking pictures because I've always thought the same thing with the way people are obsessively recording everything that's happening nowadays.
"That was the thing about pictures. No matter how beautiful, they couldn't capture the truly felt parts of a moment. Life was different looking through the lens, the colors less vibrant, the beauty less grand. By the time you took the shot, the moment had already passed. (…) Pictures couldn't tell the whole story anyway. That was the other thing about them – they were always a carefully edited glimpse, a story out of context. Through pictures, we cut reality in pieces." – Jude
As you can see, I really enjoyed The Book of Broken Hearts and will definitely look into other books of this author. If you're up for a cute and fun, not completely light, but inspiring read, you should pick this up! 🙂
Highly recommended.
No regrets, princesa.

Related Posts