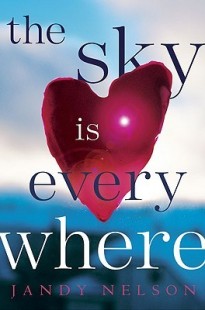 The Sky is Everwhere by Jandy Nelson
Purchase on: Amazon, iBooks, 
Book Depository
Add to: Goodreads


Synopsis:

Seventeen-year-old Lennie Walker, bookworm and band geek, plays second clarinet and spends her time tucked safely and happily in the shadow of her fiery older sister, Bailey. But when Bailey dies abruptly, Lennie is catapulted to center stage of her own life - and, despite her nonexistent history with boys, suddenly finds herself struggling to balance two. Toby was Bailey's boyfriend; his grief mirrors Lennie's own. Joe is the new boy in town, a transplant from Paris whose nearly magical grin is matched only by his musical talent. For Lennie, they're the sun and the moon; one boy takes her out of her sorrow, the other comforts her in it. But just like their celestial counterparts, they can't collide without the whole wide world exploding.

This remarkable debut is perfect for fans of Sarah Dessen, Deb Caletti, and Francesca Lia Block. Just as much a celebration of love as it is a portrait of loss, Lennie's struggle to sort her own melody out of the noise around her is always honest, often hilarious, and ultimately unforgettable.
Review:
Wow, in spite of my almost rough start with The Sky is Everywhere, I ended up loving it! So emotional and beautiful.
All her knowledge is gone now.
Everything she's ever learned, or heard, or saw. Her particular way of looking at Hamlet or daisies or thinking about love, all her private intricate thoughts, her inconsequential secret musings – they're gone too. I heard this expression once: Each time someone dies, a library burns. I'm watching it burn right to the ground.
Where to begin? Where to begin?? I haven't written a real review in AGES, at least that's what it feels like. I guess it's best if I just start in the beginning. And honestly, it took a while for me to get hooked. The beginning of this books was good, but it wasn't great, not overwhelmingly good, and I had no problem putting it down and reading something else. My mind wasn't consumed by this story as I hoped it would be. I liked it, but it took until 60% for me to get completely hooked. Which is the sole reason that this just isn't a full 5 stars for me.
How can that be? How could I have been thinking about fricassee and carbon molecules when across town my sister had just taken her very last breath? What kind of world is this? And what do you do about it? What do you do when the worst thing that can happen actually happens? When you get that phone call? When you miss your sister's rollercoaster of a voice so much that you want to take apart the whole house with your fingernails?
Now onto the reasons why I did absolutely loved this book after all, the things that made this story utterly beautiful and touching.
First of all, the writing. This was my first book by Jandy Nelson and it definitely won't be the last. Her writing is absolutely beautiful and captivating. Honestly, it took some time gettting used to it because it is a bit weird, or just different from other authors, but after a while I decided that I liked it. It's humorous with its funny descriptions and comparisons, and it managed to turn me into an emotional mess. Especially Lennie's poems and little stories in between the chapters were so touching and helped the reader understand her and Bailey's relationship.
"Aunt Gooch! Aunt Gooch!" Gram is shrieking in between peals of laugher.
Aunt Gooch is the name Bailey and I gave Gram's laugh because it would arrive without notice like a crazy relative who shows up at the door with pink hair, a suitcase full of balloons, and no intention of leaving.
As you can see, most of the characters in this book are eccentric weirdos and I kind of loved that. From Gram and her magic flowers, to the wedding-addicted and pot-smoking Uncle Big, this book is not short on entertaining and lovable people. Lennie Walker is probably the biggest weirdo of all. I mean, who reads Wuthering Heights 23, yes TWENTY-THREE TIMES? That alone screams basket case.
But in all honesty, Lennie played a big part in why I wasn't very hooked in the first half. She does a lot of things that I didn't agree with at all and when I thought she finally came to her senses, it started all over again. The thing is, I get why all that happened and I've forgiven her completely for all of it, considering what she went through, BUT it didn't stop me from wanting to beat the shit out of her sometimes. When all that was finally out of the way and done with at 60% though, then I was able to completely enjoy the story and started to be more emotionally invested as well. And you know, the truth is that everyone deals differently with grief, so who knows what I would do in her situation.
He is, like another species of human that doesn't have blood but light running through their veins.
Yes, yes he does. Where Lennie is all dark clouds and sadness, Joe Fontaine is the sun, the personification of light. And I fell head over heels in love with this guy. There were so many adorable scenes between those two that gave me all the butterflies and smiles. Joe.. he's such a good guy. Caring and honest and a little awkward sometimes and so much more real than many of those muscled, smirking YA heroes out there. I loved how he helped Lennie in so many ways and slowly made her see that good things could still happen. He was simply so so good for her.
"The coolest guys aren't afraid to be feminists, Lennie."
Another thing that I absolutely loved was just that. That message. It's just so important. Because there's still that misconception that feminists are man-haters or that feminism is just for women or whatever else some people come up with. Seeing a YA character addressing this issue made me so so happy. Sarah, Lennie's best friend, is my hero, really.
I can't believe I had a lucky heart when what I wanted was the same kind of heart as Bailey.
My favorite thing was the particular way this book dealt with grief and coming of age. There were so many sentences that inspired me and made me think differently about some things.
And those last 20%, oh god there were so many scenes that had me tearing up and then full-on crying because it was just so sad and beautiful and everything. The feelings that I missed in the beginning when I was still a bit detached from the story, suddenly hit me and it was glorious. Blast of feels. Feels everywhere.
Beside me, step for step, breath for breath, is the unbearable fact that I have a future and Bailey doesn't. This is when I know it. My sister will die over and over again for the rest of my life. Grief is forever. It doesn't go away; it becomes part of you, step for step, breath for breath.
I recommend you give this book a try. For its complex story, for the magical writing, for its weird characters, for.. heck, just read it, will you?
Okay? Okay.

"The sky is everywhere, it begins at your feet."
Related Posts