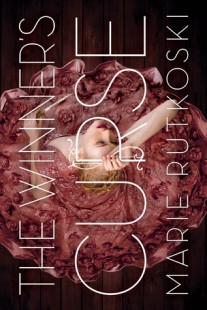 The Winner's Curse (The Winner's Trilogy #1)
by Marie Rutkoski
Purchase on: Amazon, iBooks, 
Book Depository
Add to: Goodreads


Synopsis:

Winning what you want may cost you everything you love.

As a general's daughter in a vast empire that revels in war and enslaves those it conquers, seventeen-year-old Kestrel has two choices: she can join the military or get married. But Kestrel has other intentions. One day, she is startled to find a kindred spirit in a young slave up for auction.

Arin's eyes seem to defy everything and everyone. Following her instinct, Kestrel buys him—with unexpected consequences. It's not long before she has to hide her growing love for Arin. But he, too, has a secret, and Kestrel quickly learns that the price she paid for a fellow human is much higher than she ever could have imagined.

Set in a richly imagined new world, The Winner's Curse by Marie Rutkoski is a story of deadly games where everything is at stake, and the gamble is whether you will keep your head or lose your heart.
Review:
This book surprised me a lot. I don't know what I expected – actually I tried to have no expectations, so the hype wouldn't ruin the actual book for me – but what I got was definitely more than I ever thought I would get.
'Survival isn't wrong. (…)
'Plot away, Kestrel. Survive. If I hadn't lived, no one would remember my mother, not like I do. And I would never have met you.'
What I got though, was a gripping story, a strong and interesting plot, fantastic world building, beautiful writing and characters that I came to admire and care for. I didn't read any reviews or even the blurb, risking to get a story that I wouldn't like, but obviously ended up winning everything.
I heard that some people thought the beginning was very slow, but I actually don't get that at all. I was hooked from the first page, completely enthralled by the story and the lyrical way it is written. Seriously, that woman can WRITE. I was in awe most of the time because of how she phrases simple things in the most beautiful way. Her words are magic and I can't wait to read more of her work. And the story: intriguing from the very beginning and extremely hard to put down. I could've read this in one sitting if life wouldn't have interfered. It was just so interesting and gripping.
"Kestrel had bought a life, and loved it, and sold it."
And the characters, boy did I fall hard for both Kestrel and Arin. That's how you write YA characters, people. Kestrel is actually now one of my favorite heroines. She's such a little badass, but in a different way than most badass heroines. For instance, she's not a fighter at all. She admits that herself. But she's extremely cunning, basically too smart for her own good at times. And she's ruthless if she has to be, knows how to get herself out of tricky situations using every advantage she has. Yeah, Kestrel is brilliant and I loved reading from her POV and being in that brilliant, brilliant mind of hers. It was very refreshing how she calculated and weighted all her options and how she saw through every lie… with the exception of Arin.
"You don't, Kestrel, even though the god of lies loves you."
Arin is such a complex character, too. Struggling with freeing himself and his people, but also wanting to keep Kestrel safe, Arin has many important and life-changing decisions to make, and he has no problem making them. I think that's one of the things I appreciated most about Arin. He makes his decision, deals with the consequences and never looks back. He is strong, confident, a natural leader, but when it comes to Kestrel, he also shows this softer, more vulnerable side of him. And let me just tell you, I loved all of his sides.
"She reminded herself bitterly that this was what curiosity had bought her: fifty keystones for a singer who refused to sing, a friend who wasn't her friend, some one who was hers and yet would never be hers."
The friendship and growing love between those too was obviously very complicated. There were betrayals and words used as weapons, leaving both of them hurt many times. One of them always has the upper hand and it was so interesting to watch how they dealt with those situations differently. They have different goals, fight for different things, but at the same time never really against each other.
Truthfully, their situation is just a mess, a heartbreak waiting to happen, and I have no idea how it's ever going to be solved. Maybe it won't? Oh god, please Marie Rutkoski, please make it happen somehow.
"Isn't that what stories do, make real things fake, and fake things real?"
All in all, this is a very gripping, fast-paced story that will leave you breathless until the last page and then will make you beg for more. I recommend you read it. I certainly did not regret it.
"My soul is yours," he said. "You know that it is." 
Related Posts