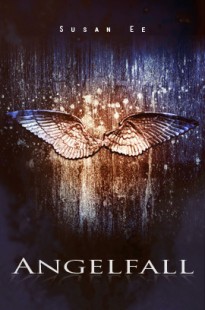 Angelfall (Penryn & the End of Days #1)
by Susan Ee
Purchase on: Amazon, iBooks, 
Book Depository
Add to: Goodreads


Synopsis:

It's been six weeks since the angels of the apocalypse destroyed the world as we know it. Only pockets of humanity remain.

Savage street gangs rule the day while fear and superstition rule the night.

When angels fly away with a helpless girl, her seventeen-year-old sister Penryn will do anything to get her back...
Edit 29.05.2015: Still as amazing as it was the first time I read it! It's no secret that I absolutely love stories set in post apocalyptic worlds. They have this magic about them, these stories where nothing is granted, where everything is fleeting, and the characters have to fight for survival daily, every moment of the book. Obviously, I'd never want to live in a world like that – I mean that sounds pretty exhausting… also, my books! – but reading about stories like that is fascinating. And Angelfall and its sequels are a prime example for that and definitely some of the best out there. Now you might wonder, what is it that makes Angelfall so special? Well, I'll tell you.
That calls for a witty comeback. 'Whatever,' I say. Okay, so I won't be getting the Witty Woman of the Year Award.
First and foremost, there's Penryn. Angelfall definitely thrives on its extremely badass heroine. Penryn is very stubborn, loyal to a fault and just won't take no for an answer. And as a bonus she also has a great sense of humor which makes her both likable and extremely relatable. Oh, and of course it's a lot of fun to be in her head. I couldn't get enough of it. Penryn is thrown into this post apocalypse with her schizophrenic mother and her wheelchair bound little sister, Paige, to take care of – not the best circumstances if you want to survive in a world without laws where humans are prey again for the first time in thousands of years. But Penryn takes on all this responsibility like a pro and manages to keep her family safe from both mortal predators (aka raid gangs) and avenging angels, until the night she stumbles into a deathly fight…
He stares into my eyes with an intense look. I hold my breath. I swear he's memorizing me, as though his mental camera is firing, capturing me in this moment.
When Raffe loses everything in one disastrous night, the last thing he probably expects is to be taken hostage by a human girl. But Penryn is determined to rescue her little sister from the angel who took her and Raffe is her only chance of finding Paige. Since Raffe wants to get back everything that he lost, he agrees to take Penryn with him, and that's how they find themselves in a uneasy and very temporary partnership. Raffe is easily one of my all-time favorite YA heroes out there. I love everything about him. His sarcastic comments. His broodiness. His cockiness. The way he absolutely doesn't want to like Penryn, but slowly starts to respect her. The way he tries to fight it with all he got. The way he constantly looks out for her, protects her, but also knows that she can take care of herself. All that made for a very swoon-worthy hero.
'How do you know?' 'Because you have the look they're looking for.' 'What look is that?' 'Beautiful.'
On top of that, there was not one boring moment in this book. There wasn't a time when I thought things should speed up a little, because the plot was fast-paced and action-packed, always. I was glued to every single page and couldn't stop reading. Even the second time reading this, I was just as hooked. There's so much going on and I couldn't wait to find out what would happen next. Susan Ee really knows how to write gripping stories. Also, I absolutely love her writing style. With each of her words, I felt like I was right there along side Raffe and Penryn, living their story. Susan's writing makes it so easy to imagine the world she created.
'Death and destruction are so passé.' 'So mainstream.' 'So in with the popular crowd.'
And now, the cherry on top of this post apocalyptic chocolate cake: the side characters to lighten up this dark story a bit and to bring some extra flair to it. From Dee-Dum to Obi, they were the perfect addiction to this perfect story. Even Penryn's crazy mother was a perfect fit, giving the story some more gloom, or some laugh-out-loud moments, depending on the situation. I can't wait to dig into World After now, to get my daily fix on Susan Ee's awesomeness.
I never thought about it before, but I'm proud to be human. We're ever so flawed. We're frail, confused, violent, and we struggle with so many issues. But all in all, I'm proud to be a Daughter of Man.
24.04.2014: OMG this was awesome! I'm so glad I already have the next book right here waiting for me! Looove Raffe and Penryn! ❤
Reading Order & Links:
Amazon (click on covers), iBooks (click on titles) & Book Depository (click on book #)

Angelfall #1
Reviews:
Jen
Chelsea
Laura
Anna

World After #2
Reviews:
Jen
Chelsea


End of Days #3
Reviews:
Jen
Chelsea
Save
Related Posts