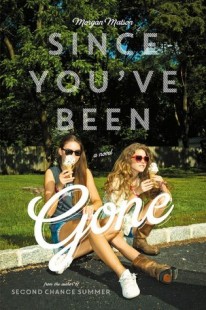 Since You've Been Gone by Morgan Matson
Purchase on: Amazon, iBooks, 
Book Depository
Add to: Goodreads


Synopsis:

The Pre-Sloane Emily didn't go to parties, she barely talked to guys, she didn't do anything crazy. Enter Sloane, social tornado and the best kind of best friend—the one who yanks you out of your shell.

But right before what should have been an epic summer, Sloane just… disappears. No note. No calls. No texts. No Sloane. There's just a random to-do list. On it, thirteen Sloane-selected-definitely-bizarre-tasks that Emily would never try… unless they could lead back to her best friend.

Apple Picking at Night? Okay, easy enough.

Dance until Dawn? Sure. Why not?

Kiss a Stranger? Um...

Getting through Sloane's list would mean a lot of firsts. But Emily has this whole unexpected summer ahead of her, and the help of Frank Porter (totally unexpected) to check things off. Who knows what she'll find?

Go Skinny Dipping? Wait ... what?
In a well-ordered universe… 
…I would've read this book in one setting. But life kept getting in the way, and now I actually think that's a good thing. This way, I got to enjoy the book longer, think about it when I wasn't reading, look forward to the next time I would get to return to the story. The breaks, the anticipation made it even better, really. And I already miss this amazing story, now that I'm done.
So, yes, Since You've Been Gone definitely deserves the hype. But really, what did I expect after loving Matson's Amy and Roger's Epic Detour as much as I did? And now, Morgan Matson is totally on my auto-buy list. Yep, I will read anything she writes and can't wait to get my hands on Second Chance Summer! (Especially since I've read that there's an Amy and Roger cameo eeeks!!!)
Anyway, Since You've Been Gone isn't exactly this epic novel or anything, but it deals with the little things of growing up that I think most people can relate to, and Matson wove all that into something almost magical and so much fun!
The story starts in summer, the summer before Emily's senior year. She and her best friend Sloane had so many plans to make this the best summer ever, but then Sloane disappears and everything changes. Emily finds herself completely friendless with nothing to do but wonder where the hell her best friend is. But then, two weeks after her disappearance, a list arrives. A list from Sloane that entails 13 things to do this summer. A challenge? Or maybe a way to find her best friend?
"There were two types of people – the type who could talk to anyone and make friends with them, and the type who spent parties hiding and sitting against trees."
I think what I loved most about this book was Emily's character development through the course of the book. In the beginning she's this shy girl who's afraid of so many things and forever in the shadow of her best friend. But the list, the list really made Emily come out of her shell and I loved it! I loved seeing her growing more and more confident, and finally becoming a better version of herself.
And then there were the new friendships that were formed with the help of the list. Most important of all, Emily and Frank.
"Do you not like The Beatles?" Frank asked, sounding shocked. "Do you also not like sunshine and laughter and puppies? I don't think the Beatles get enough recognition. I mean, when you look at their body of work and how they changed music forever. I think there should be federal holidays and parades"
Frank… Oh man. How much I loved him and Emily together. Frank also has a different summer from the one he planned. Because of an unfortunate turn of things he has to stay in town instead of going to this program at Princeton with his girlfriend Lissa. So he gets a job with his best friend which is where he runs into Emily and befriends her unexpectedly.
Frank is such an amazing character and I loved the book a little more every time he was present. He's sincere, adorably passionate about a lot of things, and so head over heels for Emily. Frank brought a smile to my face so many times I lost count.
"He looked right at me as he gave me a half smile. "You're the brightest thing in the room", he said. He lifted his hand from my waist, and slowly, carefully brushed a stray lock of hair from my cheek. "You shine."
Emily and Sloane's friendship was completely different from hers and Frank's, obviously, but I loved it just as much! I really enjoyed all those little flashbacks where we got to read about their past adventures, many of them explaining particular challenges from the list.
Great female friendships in books are so important and Matson wrote an amazing one for sure! Their friendship felt so genuine, not without problems of course, but the way they dealt with them is what defines them and they acted both more mature than many YA characters do which is so refreshing.
There was this one particular scene where I feared Sloane would do something extremely stupid and basically destroy their friendship, but she surprised me in the best way ever. Thank you, Morgan Matson, for writing two female characters that actually support each other. Also, there was no slut-shaming whatsoever – all the stars for that alone. That has become very common in many YA novels and I absolutely hate it. When a heroine judges another female character, even calls her a slut, for making the decision to sleep with someone, I lose all the respect for her. And it's such a bad thing to be teaching that to young girls. But there was none of that in here. NONE. Very important.
"I don't think you have to do something so big to be brave. And it's the little things that are harder anyway."
Music has always been an important part of my life. I don't think I've ever gone a day without listening to some favorite songs. So that being said, can you imagine my reaction to there being playlists in this book? PLAYLISTS. Not one, but a few! I nearly died from happiness. I think every book should include a playlist or two, in some kind of way. We should make that a rule. Because it makes everything just so much better! Playlists FTW!!
"And I was realizing that it was pretty terrible to be sitting in silence with someone who you always used to have something to say to."
Since You've Been Gone simply had so much charm with its summery atmosphere and the little life lessons all in a 450 pages package. So yes, you should read this book. Read it in summer to get into the perfect mood. Or read it in winter when you miss the warm and lazy days. Read it on the beach or in your garden or in your bed – JUST READ THE DAMN BOOK.
Ok, I'm done.
Related Posts