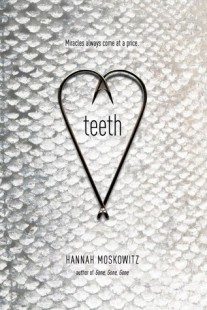 Teeth

by Hannah Moskowitz
Purchase on: Amazon, 
Book Depository
Add to: Goodreads


Synopsis:

A gritty, romantic modern fairy tale from the author of Break and Gone, Gone, Gone.

Be careful what you believe in.

Rudy's life is flipped upside-down when his family moves to a remote island in a last attempt to save his sick younger brother. With nothing to do but worry, Rudy sinks deeper and deeper into loneliness and lies awake at night listening to the screams of the ocean beneath his family's rickety house.

Then he meets Diana, who makes him wonder what he even knows about love, and Teeth, who makes him question what he knows about anything. Rudy can't remember the last time he felt so connected to someone, but being friends with Teeth is more than a little bit complicated. He soon learns that Teeth has terrible secrets. Violent secrets. Secrets that will force Rudy to choose between his own happiness and his brother's life.
► My thoughts exactly. Do you know the kind of book which has the power to affect you so much that you spend your night tossing and turning in your bed? Well, welcome to my last night.
▧ What a powerful read, really. Teeth belongs to the stories that you need to discover for yourself, where nothing is better than starting almost blind, that's why this review is going to be short, plot wise, at least.
✐ Before starting Teeth, I knew that Hannah Moskowitz's writing was either loved or hated among readers. However, what I didn't know is in which clan I will end. Verdict? I fell in love with it from page one. Indeed it's raw, to the point, powerful, full of repetitions sometimes. If short sentences are often used, the contrary is also right, and we find metaphors sometimes but so rarely that they create a distortion absolutely fantastic. To be frank, I'm not usually a big fan of present tense and metaphors but here? That's majestic. That's the poetry of the everyday. That's true, that's real, that's a respiration, my respiration. Don't expect stilted language, though. Indeed they swear. A lot. And frankly, maybe I'm weird but I found this wonderful.
"And something small and insignificant inside me shatters, just like every night, and feelings hit too hard for me to stand. I bend at the waist and cling to the windowsill. I won't scream. I won't throw myself against the walls until the supports give and we fall into the ocean. I won't think about swimming as hard as I can.
▧ Listen carefully because I haven't felt something like this since I read a book from Melina Marchetta : The characterization was perfect. Indeed the characters are so complex, dynamic and strangely realistic (yes, strangely, because Fishboy, duh) that I couldn't help but fall in love with each and every one of them, couldn't help but care deeply about their family, their struggles, the choices they have to make, their pains. Oh, God. My heart is shattered in a millions pieces but I wouldn't have wanted anyone of them to be different.
"And he opens his mouth, and I'm ready for anger and spit and fire, but instead it's just the smallest voice in the world. "What did you call me?"
[Here's where I was supposed to describe the characters, but I changed my mind. Go meet them. Go fall in love with them. Go suffer for them. Go laugh with them. Just go, dammit, just go.]
▧ The relationships between the characters were so beautiful and endearing that they just … got to me like few manage. Do we need words to express what we feel? Do we need to put a name on a box? I don't think so. Friendship, guilt, expectations, but love love love. So much love that my heart can't contain it.
"I'm a shaky mess all the time.
My parents have no idea this is all my fault, that they should be tying me down and excising me or lancing me like a boil or shooting me full of poison, anything, and then taking my lungs and stuffing them down my brother's throat and watching him turn pink again."
▧ First of all, I honestly think that we need to prepare ourselves to embrace the weirdness in order to enjoy this book. Why? Because it's a fairy tale and yet it's not really a fairy tale. Because there's magic and not always explanations for it. Because some parts seriously grossed me out, and yet the story is so beautiful I don't fucking care.
▧ Moreover, I must warn you that this book is dark. Oh God, so dark and sad and hopeless at times. Indeed it deals with strong subjects like sexual abuse, and it's definitely not for the faint of heart, you've been warned. During my read, I often felt suffocated, lonely, so attached to the characters, enthralled. It reached something inside me, pulling, and pulling and pulling again, until the tears came out – You want to know the truth? It moved me as a Marchetta's book would, suddenly and completely. As it was, the raw loneliness and the absence of choices oozing from the pages were my undoing. Truth being told, this story of a family who moves in a strange island where fishes can heal is the support for so many reflexions about life that it made me think like few books manage to.
• Responsibilities. How to get free? Can we, really?
• Differences. Our place in the world. What for?
• Family and disease. What are we ready to do to save those we love?
• Ethical thinking. What makes us more worthy than other living beings? Are we, really?
I have no damn clue. Have you?
"It doesn't matter what team I'm on, for a minute. For a minute it's just me and that smile."
► To sum up, Teeth is weird, bizarre but so fucking powerful and beautiful that I know I'll reread it over and over again.
"And the fucking ocean, the ocean is so quiet, because I guess the fucking ocean just doesn't know how to act appropriately for anything, goddamn it, the fucking ocean, I am so sick of the fucking ocean and I don't know what to do and I want to dive in and get clean and never have to come back out".
Related Posts