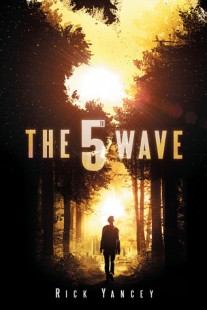 The 5th Wave

(The 5th Wave #1)
by Rick Yancey
Purchase on: Amazon, iBooks, 
Book Depository
Add to: Goodreads


Synopsis:

After the 1st wave, only darkness remains. After the 2nd, only the lucky escape. And after the 3rd, only the unlucky survive. After the 4th wave, only one rule applies: trust no one.

Now, it's the dawn of the 5th wave, and on a lonely stretch of highway, Cassie runs from Them. The beings who only look human, who roam the countryside killing anyone they see. Who have scattered Earth's last survivors. To stay alone is to stay alive, Cassie believes, until she meets Evan Walker.

Beguiling and mysterious, Evan Walker may be Cassie's only hope for rescuing her brother—or even saving herself. But Cassie must choose: between trust and despair, between defiance and surrender, between life and death. To give up or to get up.
"How do you rid the Earth of humans?
Rid the humans of their humanity."
The 5th Wave is one of those extremely hyped books I was rather afraid to read, but at the same time just had to read. With those kind of books it's usually a hit or miss for me. An either/or. Either I love them just as much as everyone else does… or I'm one of the few who doesn't get the hype at all.
Lucky for me, this one was a hit.
This. Story. Is. Amazing.
Goosebump inducing and absolutely captivating.
I absolutely loved the plot, the idea of the alien invasion, the world building, and the switch of POV's. All that made for an insanely good book that was very hard to put down and will be even harder to forget.
The plot is an awesome rollercoaster and left me breathless and frankly, quite paranoid most of the time. Every time I thought I figured out at least some part of it all, something else happened that left me super confused and had me doubting everything and everyone. It was seriously the best thing.
The whole idea is so deliciously creepy and just depressing – and at the same time hopeful – enough for my taste. It really was just my cup of tea. I've always been a sucker for adventurous survival kind of stories where humanity is at stake and this one definitely delivered.
And the writing style! Easy to read, hard to stop reading. So yeah, let's just say Rick Yancey has acquired a new fan last night.
Cruelty isn't a personality trait. Cruelty is a habit.
I know that most who read and loved The 5th Wave basically worship the ground Evan Walker walks on (hehehe). Unfortunately this wasn't the case for me. Trust me, no one is more heartbroken because of this than me. I had high hopes and all. But it just didn't work for me. He just didn't quite work for me. His actions, among other things, were the reason why I didn't give this a full 5 stars. The thing is, his actions were explained well enough in the end and I fully understand why he did what he did. But that doesn't change the fact that he annoyed the hell out of me at times and that I never came to love him. I made my peace with him in the end and sort of like him now, but nothing more. Also, did he really have to View Spoiler »confess his love for Cassie in the first book? It was just too soon for my liking and made their whole relationship so very cheesy which doesn't fit the book or Cassie at all. Who knew Rick Yancey was such a romantic? « Hide Spoiler But yeah, that really pissed me off.
"I'm not making this up."
"Why green, though?"
"Because green is the color of money, grass, oak leaves, and alien bombs. How the hell would I know why it was green?"
Cassie on the other hand, is awesome! A very refreshing heroine that I never got tired of. I loved being in her head and seeing the world from her perspective. Her best trait, in my opinion, is her humor, her ability to come up with hilarious, smartass, sarcastic things. Also, she's pretty ruthless, loyal and knows what she wants. At times she was a bit immature, but then again, that only made her more realistic since she is a sixteen year old, no matter what kind of world she lives in. She handles everything in a smart, sensible manner which again, was very refreshing.
Dying isn't so different from that. You don't feel like it's going to happen to you… until it happens to you.
And now, to my favorite person in that whole alien invaded world: Zombie. His chapters were the thing I always looked forward to and always enjoyed immensely. The voice that Rick Yancey created through him is relatable, funny and extremely likable. Zombie, a former jock who lost everything in this apocalyptic world, who's trying to make it right again, to fight for something that matters. I don't think I can put into words how much I adore that guy. The way he cares for Nugget and the other kids, the way he's so desperate, but at the same time determined to keep his promises this time, to face his fears and not run from them ever again.
And then of course, the way he is around Ringer. A little more playful, a little more like the old him, the pre-alien-invasion him. Always trying to make her smile. I really loved all of his sides and can't wait to find more in The Infinite Sea.
And of course, the same goes for Ringer. We barely know anything about her at this point and I can't wait for more of her little badass self.
Maybe that's the point: It's their world now, and we're the aliens.
What makes this story not only action-packed and fun, but also inspirational and thought-provoking, were all these questions that kept popping up: What makes us human? Can you survive this war without losing your humanity? Why are we even here? What matters in a world full of destruction and death? Is it okay to kill one person if it saves many others?
All this existential stuff really gave me lots to think about and I loved that! I was thinking about how far I would go to survive or to save a loved one, how I would try to survive. Would I stay on my own or attempt to trust someone else, even though it could backfire horribly?
So many questions! Rick Yancey really gives his readers lots to think about.
Because if I am the last one, then I am humanity.
And if this is humanity's last war, then I am the battlefield.
As you can see, I throughoutly enjoyed this book and would definitely recommend it to anyone who hasn't read it yet. Go, give it a try!
Save
Save
Related Posts