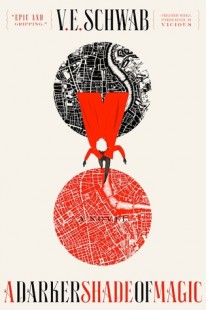 A Darker Shade of Magic (Shades of Magic #1)
by V.E. Schwab, Victoria Schwab
Purchase on: Amazon, iBooks, 
Book Depository
Add to: Goodreads


Synopsis:

Kell is one of the last Travelers—rare magicians who choose a parallel universe to visit.

Grey London is dirty, boring, lacks magic, ruled by mad King George. Red London is where life and magic are revered, and the Maresh Dynasty presides over a flourishing empire. White London is ruled by whoever has murdered their way to the throne. People fight to control magic, and the magic fights back, draining the city to its very bones. Once there was Black London—but no one speaks of that now.

Officially, Kell is the Red Traveler, personal ambassador and adopted Prince of Red London, carrying the monthly correspondences between royals of each London. Unofficially, Kell smuggles for those willing to pay for even a glimpse of a world they'll never see. This dangerous hobby sets him up for accidental treason. Fleeing into Grey London, Kell runs afoul of Delilah Bard, a cut-purse with lofty aspirations. She robs him, saves him from a dangerous enemy, then forces him to another world for her 'proper adventure'.

But perilous magic is afoot, and treachery lurks at every turn. To save all of the worlds, Kell and Lila will first need to stay alive—trickier than they hoped.
"I'd rather die on an adventure than live standing still."

I need to get my hands on the sequel and Vicious and basically everything else Victoria Schwab (aka V.E. Schwab) has ever written. Because that woman can write. Holy shit.
"Pretty thing," whispered an old woman from a doorway in Maktahn. "Pretty skin. Pretty bones."
"This way, Master," called another.
"Come inside."
"Rest your feet."
"Rest your bones."
"Pretty bones."
"Pretty blood."
"Drink your magic."
"Eat your life."
"Come inside.
Before I get started on my fangirling, I just want to say that stories set in the 19th century are some of my absolute favorites, especially when they're set in London. I haven't read that many (I don't know why), but when I do, I always end up falling in love with them. So obviously my expectations were pretty high. And not to mention that they're actually three Londons in this book, two very magical and deadly ones on top of the 'normal' one. I mean, c'mon, that's almost like winning the lottery! And then there's the fact that basically everyone l know loved A Darker Shade of Magic. So essentially, my expectations were over the top and that scared the hell out of me. Because that's how perfectly good books end up being only a mediocre reading experience. And I absolutely didn't want that to state the obvious. To increase the pressure a little more, this book was also gifted to me by a hardcore Victoria Schwab fan. So yes, I desperately needed to love this. Talk about pressure.
And yes, I know this has little to do with the book itself, but I do have a point. The thing is that I was extremely scared of starting A Darker Shade of Magic because of all the reasons listed above, so it was just laying in my room for a month, beckoning me, daring me to read it. And two days ago I finally gave in. After all this build-up I didn't really expect to end up loving it, really loving it. But I did. I fell in love with this book in spite of all the crazy hype and expectations! That alone is a small miracle.
But now, let the fangirling commence.
She [Lila] fetched up the knife and slit it into her belt and went to find – and most likely rescue – Kell from whatever mess he'd gotten himself into now.
If you don't know whether you should read A Darker Shade of Magic and are looking for reasons, I can guarantee you that my girl Lila Bard is reason enough alone. She is now one of my favorite heroines of all time, up there with the one and only Celaena Sardothien *gasp*. Just let that sink in for a minute.
.
.
.
Done? Okay.
Lila, a cunning thief, an aspiring pirate, a girl looking for trouble and adventure, is probably as close to fearless as you can be. She also has a fondness for weapons, especially knives, and has no problem taking something from you if it's worth having. So you better watch your pockets.
Of course, if you're looking for trouble, you usually find it, and Lila finds it in the form of a little black stone and a certain black-eyed guy that she ends up rescuing a few times. No big deal.
I absolutely loved Lila's stubborn and mischievous nature, her loyalty to those who are worthy of it, her ruthlessness, and most of all, her ability to take care of herself. All that made her a very refreshing heroine to read about. I can't wait for more adventures with her.
"There's nothing I would not give you."
Kell's chest ached. "I know."
"You are my brother. My closest friend."
"I know."
"Then put an end to this foolishness, before I do."
Kell managed a small, tired smile. "Careful, Rhy," he said. "You're beginning to sound like a king."
Rhy's mouth quirked. "One day I will be. And I need you there beside me."
Kell smiled back. "Believe me. There's no place I'd rather be."
All the heart-eyed emojis. Kell and Rhy warmed my heart. They made me hug my book and squeal and smile. Seriously. I have so much love for those two.
Kell, the hero of our story, is a Traveller, an Antari, one of the last of a dying breed. He has the rare ability to travel between parallel universes, between three very different Londons. See, there's Grey London, the 'normal' London of 1819, ruled by mad King George III and his son. Dull London, Lila calls it. In Grey London magic is long forgotten and only exists in legends. Then there's Red London. Kell's London, where magic thrives and just about everyone has some gift for magic. And lastly, there's White London where magic is dying and taking its toll on the people who live there. They fight for the remaining magic, try to control it, and the magic fights back, corrupting the land and its people.
The world Victoria Schwab created through this book fascinated me from the first page. Magic. Different Londons. A coat that has more than two sides. Someone traveling between the worlds. A thief. A smuggler.
The setting for this story is magical and cruel, beautiful and deadly, and I am absolutely in love with it. The way Schwab made her world come alive on every page was fantastic and I never wanted to leave. In fact, I could reread the book right now just to be there again, to be reunited with those lovely characters. (February 2016 and the sequel are so far away!) Before reading this I've seen someone saying Victoria Schwab's writing is off the charts, and I can't emphasize enough how right they were. My new goal is to get my hands on all of her other books as fast as I can.
People, do yourself a favor and read this or any of her books!
Save
Related Posts