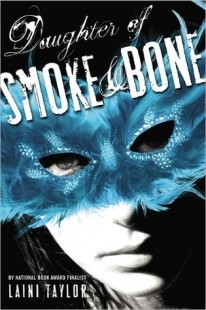 Daughter of Smoke and Bone

by Laini Taylor
Purchase on: Amazon, iBooks, 
Book Depository
Add to: Goodreads


Synopsis:

Around the world, black handprints are appearing on doorways, scorched there by winged strangers who have crept through a slit in the sky.

In a dark and dusty shop, a devil's supply of human teeth grows dangerously low.

And in the tangled lanes of Prague, a young art student is about to be caught up in a brutal otherwordly war.

Meet Karou. She fills her sketchbooks with monsters that may or may not be real, she's prone to disappearing on mysterious "errands", she speaks many languages - not all of them human - and her bright blue hairactually grows out of her head that color. Who is she? That is the question that haunts her, and she's about to find out.

When beautiful, haunted Akiva fixes fiery eyes on her in an alley in Marrakesh, the result is blood and starlight, secrets unveiled, and a star-crossed love whose roots drink deep of a violent past. But will Karou live to regret learning the truth about herself?
Once upon a time, an angel and a devil fell in love.
I did not end well.
Hi there, it's Laura and I'm back! I haven't written a review in what feels like forever, but here I am yay!
I started this little story on a rainy morning two days ago in the hope to be carried away from the bleak and ordinary. Something magical, that's what I needed badly. And Laini Taylor delivered.
The story starts with blue-haired Karou in the snowy streets of Prague, and from the moment I read those first few sentences I was hooked. It was exactly what I wanted, something completely different, a new world to get lost in.
Karou's life fascinated me endlessly, both her 'ordinary' one in Prague, and her extraordinary one in Brimstone's little shop, Elsewhere. On one hand there were beautiful, jackass Kaz, and her rabid fairy friend Zuzana, and on the other there were Issa, Twiga, Yasri, and Brimstone, her not so normal family.
I immediately liked Karou's voice, spunky, confident and a bit self-mocking, but also with a good amount of loneliness and sorrow underneath that attitude. Being in her head, reading her thoughts and seeing the world from her point of view was never boring. It also helped that Laini Taylor's writing is absolutely magical. I devoured her words and at times read a sentence twice because I liked the sound of it so much. It's not that often that I even notice the writing style at all because I'm usually too focused on the story, the characters, the action, but this time I did. Her writing flows like music with the occasional unknown word thrown in. I had to look up some meanings which I loved! I've read books in English long enough that I rarely have to do that anymore, which is a good thing I suppose, but it was also a lot of fun to discover some new words, especially if they sounded so magical.
"Wishes are false. Hope is true. Hope makes its own magic."
Just as magical and fascinating is the world Laini Taylor created in Daughter of Smoke and Bone. Angels with fiery, burning wings. Creatures part human, part animal. Chimaeras. One of them, Brimstone, the Wishmonger. Collector of Teeth. Keeper of Wishes. The reader doesn't learn much of anything about him in the beginning and his work stays a mystery for most of the book. I had so many questions! About his work. About the teeth. The chimaera. Karou's origin. About where she actually came from. The questions nearly killed me, especially since they only increased the further I got into the story!
"For the way loneliness is worse when you return to it after a reprieve—like the soul's version of putting on a wet bathing suit, clammy and miserable."
And then there's Akiva, the equally mysterious angel. Putting black handprints on doorways all over the world and generally being mysterious and sort of apocalypse-y. Of course, he comes across our dear Karou and… things happen.
I didn't know what to think of those two in the beginning. There's no insta-love which I liked, but then things do become a bit insta-loveish after all which I didn't. It makes complete sense later on, and I actually figured it out by myself pretty early, but before that I didn't quite enjoy their encounters as much as I wanted to. It just seemed so rushed. Later though, it all makes total sense and I finally fell in love with their story as certain things were explained. This probably sounds super confusing, but there's no other way to say it without throwing spoilers left and right. I already fear that I've said too much. Anyway, I think a lot of you actually love these kinds of love stories, but I've had my issues with them in the past, so I was pretty wary from the moment I realized what was going on. I'm glad to say though that I ended up enjoying it. The star-crossed lovers part, especially. Karou and Akiva have this Romeo and Juliet thing going on that I absolutely adored and I think many of you will too.
Laini Taylor ended this book on a pretty mean cliffhanger, so I can't wait to start Days of Blood and Starlight later! I need to know what'll happen to the characters that now have a special place in my heart.
Also, special thanks to my friends Müni and Jacky for gifting me a copy of Daughter of Smoke and Bone for my birthday. Love you girls. ♥
Related Posts