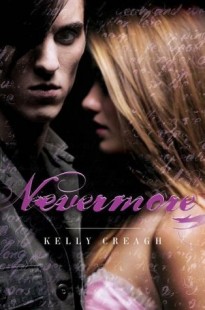 Nevermore

(Nevermore #1)
by Kelly Creagh
Purchase on: Amazon, iBooks, 
Book Depository
Add to: Goodreads


Synopsis:

Cheerleader Isobel Lanley is horrified when she is paired with Varen Nethers for an English project. Cold and aloof, sardonic and sharp-tongued, Varen makes it clear that he'd rather not have anything to do with her, either. But soon Isobel finds herself making excuses to be with Varen. Steadily pulled away from her freinds and possessive boyfriend, Isobel ventures deeper and deeper into the dream world Varen has created through the pages of his notebook, a realm where the terrifying shories of Edgar Allan Poe come to life.
As her world begins to unravel around her, Isobel discovers that dreams, like words, hold more power than she ever imagned and that the most frightening realities are those of the mind. Can she save Varen from the madness taking hold of him? Or will they both be consumed by the shadows of his nightmares?
Is all that we see or seem
But a dream within a dream?
This was my second time reading Nevermore and it's safe to say that I loved it just as much as the first time around. I stayed up until three last night to finish it because I just couldn't get enough of the sinister world Kelly Creagh created. Also, I couldn't for the life of me remember some very important details which is why, at times, it felt like I was reading it for the first time. Thanks, brain, for forgetting almost everything that happens during the last 150-200 pages!
Now, for this review I thought I'd just make a recipe sort of thing and present you the ingredients that made Nevermore such a spectacular read.
Ingredient #1: Edgar Allan Poe
Because whose tales and poems would make a better foundation for a gothic and slightly creepy book about disappearing into otherworldly dreams? I can't think of anyone suited better than Mr. Poe. His stories and verses were so seamlessly woven into and intertwined with this story and added just the right amount of literature and grotesquerie.
I never even read any of Poe's tales or poems before I was introduced to his genius through this book and actually bought a special edition of his complete collection, just like the one Varen has in Nevermore. So not only did his stories enhance this one in the most beautiful way, but it also introduced me to a writer whose works I might never have bothered with otherwise.
Ingredient #2: Likable Heroine
"Just because I live in the sunlight, enjoy being blond, and wear a cheerleading uniform, that doesn't mean I'm stupid. I'm so sick of that."
Yes, Isobel Lanley is a cheerleader, and a pretty good one at that. And yes, she's also dating Mr. Popular, football player Brad in the beginning of the book. So yes, I must admit Nevermore starts out a little cliché, and while that never bothered me, it might some people. But really, don't let that deter you. Give the book a chance and wait it out because later there'll be no trace of it. And Isobel, while being a cheerleader and all that, is actually a great heroine, albeit at times a bit clueless. She doesn't let others pressure her into unhealthy relationships and actually recognizes them as such. She stands up to bullies and isn't afraid to do her own thing. I really enjoyed that. All in all she came across as a pretty realistic 16 year old.
Ingredient #3: Interesting Hero
"Just because I wear black and keep a private journal, that doesn't mean I'm going to blow up the school. Or terrorize mindless cheerleaders, for that matter."
Yep, Varen Nethers definitely belongs to the gothic crowd of Trenton High and with his lip ring and dyed hair he couldn't be farther from Isobel's world of pom poms and meatheads *cough* Brad *cough*. I was intrigued with Varen from the moment he first showed up in the story. Everything about him kind of fascinated me. His beautiful handwriting, always in purple. The little black notebook he always carries around. His obsession with everything Edgar Allan Poe. His cool and scowling demeanor. Because who doesn't like some teenage angst? I wanted to know more about him, find out how he became the way he is. You could say I was a little obsessed myself. And firmly stayed that way throughout the book. I loved seeing him warm up to Isobel! When he started to become a bit playful or when he actually smiled I nearly died. I love all sides of his character and can't wait to read more about him in the sequel, Enshadowed.
Ingredient #4: THE CHEMISTRY ♥
Oh, how much I love Isobel and Varen. In spite of some other clichés, their story is in no way one of insta love and for that I am forever grateful. When the two of them first have to interact with each other – yes, I admit, they're partnered for an English project against their will, but WHO CARES. Those things happen all the time in school – well, they don't like each other. As I already mentioned above, they're from different high school worlds. He thinks she's some dumb, blond bimbo, and she thinks he's slightly okay very creepy. But because of that their chemistry has time to evolve slowly and perfectly. As the reader, you barely notice how their feelings change because of the subtle way it's done, and next thing you know you're shipping them so hard and you don't even know how it happened. The pace is restrained and beautiful and just the way I like it.
Ingredient #5: The Sidekicks
Because let's be real, they are so important to every story! Gwen, the girl who saves Isobel from a depressing friendless existence after the fall-out with her former clique, is my absolute favorite and gives the otherwise dark read some truly needed funny scenes. She's straight-forward, honest and has an outgoing, slightly crazed demeanor. She provided some laugh-out-loud moments and is the best friend every YA heroine needs.
There's also this other guy who will remain nameless in this review because you need to meet him yourself. He's in the habit of talking like a fortune cookie and only showing up when it pleases him, which just made him even more mysterious and interesting. I can't wait to find out what odd things he'll say or do in the next book.
Ingredient #6: The Atmosphere
Kelly Creagh really knows how to take some Victorian horror lit and a few good old high school kids and turn that into an absolute page-turner. I loved the creatures she added to Poe's gory stories and how she created a nightmarish dreamworld out of it. Reading Poe's tales and poems, and then finding bits and pieces in this book was so much fun. And even if you don't read them, Poe's verses are included where they're needed.
Creagh's writing is extremely beautiful, especially when it comes to describing the scenes in the dreamworld later on. The way she makes Poe's stories come to life is magical and enthralling.
Deep into that darkness peering,
long I stood there wondering, fearing,
Doubting, dreaming dreams no mortal
ever dared to dream before.
– Edgar Allan Poe, "The Raven"
I definitely recommend you give this book a try. Especially next month around Halloween would be the perfect time to dive into the world of Varen and Isobel.
For me all that's left now is impatiently waiting for tomorrow, when the sequel will finally be in my hands. (It better be, Amazon, or else!)
Related Posts