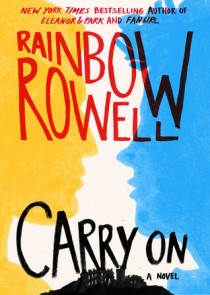 Carry On

by Rainbow Rowell
Purchase on: Amazon, iBooks, 
Book Depository
Add to: Goodreads


Synopsis:

Simon Snow is the worst chosen one who's ever been chosen.

That's what his roommate, Baz, says. And Baz might be evil and a vampire and a complete git, but he's probably right.

Half the time, Simon can't even make his wand work, and the other half, he sets something on fire. His mentor's avoiding him, his girlfriend broke up with him, and there's a magic-eating monster running around wearing Simon's face. Baz would be having a field day with all this, if he were here—it's their last year at the Watford School of Magicks, and Simon's infuriating nemesis didn't even bother to show up.
Review:
I wanted to give this book five stars, I really did. I feel like Carry On so deserves it, for surprising me, for saving me from the reading slump I expected after The Raven King, for giving me so many feels, keeping me entertained and making me laugh.
But there are some – admittedly really small – things that bother me, so 4,5 stars will have to do. Although I feel a bit bad about it. Forgive me, Baz!!
Definitely 5 stars for Baz, Penny and Simon though. I love those three to death.
The best thing about this book, is that I didn't expect to love it. See, I wouldn't call myself a Rainbow Rowell fan by any means – I enjoyed Fangirl quite a bit, but my feelings towards Eleanor & Park were lukewarm at best. Because of that I was unsure if I ever wanted to try another one of her books. I gotta say, I was one of the people who really liked reading about Simon Snow in Fangirl, though that doesn't mean that I absolutely needed to have a whole book about him. Let's just say that I was mildly curious. Skip forward to me buying it impulsively at my local bookstore a few weeks ago, and not knowing what to read after I finished The Raven King, and, voila, here we are. Turns out that Carry On is by far my favourite Rainbow Rowell book. Imagine I'd never even have given it a try!
Agatha furrows her brow. (She's going to have a vicious wrinkle there someday and I'm going to laugh about it.) – Penny
The thing I love most – as it's always the case with my favourite books – is the main characters. Simon, Penny and Baz are three favourite characters that I didn't see coming at all. (I won't talk about Agatha because she pissed me off for no good reason).
I'll start with Penny, because ladies first and all that. Penelope Bunce is a brilliant, sassy badass. I love everything about the way Rainbow wrote Penny's character! She's fierce and loyal, she stands up for what she believes, she's an amazing friend to Simon, she's funny, super smart, and courageous. Honestly, the boys would've been lost without her. There's nothing that I didn't like about Penny. Without her, the book would've only been half as funny and probably never would've reached its end because, let's be honest, Simon wouldn't have survived or figured out what was even going on. Penny rules.
"You're not a monster. (…)
I was wrong. All those years . You're a bully. And a snob. And a complete arsehole. But you're not one of them."
Simon Snow… where do I even start? Simon is an absolute cutie, although a little slow on the uptake sometimes. I gotta agree with Baz here. While that part of his personality might annoy others, I found it really endearing. What I liked most about Simon is his honesty, the way he's always himself, 100% of the time. Even when he is unsure about his own feelings, he doesn't play any games. Instead he let's the other person (Baz) know what's on his mind, so there's no unnecessary drama and stupid miscommunications that could've been avoided. It was very refreshing and I love Simon (and Rainbow) for that.
I saved Baz for last because he's what made me fall in love with the story. Arrogant, disdainful, precious little Baz. The moment he first made his appearance in Carry On, I was a goner. Experiencing the story from his POV was the best thing ever and I couldn't get enough of it. I seriously love everything about him, from the way he constantly sneers and mocks Simon, to the way he calls Penny Bunce, the way he's so confident, but at the same time doesn't think he deserves shit (he does!!) and of course, that he's View Spoiler »so hopelessly in love with Simon « Hide Spoiler. So, yeah, Baz is the cutest and I just want to give him a hug or ten.
I can't always tell when Baz is mocking me. He's got a cruel mouth. It looks like he's sneering even when he's happy about something. Actually, I don't know if he ever is happy. It's like he's got two emotions – pissed off and sadistically amused.
I could go on about how much I loved the characters, but I think you get the idea. Of course, the writing was flawless, I'm such a fan of the way Rainbow Rowell uses words and makes it seem effortless and magical. The story was so addicting, even though the plot wasn't extremely fast-paced and there wasn't that much action (not nearly as much as I wanted anyway). Still, I could hardly put this book down, there was just something about it. Do you know that feeling when you read something especially adorable and you get this tingly feeling in your stomach? It used to happen to me much more, but I think the more I read, the rarer this phenomenon becomes. But Rainbow managed to make me feel like that again. I felt like a little girl on Christmas Eve.
Ok, I think I've talked about all the positive things now, but there's still the negative. Granted, there's not a lot, but these things do bother me a little. I'll hide this part because there'll be spoilers, so don't click on it if you haven't read it yet!
View Spoiler »
There are three things actually that stopped me from handing out a five star rating. And the one that bothers me the most and made me toss and turn in my bed last night is THAT SIMON NEVER GETS TO KNOW HIS OWN STORY. It's so unfair and I don't get it! Yes, the reader becomes well acquainted with his mother Lucy, and The Mage's, or should I say Davy's insane plan, through the chapters from Lucy's POV. But Simon never finds out about how he came to be the way he is and never learned about his! I really wanted that for him and I don't understand why it never happened. He should've somehow discover his own past. Yes, The Mage died and we have a happy ending, but I'm not satisfied because Simon stays in the unknown and it's just not right.

Another thing I hoped for and never got, was a cool action scene at the end. It was all so exciting and nerve-racking how the guys were all split up and didn't seem to trust each other, but when Simon finally faced The Mage on his own, he didn't even catch on that The Mage had killed Ebb and was generally acting like the villain of his story. And when Penny and Baz find him, all they can do is watch him give his magic back and therefore destroy the Humdrum, and then it's all happy happy, problems solved, and The Mage is accidentally killed. I don't know, but it felt extremely anti-climatic to me and that was a bit disappointing.

And lastly, the wings and the GODDAMN TAIL. I'm sorry, but I cannot let this one go for some reason. WHY DID SIMON HAVE TO KEEP THE STUPID TAIL?? Because of that I couldn't properly focus on the cute and touching last Simon and Baz scene and it pissed me off! I couldn't stop thinking about whether he would get rid of the wings and tail at some point AND THEN HE DIDN'T. YES, HE MIGHT IN THE FUTURE, THEY MIGHT FIND A WAY, BUT IT ENDED WITH HIM HAVING NO MAGIC, BUT A FREAKING TAIL INSTEAD. I don't know why it bothers me so much, but I can't get over it. I feel a bit better now that I've got it off my chest though. « Hide Spoiler
All in all, I obviously liked Carry On a lot and would definitely suggest you give it a try, even if you're skeptical. Who knows, maybe it'll surprise you. I know it surprised me. 
Related Posts