This is  Quote of the Week's time again! Every week we share one of our favorite quotes, depending on the theme we choose… and let's be real, that shit is HARD, okay? CHOICES. CHOICES EVERYWHERE.

The theme for this week is :
~ a quote in a Fantasy novel that crushed our soul ~
"

And something small and insignificant inside me shatters, just like every night, and feelings hit too hard for me to stand. I bend at the waist and cling to the windowsill. I won't scream. I won't throw myself against the walls until the supports give and we fall into the ocean. I won't think about swimming as hard as I can."
About the book

Be careful what you believe in. Rudy's life is flipped upside-down when his family moves to a remote island in a last attempt to save his sick younger brother. With nothing to do but worry, Rudy sinks deeper and deeper into loneliness and lies awake at night listening to the screams of the ocean beneath his family's rickety house. Then he meets Diana, who makes him wonder what he even knows about love, and Teeth, who makes him question what he knows about anything. Rudy can't remember the last time he felt so connected to someone, but being friends with Teeth is more than a little bit complicated. He soon learns that Teeth has terrible secrets. Violent secrets. Secrets that will force Rudy to choose between his own happiness and his brother's life. TW – Graphic scenes of abuse.

ADD IT ON GOODREADS | BUY IT ON AMAZON
"Kell tried to pull free, but Maxim was built like a tree, and his massive hand gripped the back of Kell's neck. "I can't keep atoning," Kell whispered into the king's shoulder. "I gave him my life, but you cannot ask me to stop living.

"
About the book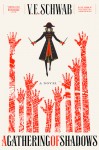 It has been four months since a mysterious obsidian stone fell into Kell's possession. Four months since his path crossed with Delilah Bard. Four months since Prince Rhy was wounded, and since the nefarious Dane twins of White London fell, and four months since the stone was cast with Holland's dying body through the rift–back into Black London. Now, restless after having given up his smuggling habit, Kell is visited by dreams of ominous magical events, waking only to think of Lila, who disappeared from the docks as she always meant to do. As Red London finalizes preparations for the Element Games–an extravagant international competition of magic meant to entertain and keep healthy the ties between neighboring countries–a certain pirate ship draws closer, carrying old friends back into port. And while Red London is caught up in the pageantry and thrills of the Games, another London is coming back to life. After all, a shadow that was gone in the night will reappear in the morning. But the balance of magic is ever perilous, and for one city to flourish, another London must fall.

ADD IT ON GOODREADS | BUY IT ON AMAZON
"The problem with wanting," he whispered, his mouth trailing along my jaw until it hovered over my lips, "is that it makes us weak."
About the book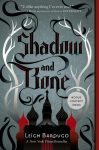 Surrounded by enemies, the once-great nation of Ravka has been torn in two by the Shadow Fold, a swath of near impenetrable darkness crawling with monsters who feast on human flesh. Now its fate may rest on the shoulders of one lonely refugee. Alina Starkov has never been good at anything. But when her regiment is attacked on the Fold and her best friend is brutally injured, Alina reveals a dormant power that saves his life—a power that could be the key to setting her war-ravaged country free. Wrenched from everything she knows, Alina is whisked away to the royal court to be trained as a member of the Grisha, the magical elite led by the mysterious Darkling. Yet nothing in this lavish world is what it seems. With darkness looming and an entire kingdom depending on her untamed power, Alina will have to confront the secrets of the Grisha . . . and the secrets of her heart.

ADD IT ON GOODREADS | BUY IT ON AMAZON
Now, your turn! Tell us, which quotes crushed your soul?
Related Posts