This is Quote of the Week's time again! Every week we share one of our favorite quotes, depending on the theme we choose… and let's be real, that shit is HARD, okay? CHOICES. CHOICES EVERYWHERE.

The theme for this week is :
~ a quote in a Contemporary Romance ~
"I smiled at him. "And you slept over. Again." (…)
"You made me."
"I don't remember that."
"Well," he said. "You don't remember very much. Do you? Jack, I'll never let go,", he mimicked.
"Oh god."
"Never let go."
"I don't believe you," I said, even though I totally believed him.
"Jack!" he mimicked."
About the book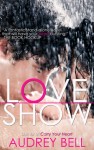 Hadley Arrington is the career-driven Editor-in-Chief of her university's prestigious newspaper. Jack Diamond is a laid back student whose good looks have made things even easier than they need to be. She's the girl who came out of nowhere and kissed him in the rain. He's the boy who made her do something crazy.
When the stakes seem too high, they have to decide if they'll let their love show or if they'll walk away for good.

ADD IT ON GOODREADS | BUY IT ON AMAZON
"When the store was empty again, I buried my head in my hands. I hadn't realized how much Josh had been helping me get through the summer until he wasn't there anymore. I wanted him to ask me how the Sky was. And then I wanted him to make it stop raining."
About the book

If Skylar Evans were a typical Creek View girl, her future would involve a double-wide trailer, a baby on her hip, and the graveyard shift at Taco Bell. But after graduation, the only thing separating Skylar from art school is three months of summer…until Skylar's mother loses her job, and Skylar realizes her dreams may be slipping out of reach. Josh had a different escape route: the Marines. But after losing his leg in Afghanistan, he returns home, a shell of the cocksure boy he used to be. What brings Skylar and Josh together is working at the Paradise—a quirky motel off California's Highway 99. Despite their differences, their shared isolation turns into an unexpected friendship and, soon, something deeper. Compelling and ultimately hopeful, this is a powerful examination of love, loss, and resilience.

ADD IT ON GOODREADS | BUY IT ON AMAZON
"The trick is to find that one person who can give it back as good as they can take it."
About the book
Lucy Hutton and Joshua Templeman hate each other. Not dislike. Not begrudgingly tolerate. Hate. And they have no problem displaying their feelings through a series of ritualistic passive aggressive maneuvers as they sit across from each other, executive assistants to co-CEOs of a publishing company. Lucy can't understand Joshua's joyless, uptight, meticulous approach to his job. Joshua is clearly baffled by Lucy's overly bright clothes, quirkiness, and Pollyanna attitude. Now up for the same promotion, their battle of wills has come to a head and Lucy refuses to back down when their latest game could cost her her dream job…But the tension between Lucy and Joshua has also reached its boiling point, and Lucy is discovering that maybe she doesn't hate Joshua. And maybe, he doesn't hate her either. Or maybe this is just another game.

ADD IT ON GOODREADS | BUY IT ON AMAZON
Now, your turn! Tell us, what are your favorite quotes in a Contemporary Romance novel?
Related Posts