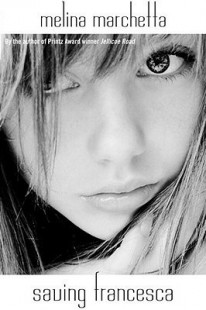 Saving Francesca

by Melina Marchetta
Purchase on: Amazon, iBooks, 
Book Depository
Add to: Goodreads


Synopsis:

Francesca is stuck at St. Sebastians, a boys' school that's pretends it's coed by giving the girls their own bathroom. Her only female companions are an ultra-feminist, a rumored slut, and an an impossibly dorky accordion player. The boys are no better, from Thomas who specializes in musical burping to Will, the perpetually frowning, smug moron that Francesca can't seem to stop thinking about.

Then there's Francesca's mother, who always thinks she knows what's best for Francesca—until she is suddenly stricken with acute depression, leaving Francesca lost, alone, and without an inkling who she really is. Simultaneously humorous, poignant, and impossible to put down, this is the story of a girl who must summon the strength to save her family, her social life and—hardest of all—herself.
How do I describe Saving Francesca best?
Raw. Honest. Authentic. And an instant favorite for me.
I still can't believe how much I love this book and THAT I WAITED SO LONG TO READ IT FOR FUCK'S SAKE.
I absolutely adored  Jellicoe Road by Melina Marchetta and planned to read everything she's written immediately. And then I waited more than a year. So, yes, it's official: I'm an idiot.
To me, Melina Marchetta is the queen of emotional stories. With both of her books I've read so far, she managed to make me feel a ton of things I wasn't ready for or expecting to feel at all. Saving Francesca is pretty short, but I became invested extremely fast, sometime during the first chapter probably. If life hadn't interrupted, I would've read it in one sitting. So yes, you could definitely say that I was hooked from the beginning.
"I was born seventeen years ago," I tell him. "Do you think people have noticed that I'm around?"
"I notice when you're not. Does that count?"
Saving Francesca has everything I love about Marchetta's books: authentic teen characters, some pretty humorous dialogue, a strong and touching plot, amazing character development, no stupid tropes, no slut-shaming and no annoying stereotypes. She writes perfect young adult stories in my opinion. I think many writers could learn from her.
What I like most about Marchetta's stories, is that her characters are flawed, never perfect. They're allowed to make mistakes, and make plenty of them. But I've never disliked a single one of them, ever. Because how could I, when I've made similar mistakes in my life? When they're trying their best, even though life just keeps being shitty to them? They're written so realistically and I love that.
They're gone.
I hear my father calling out my name, but I keep on running.
Everyone's gone.
And I need to find them.
Oh Francesca, how much I felt with that girl. Her pain, her confusion, her helplessness. It was all over the place. Her emotions were so tangible. And despite our differences, it was really easy to relate to her. I loved the experience of seeing the world from her point of view.
Life isn't easy for Francesca from the moment the book begins. Her mother is suddenly stricken with acute depression, stops leaving her bed and generally participating in life. Having lost their anchor, Francesca's and her family's world is turned upside down. Francesca and her father have very different methods of dealing with this, which starts many new issues. And on top of that, Francesca has to go to a formerly all-boys school, where she doesn't feel like she belongs at all.
Francesca definitely is an amazing heroine. What I liked most about her as a character, is the way she develops over the course of the book. She starts out as a quiet girl that has a lot to say, but never bothers to open her mouth, never bothers to get close to anyone. She'd rather attend another school with her old friends where she knew her place and role. The newness of St. Sebastian, her new school, is a littler out of her comfort zone, so she mostly keeps to herself. Over the course of the book though, she slowly ends up befriending some people after all, learns to confide in them and gets to experience the beauty of real friendships.
My mother won't get out of bed, and it's not that I don't know who she is anymore.
It's that I don't know who I am.
I love how the friendships developed very slowly. A conversation here, another conversation there. And an incident that bonds them together. I feel like most friendships are like that in real life too, so I really enjoyed that.
Just like in Jellicoe Road  I absolutely fell in love with the whole spectrum of characters. From Francesca to the girls Tara, Siobhan and Justine, to Will and Jimmy and Thomas and Shaheen, to her brother and parents, to her cousin Angelina, I adored every single one of them.
Besides that amazing group of friends supporting each other and having fun together, I really appreciated the way Francesca's and her parents' relationship is dealt with. I feel like in quite a few YA books, the parents are either almost completely absent, or only included in a shallow or stereotypical kind of way. So I really liked that Marchetta wrote such a realistic and positive portrayal of a parents – teen relationship and that she didn't drop it for the sake of the romance or something like that. I especially loved some of the scenes between Francesca and her dad. Those two almost killed me at times. And yes, her mom's depression is basically what starts this book, but I think some authors might not work through those issues completely and only use them as a plot-device, while Marchetta's approach is all-encompassing and thorough, in my opinion. I just really liked how she wrote this whole book.
Thomas puts his arms around my neck. "You've still got me."
"Don't upset her any more than she already is," Siobhan said.
God, this review is getting so long, but there's so much to talk about! Another thing I really loved is the feminist approach that she weaved into the story as well. And if you're wondering now, how she managed to include so much in this little book, well.. I don't know how she did it, either! My only answer is that Marchetta must be some kind of genius.
So, the thing about St. Sebastian and how it used to be an all-boys school, is that the girls aren't particularly included in anything from extracurricular activities like drama and sports to debates and even freaking greetings (that one teacher insists on addressing the class as 'gentlemen'). Most of the girls attending aren't keen on trying to change anything about the situation and think it's easier to just 'learn to live with it', but my favorite girl Tara Finke is outraged and constantly tries to start a feminist movement. I love her. While the girls don't manage to get everything they feel they deserve, they do manage some changes and I think that's realistic. Most change happens over time, not from one day to the other. I think the most important thing is that the issue was addressed, and how it was addressed. Representation is important. Like Tara says: "…we actually came to this place because of its drama department and this year they decide to put on Stalag 17, which has not one female role" and that's just one of many things she's rightfully angry about.
"You girls are weird in a way. I would never have spoken to Trombal or Mackee or even Shaheen, whatever his name is. They would never have spoken to me. Everyone used to be so different to each other, but with you girls here, everyone kind of just hangs out."
I could talk about so much more still, but I think I'll leave it at that. Most importantly, Saving Francesca has fun banter and important real life issues wrapped up in this little book, just to sum it all up. 
If you haven't read anything by Marchetta so far, I beg you to at least give one of her books a try. She deserves so much more attention in the Young Adult scene, hell, in any scene. Go read one of her books!
"You go and shake your foundations, Will. I think it's time I saved myself."