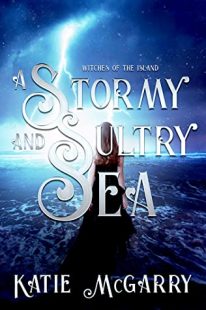 A Stormy and Sultry Sea
(
Witches of the Island #2
)
by
Katie McGarry
Purchase on:
Amazon
, 
iBooks
Add to:
Goodreads
Synopsis:

A witch and a Fae aren't supposed to fall in love, nonetheless be soulmates…

New witch and midwife Cassie Strega helped a human mother through the tumultuous birth of the queen of the demons, and now Cassie and the baby have been kidnapped by one of the four demon princes fighting each other to lay claim to their new queen. Cassie hopes she can appeal to the human side of the child in order to save humanity, but as the child feeds upon her soul, Cassie must also battle the four demon-prince-uncles who intend for the infant to fulfill her dark destiny.

The love of Cassie's life, the sultry Fae warrior and heir to the Fae kingdom, Orion, is still searching for the Fae queen he's been tasked to find, but he is also desperate to save Cassie from his archenemies. He is torn between his heart and his duty, but if he doesn't save Cassie by Beltane, the blood bond that connects Cassie to Orion will forever be severed and she will be marked as an enemy to the Fae—one he is sworn by oath to kill.

Fate was cruel when it linked Cassie and Orion together. Their attraction to each other is undeniable, their love assured, but these fated lovers are doomed by a curse that threatens to keep them apart. Every touch during every shared dream, every kiss during every cherished moment together is driving them closer to what will either be a victory of humanity or an end no mortal will be able to survive. Will love, in the end, truly conquer all or will it destroy them all?
Review:
A Stormy and Sultry Sea was a deeply romantic spellbinding adventure.  It picked up, right where A Wicked and Beautiful Garden ended, and took us on a wild ride.  Some of my favorite elements from this story were…
If I had learned anything from Orion, it was that I was free to break all the rules and create my own game. And that was exactly what I was going to do.
Love Prevails:
Cassie pushed into my mind, "I love you."
I knew she did, but I loved her more. I was put here on this earth solely for her, and Cassie was put here for much more than me.
At the heart of this story were Cassie and Orion.  We alternated not only between them, but there were also a few chapters from 9 years ago, when they first met.  A witch and fae are not meant to be together, but they defied the rules.  Their love was passionate, consuming, altered some of the choices they made, and was what fueled this story.  I loved watching how they came to be together and where this journey took them!  Their relationship felt solid now, and I loved seeing to what lengths they would take to protect the other!
Side Characters Who Stole the Show:
"Two witches, a prince of hell, and the queen of the damned in the middle of nowhere." He glanced up and his cold blue eyes bore into mine. "One big happy forced-together family. Anyone want to take bets on who's going to crack first? And to let you know, it won't be me."
There were those I really shouldn't like.  One was Moloch, he was one of the princes from Hell.  Moloch and his brothers were fighting over who would have the baby, the queen of the demons.  But I didn't care that he was dark or did realllllyyy messed up things lol.  I kept looking for his redemption, goodness and I'm excited to see where he goes in the next book!  And then there was Ignis.  He was a fae who sat on the council.  Ignis threatened Cassie's death multiple times but there was just something about him that pulled me in again and again.  Both Moloch and Ignis could be good when they wanted to, but I always kept in the back of my head that they seemed to be consumed by darkness too.

Tumbling To an Unknown Future:

We're bad enough to do the dirty work God won't allow his angels to do, but we're just good enough we believe humanity deserves another try. We're like demented guardian angels.
There was a lot at play in this story.  Wren and Cassie were watching over the baby, who was the queen of Hell.  And that queen of hell was feeding on Wren and Cassie's souls.  Orion was trying to find Cassie, while the council was scared of his death that the seers foresaw.  There was missing witches and they met new characters who played important parts too.  I'm so happy I quickly skimmed the first book before diving into this one, because there were  many different threads taking place.  It allowed me to have a firm grasp on the characters and this world while I was taken on a twisty path that was a lot of fun!
Orion was mine, I was his, and nothing would ever tear us apart.
Betrayal, hope, secrets, love, friendship and death were splashed across the pages of A Stormy and Sultry Sea!  While I guessed one of the twists correctly, the other one never I never saw coming.  Plus, this book ends on the most epic of cliffhangers and I can't wait to see what will happen next!
*I voluntarily read and reviewed an advanced copy of this book, provided by the author. All thoughts and opinions are my own.*