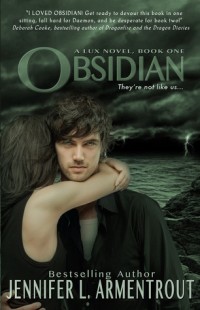 Obsidian
(
Lux #1
)
by
Jennifer L. Armentrout
Purchase on:
Amazon
, 
iBooks
Add to:
Goodreads
Synopsis:

Starting over sucks.

When we moved to West Virginia right before my senior year, I'd pretty much resigned myself to thick accents, dodgy internet access, and a whole lot of boring...until I spotted my hot neighbor, with his looming height and eerie green eyes. Things were looking up.

And then he opened his mouth.

Daemon is infuriating. Arrogant. Stab-worthy. We do not get along. At all. But when a stranger attacks me and Daemon literally freezes time with a wave of his hand, well, something...unexpected happens.

The hot alien living next door marks me.

You heard me. Alien. Turns out Daemon and his sister have a galaxy of enemies wanting to steal their abilities, and Daemon's touch has me lit up like the Vegas Strip. The only way I'm getting out of this alive is by sticking close to Daemon until my alien mojo fades.

If I don't kill him first, that is.
Review:
I love this series. No wait, I am obsessed with this series! Whether it's the infuriating smug sexiness that is Daemon, or the strong-willed won't take crap Katy, or the energetic lovable Dee or the annoying duo that is Ash and Andrew, I LOVED all of the characters in this book. And the story-line? Not only did it have me grinning like a loon and holding my breath, but I constantly found myself saying, "oh, just one more chapter" and you know how that usually ends up. Hours later and I still can't stop. JLA has created the perfect world that I want to get lost in again and again.
For a moment, all I could do was stare at him. He was probably the hottest guy I'd ever seen in real life, and he was a total douche. Go figure.
Katy's father passed away and her mom is in desperate need of a fresh start. So from Florida to West Virginia they go. In need of making her mom happy and looking for friends, she heads over to her next door neighbor's house to ask for directions to the local supermarket and a place to buy plants. Simple, right? So wrong! Katy ends up meeting Daemon. Sexy, shirtless, exasperating Daemon who knows how to push Katy's buttons and as she says "flip her bitch switch". From there you get to follow Katy on her journey to discover that Daemon and his lovable sister, Dee, are aliens. And how being friends with an alien can seriously turn your life upside down and scrambling with the basic need of how in the world do I stay alive.
Okay. That was it. "You know, you're right. How wrong of me to call you a douchebag. Because a douchebag is too nice of a word for you," I said, smiling sweetly. "You're a dickhead."
"A dickhead?" He repeated. "How charming."
I flipped him off.
Katy is by far one my favorite heroines. She never backs down from a challenge, doesn't take any of the garbage Daemon is constantly throwing at her, she tries her hardest to be fearless and is the best friend out there. She is an admirable girl that anyone would be lucky to call their friend. But my favorite thing about her? Her sassiness! She is one of the few people who will actually take a stand against Daemon and put him in his place. Her comebacks were hilarious and at the same time you can feel her heart breaking a little each time Daemon is cold to her. What did she ever do wrong? Why can't she be friends with his sister Dee? Why would that end the world? And why does he radiate so much pain when he lets his guard down for two seconds. And see, I find myself talking about Daemon. It's kind of hard not to.
My lips pressed into a hard line. "You're such an ass. Has…anyone ever told you that?" He flashed a genuinely amused smile. "Oh, Kitten, every single day of my blessed life."
Oh, Daemon. He is by far my favorite BBF ever. He makes aliens sexy, and I never thought that was possible. Daemon has the weight of the world on his shoulders. He alone feels responsible for past events that shattered his heart into a million pieces. He alone feels responsible for taking care of his sister and the others since he is one of the most powerful of them. And he alone feels as though it is his duty to send Katy running as far away as humanly possible. But is that what he really wants? Daemon's feelings towards Katy are a conundrum and you will feel as though you are suffering from whiplash. One moment his words are lashing out at her, begging her to leave them alone, and the next moment he is being his sexy, intoxicating self. Daemon will lull you into his web and even though you'll want to kick him or punch him, you know you'll never be able to do it. Because Daemon is the embodiment of infuriatingly sexiness. And heaven help me, but I fell for him hard.
Holding my breath, I reached up and brushed back a strand of hair. My fingers barely grazed his skin, but he sucked in a sharp breath and closed his eyes. I pulled my hand away, not sure why I'd done that.
The characters were addicting and impossible to get out of my head! The chemistry between Katy and Daemon was through the roof hot. There wasn't a chapter that I wasn't smiling at their passionate banter! And the story progressed at a perfect pace that always kept me intrigued and begging for more. Obsidian is an enchanting story that is just the start of Katy and Daemon's journey. Even though I love this book with all of my heart, the Lux Series somehow progressively gets better and better with each future story. When you read this story, be prepared to become obsessed!
PS I highly recommend reading Shadows (A Lux Novel) by Jennifer L. Armentrout before reading this book!
Save
Related Posts