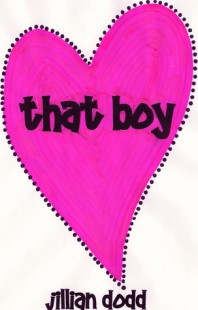 That Boy
(
That Boy #1
)
by
Jillian Dodd
Purchase on:
Amazon
, 
iBooks
Add to:
Goodreads

We're all busy people and it's easy to get so wrapped up in life, that we forget to live.

It seems that I am late to the party when it comes to this one. A diary-like story of a girl who grows up with two handsome men who both adore and cherish her friendship. Always together and always looking out for her well-being, they are inseparable-all three of them. But one…one boy will shine and become her everything, without her even realizing it.
How come a boy can be so stupid, but a Daddy, who actually used to be a BOY himself, can be so wonderful?
I really liked this dose of not-so-realistic cuteness. The idea of being friends with two boys since before you can remember and growing up with them as your best friends seems like a dream, a dream I would have loved to live in. Add to the fact that they're handsome as well and hey, I'd be a part of that dream any day-sign me up. But while I adored the protectiveness, and even sweet, tender gestures some of the time, there was a point where the voice of the story did not grow up along with her character's age. Forever trapped in a little girl's monologue, I have to say that this was the biggest flaw and my only real complaint with the story-naivety and lack of growth from the female lead. The narration was adorable up to a point, college to be exact, and then it became monotonous and completely unrealistic. But this hardly altered my view of this beautiful and totally fun journey of a girl who has two loyal friends into adulthood where she will ultimately fall in love with the man of her dreams.
You know life is weird. There are times I feel so grown up and like I know everything I need to know, but then I think about the future and realize how little I do.
Phillip is the cute boy next door (literally), and they have been joined at the hip since birth. He is her prince and she his princess, always playing a fairy tale game. Always the responsible one, the one that looks after her, is her shoulder to cry on. They do everything together, and no one can come between them.
Enter Danny, the boy who thinks girls have cooties and aren't good enough to play sports-until JJ shows him just what fun, athletic, little girls can do. They grow a different type of bond-a strong, unbreakable bond that will keep them extremely close up and into college. Always the boy she gets into trouble with, her partner in crime-never afraid of a challenge. Never one to get flustered, Danny always plays it cool and doesn't treat anything with caution-he goes for what he wants-always.
Do any human beings ever realize life, while they live it – every, every minute?
I really enjoyed their journey as a trio, growing from children to young adulthood, never straying from one another and forever the best of friends. I absolutely
adore
who she fell in love with, and he was always my choice. I do wish it would have remained more of a mystery as to who she was going to end up with. At first, you really couldn't tell. Then, as the story progressed, it became increasingly clear that
THAT boy
was the clear choice of who would ultimately hold her heart forever.
A sweet, light read where I always found myself wondering when I would get time to get to the conclusion so I could see what THAT boy would do to win her heart-and when I DID find the time to reach the inevitable finale, I was so pleased, my heart might have burst into pieces….and my tearducts followed immediately after.
I only hope that my boy will treat me as THAT boy did, and I'd be the luckiest girl in the world. 😛 But until then, I'll remember this little tidbit that was both hilarious, and totally suited for me and my lifestyle-
If you can't dazzle them with brilliance, baffle them with bullshit.

Thanks JJ! 😛
My absolute favorite memory/quote-HAD to put this SOMEWHERE..considering it made me tear up tremendously.
View Spoiler » But then, Phillip reminded me of something that happened so long ago, I had completely forgotten it. He reminded of when we were ten, and he gave me my first kiss. We were on the swings out behind school, and right after he kissed me, he got up and ran away. Then all of a sudden, he stopped, turned around and yelled back, Will you marry me someday? And I yelled back to him, YES! And so he said that if people ask, I could tell them that we've been secretly engaged for the past twelve years. And so,.. you will probably all think I am very crazy, but I had to say YES again tonight! « Hide Spoiler
Related Posts