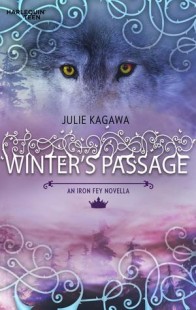 Winter's Passage
(
The Iron Fey #1.5
)
by
Julie Kagawa
Purchase on:
Amazon
, 
iBooks
Add to:
Goodreads
While this was only a novella, I thoroughly enjoyed it for the hour and a half or so I put into it. I wanted a little more of Prince Ash and I was sitting at work during lunch break and decided to read this-and I'm so glad I did.
Summer and Winter were not supposed to fall in love.
By reading this, I got little bits and pieces of Ash, that while some of it is being recapped in The Iron Daughter, there are also parts that aren't being mentioned again and I get to log those away in my creepy, obsessive BBF mind.
This is just the journey to the Unseelie court where Meghan agreed to go once Ash helped find her brother (in book one, The Iron King). In this we see that a hunter is tracking them as they make their way and no matter how fast they travel or where they go, the tracker seems to be nipping at their heels.
"Doesn't matter." Ash's grip around my waist tightened. "If it wants you, it'll have to get past me first."
I can't even begin to express how happy the sweet scenes between Meghan and Ash made me, so I won't. If you are questioning whether to give this series a chance on my recommendation….I'd say go for it. Yeah, there's a lot of fantasy elements in book one that stretched my limits, but I ultimately have fallen in love with this world and these two (or three, if you include Grim, the cat who is always showing up to follow them around and make deals) characters who won't get out of my head. And whether or not this novella is essential? Nah. But if you want some extra sweet and sexy time with Ash, I'd say it's worth your while. 😉
Related Posts