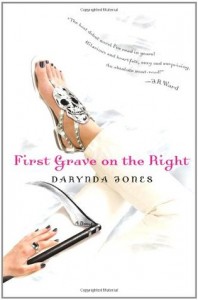 First Grave on the Right
(
Charley Davidson #1
)
by
Darynda Jones
Purchase on:
Amazon
, 
iBooks
, 
Book Depository
Add to:
Goodreads
Synopsis:

This whole grim reaper thing should have come with a manual.
Or a diagram of some kind.
A flow chart would have been nice.
Charley Davidson is a part-time private investigator and full-time grim reaper. Meaning, she sees dead people. Really. And it's her job to convince them to "go into the light." But when these very dead people have died under less than ideal circumstances (like murder), sometimes they want Charley to bring the bad guys to justice. Complicating matters are the intensely hot dreams she's been having about an entity who has been following her all her life...and it turns out he might not be dead after all. In fact, he might be something else entirely. But what does he want with Charley? And why can't she seem to resist him? And what does she have to lose by giving in?

With scorching-hot tension and high-octane humor, First Grave on the Right is your signpost to paranormal suspense of the highest order.
I was a little worried Garrett would try to give me a boost again by grabbing my ass. Then a little disappointed when he didn't. A girl had to get her thrills somehow.
Ugghhhh I haaaaate when I'm in the minority. What's worse, I was so so sure that I'd love this!! It's one of those things where you can tell that the series will be great, but the first book was a bit much for you. That's where I'm chillin'-on hope island.
While I normally weighed around 125…ish, for some unexplainable reason, between the hours of partially awake and fully awake, I weighed a solid 470.
After a brief, beached whale-like struggle, I gave up. The quart of Chunky Monkey I ate after getting my ass kicked had probably been a bad idea.
This male lead, right? This male lead was HOT. He was dark, mysterious, sexy and….dead? A ghost?? I think that's where my largest frustration came in. Being the neurotic BBF collector I am, I kept waiting for more Reyes. He would appear, literally, he'd appear virtually out of nowhere, and then he'd disappear just as quickly. I ached for his presence because, I'll be frank, the story itself didn't hold my attention. I mean to say, this particular mystery didn't appeal to me. I felt I was thrown into the middle of it too quickly-her jokes, her current predicament with Reyes, the mystery of the murdered lawyers…I just wanted something….different? Perhaps a physical Reyes instead of a ghost-like one?? Hmm maybe that's my ONLY problem.
I sat blindsided, stunned into silence a full minute, absorbing what Kim told me, turning it over and analyzing it in my mind. It was painful even to contemplate, like the thought itself was a physical entity, a box covered in razor sharp shards of glass, slicing though my fingertips every time I tried to open it.
I remember reading a review by Kat Kennedy that said it perfectly-basically our lead is in lust with Reyes, but we really don't get to see why she is so obsessed with him. There was this one instance where I texted my friend very excitedly because we actually got a flashback with him in it-I was ECSTATIC. It was the first real moment where we got to see more than a ghostly form feeling her up. He was real. He was tormented. He was scary. Ummm yum. I was SO invested at that point. I found his background to be so intriguing and it attached me to the novel in a way Charley couldn't….but these moments with him were few and far between.
"That's me," I said with an inane giggle.
She didn't smile back. Not even a little. I totally needed to read that book on how to win friends and influence people. But that would involve an innate desire to win friends and influence people. My desires were a tad more visceral at the moment.
I guess I'll be more specific-the mystery with the lawyers? Didn't interest me. The mystery of 'what the fuck is Reyes?' That hooked me. Near the end things begin to get revealed and again…while these revelations intrigued me….they also put me off a little. If it goes one direction, this will be a sinfully fun series. If it goes the way I'm thinking it will…not so much. There are big no-nos when I read my books and one direction would lead straight into the no-no forest. So I really really really hope and pray it stays on the road less taken, because the other shit? It's tired. I'm tired. Keep it simple, will ya Jones??
Okay, I also want to say: Just because this wasn't what I expected doesn't mean it wasn't a well-written or funny book. I laughed quite a few times, actually. And Charley is a really fun MC to follow. I just wanted more.
So without further rambling on my part, I bid you adieu. I don't think I'd rec this to my friends without seeing where it goes from here. If I'm confused, I can't imagine what my fickle (love you all-shhh, I'm saving you here) friends would think. It's a toss up, really.
Related Posts