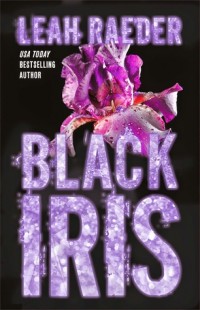 Black Iris
by
Leah Raeder
Purchase on:
Amazon
, 
iBooks
Add to:
Goodreads
Synopsis:

It only took one moment of weakness for Laney Keating's world to fall apart. One stupid gesture for a hopeless crush. Then the rumors began. Slut, they called her. Queer. Psycho. Mentally ill, messed up, so messed up even her own mother decided she wasn't worth sticking around for.

If Laney could erase that whole year, she would. College is her chance to start with a clean slate.

She's not looking for new friends, but they find her: charming, handsome Armin, the only guy patient enough to work through her thorny defenses—and fiery, filterless Blythe, the bad girl and partner in crime who has thorns of her own.

But Laney knows nothing good ever lasts. When a ghost from her past resurfaces—the bully who broke her down completely—she decides it's time to live up to her own legend. And Armin and Blythe are going to help.

Which was the plan all along.

Because the rumors are true. Every single one. And Laney is going to show them just how true.

She's going to show them all.
Review:
Black Iris was poetically beautiful.  From the way that the writing was intoxicating and a simple sentence could be woven with such beauty and grace.  To the message that the story delivered that was heartfelt and needed.  Even the way the relationship between Laney and Blythe would transfer from alluring to sexy.  Those elements were all perfect.  Unfortunately, I struggled.  A lot.  The darkness that was radiating from the pages was too intense for me.  I felt as though I was drowning from all of the pain.
Laney is looking for a fresh start.  Between having a mother that killed herself, to being taunted and tortured through high school, it is more than needed.  Upon meeting two new people, Blythe and Armin, she might have finally found her new beginning.  But a shadow from her past is looming back in her life, and everything is about to become a tangled mess.
Laney was dark, damaged, bitter and at times it felt as though she was trying to destroy herself.  To make herself become a blur in her own mind.  I tried my hardest, but struggled to feel a connection to her.  But while I struggled feeling that connection, I understood why she was that way.  Between the atrocities with her mother and the horrific way she was treated and suffered through high-school, it was impossible not to choke on her pain.  To not feel it cutting through you like a knife.  It was a constant that never faded, and could never be forgotten.  It was a part of who she was, whether she wanted it there or not.  Her actions at times, were unforgivable when she would use and manipulate people.  But at the same point, how could she not go down that path?
The light in this book for me was Blythe.  She was a good friend to Laney, and she would stand up and protect her.  The sexual chemistry between the two of them leaped off of the pages.  What they felt was real.  What they felt was intense.  I enjoyed the moments when it was just the two of them and Armin wasn't around.  Because in all honestly, I just didn't get him.  I never once felt a connection between him and Laney or even Blythe for that matter.  So of course I didn't want him to be with Layne.  It's probably horrible to say, but I kept waiting for him to disappear so she could delve into that connection she had with Blythe. Unfortunately for me, the moments of light were too fleeting.  After a quick glimpse, I would be dragged back down.  Whether it was the flashbacks with Zoeller or something else, it made me sick to my stomach for what she had to endure in life.  It was emotionally heartbreaking to watch so many events take place and not have enough joy to compensate for it all.  I know, believe me I know that life can be wretched.  Honestly, wretched is too kind of a word sometimes.  But personally speaking, I need more lightness then darkness in the books I read.  If even for an infinitesimal amount.  I tried my hardest, but I just couldn't find that here between the drugs, lies, betrayal and revenge.
I always go into a book, keeping my fingers crossed that it will be next favorite read.  And it pains me that I couldn't even get close to that with Black Iris.  But, I am happy the way certain things were handled, no matter how dark and twisted they were.  I enjoyed the relationship between Blythe and Laney.  And I loved the way the sentences were woven so poetically.  But, between the drug abuse, sorrow, hatred and revenge that permeated from the pages constantly, I struggled for air.  I kept getting lost in how everything was doused in depression.  Sadly, those feelings outweighed any other thoughts I had, and I just couldn't get past it.
*ARC kindly provided by Atria Books via Netgalley in exchange for an honest review*
Related Posts