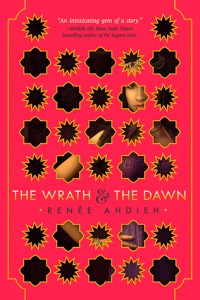 The Wrath and the Dawn
(
The Wrath and the Dawn #1
)
by
Renee Ahdieh
Purchase on:
Amazon
, 
iBooks
Add to:
Goodreads
Synopsis:

A sumptuous and epically told love story inspired by A Thousand and One Nights

Every dawn brings horror to a different family in a land ruled by a killer. Khalid, the eighteen-year-old Caliph of Khorasan, takes a new bride each night only to have her executed at sunrise. So it is a suspicious surprise when sixteen-year-old Shahrzad volunteers to marry Khalid. But she does so with a clever plan to stay alive and exact revenge on the Caliph for the murder of her best friend and countless other girls. Shazi's wit and will, indeed, get her through to the dawn that no others have seen, but with a catch . . . she's falling in love with the very boy who killed her dearest friend.

She discovers that the murderous boy-king is not all that he seems and neither are the deaths of so many girls. Shazi is determined to uncover the reason for the murders and to break the cycle once and for all.
I love you, a thousand times over. And I will never apologize for it.
Ahhh…okay. So I almost feel like these are the hardest reviews to write. All I want to do is scream and shout and fangirl and cry and just go completely crazy with my love for this story.
I mean….come on. You just finished the perfect book, you immediately want to:
–shove the book down your friends' throats Recommend it to all your friends and physically force them to read it
-Re-read it (Because all those heart-wrenching moments just weren't enough the first time around….you just NEED those feels again but you want to focus on them)
-Buy the hardback (oh….that's just me?? Whoops)
These are the basic Chelsea steps after finishing a wonderful new favorite. I can't say I have the same emotional response that most sane people do (see above), but give me a freakin' break. You just finished the most magical book and of course you want to gush about it mutually with your best friends. Of course I want those moments back, because no one flippin' knows how long it will be before you get another chance to get these same feels again-and oh, duh, as if that second book would be out any time soon…no, they'd rather gut you and leave you hanging (haha) until you can't breathe and ….where was I again? Right, anyway-I never wanted to leave this world and no one can make me-nah nah nah nah boo boo stick your head in doo doo (Thank Daniel Tosh for that lovely retort). And then here comes my truly psycho side-Why yes, if I love a book, I want to walk by my damn book shelf and see it displayed proudly. Never mind if I have already read it on my IPad-that's inconsequential. I love it, so I need to display it to my friends, family, and loved ones alike. I love to read….sue me. (I'm like a peacock, you gotta let me fly!! –again, I'm not dumb-thank Mark Wahlberg for that one)
"You were saying?" He was so close, his words were more breath than sound.
"How-how dare you say that to me?" she whispered.
His eyes glittered with something akin to amusement.
"How dare I imply you caused this mess?"
"Me? This is not my fault! This is your fault!"
"Mine?"
"You and your temper, Khalid!"
"No. You and your mouth, Shazi."
"Wrong, you wretched lout!"
"See? That mouth." He reached up and grazed his thumb across her lips. "That-magnificent mouth."
Okay. *takes deep breath* I'm fully present now and I will tone the childishness down a tad…but just a tad. Now for the story. I think it's almost better left unsaid what goes on in the book in large portions, but I do think you as readers need to know what you're getting into as a whole. While this story has a multitude of layers going for it, those of you who want immediate action aren't likely to receive it as quickly as you'd want. Each chapter unfurls an intricate new piece of a puzzle you so badly want to solve, but gratification doesn't come so easily. Maybe the largest problem for most readers won't lie in the mystery itself, but in the willingness of our lead female to not believe that there's a bigger picture going on around her… even as she realizes there is, in fact, a bigger picture going on around her. Simply put? She begins to understand that there's more to the story than meets the eye but she won't put aside her hatred to let that knowledge truly sink in.

I will live to see tomorrow's sunset. Make no mistake. I swear I will live to see as many sunsets as it takes.
And I will kill you.
With my own hands.

And as someone who absolutely cannot stand misunderstandings in books or movies alike, this could have bothered me-could-but it didn't. Shazi and Khalid's journey was so deeply etched into my heart that no amount of stupidity-on either of their parts-could lessen my affection for the story. But even after saying that, I really never felt that way-like they acted stupidly. Everything, to me, felt authentic and real, like two people who didn't care one bit about each other. Then, like many forbidden and slow-build romances, they began to find similarities in one another and slowly fall madly in love with each other…haters to lovers-my absolute favorite type of love story.
When Shahrzad looked at Khalid again, his eyes were alight with an emotion she recognized.
Pride.
And the moment felt so terrifyingly real that the thought of anything destroying it cinched the air from her body…
Like a silk cord around her neck.
It says something to me when I have literally no time-none-to read a long story (like this one) and I still power through and get [mostly] all the same feels I would have had I been able to read it all in one sitting. And much of that comes from the talent of this author and her excellent writing skills. So many words and phrases were beyond me in my perpetual state of zombie-ness, yet the beauty of the words entranced me in ways I thought were unreachable in such a state. This story had some of the most heart-wrenching and soul crushing quotes and passages that I have seen in a while (I'll Meet You There being the most recent soul-crushing favorite with amazing quotes), causing immediate shortness of breath and a beating heart careening out of control. My point? I felt this even when barely able to read and with extremely tired eyes.
"It's a fitting punishment for a monster. To want something so much-to hold it in your arms-and know beyond a doubt you will never deserve it."
-Khalid
So…Shazi. Shazi Shazi Shazi. I don't know about everyone else (Cough, Banana, cough) but I really loved her voice, being inside her head. She was strong-willed, determined, and not afraid. I sank headfirst into her plot for revenge, her thirst for vengeance-Shazi was drowning in a sea of hatred. She wasn't easily won over and not once did she waver in her plans….well….until him, naturally. Doesn't every girl's eventual demise begin with a boy?
His touch burned her skin.
The shame. The betrayal.
The desire.
No matter how darkly his manner is portrayed, he is still just one boy, and she's just one girl. Her story may have began out of hatred, but it ended in love.
"Some things exist in our lives for but a brief moment. And we must let them go on to light another sky."
Khalid isn't what he seems. Sure, he's fierce, harsh, doesn't forgive easily….and tortured. Don't forget tortured. 100 nights and 100 dawns, 100 girls and 100 deaths…that is the price. One life to one dawn…. I think I'll leave it at that, but I can't not say this-He may be fierce, but he's fiercely loyal. He may be harsh, but he's harsher to anyone that threatens those he loves (wink wink nudge nudge). And no he doesn't forgive easily….unless you're the only girl he's ever fallen for. In which case, you better have your sword ready-because he'll tear you to shreds and risk it all for her….just sayin'.
"What are you doing to me, you plague of a girl?" he whispered.
"If I'm a plague, then you should keep your distance, unless you plan on being destroyed." The weapons still in her grasp, she shoved against his chest.
"No." His hands dropped to her waist. "Destroy me."
Richly imaginative story-telling with a hint of an Aladdin feel to it, we get to relive a childhood favorite that was always larger than life. In this story we get to see the harsher side of when fairy tales go wrong. Not everyone gets their happily ever after…but some get second chances. I don't know if literally anything I said will convince you to read this, but I know this book is special. It progresses in a slow, syrupy and warm way that only increases your love for the characters and where their story is heading, but you never feel bored as the pieces begin to unravel before your eyes. And even more alluring is the slow-burn romance that speaks to you in ways you didn't realize you even wanted. So, I don't know. If you don't want to work for your enjoyment, then I suppose I'd go for something lighter. But then I think about how hooked I was from page one and I'm like….who wouldn't be hooked from the prologue? So read it, don't read it….that's up to you. But wouldn't you just love to meet the real life magic carpet? Oh yeah, not kidding-I went there.

"When you meet the one who makes you smile as you've never smiled before, cry as you've never cried before….there is nothing to do but fall."

********************************************
OOPS! Forgot to say I read this with my French Banana! The French Frowner strikes again…
OMG GUYS. OMG this book. Words cannot describe the utter love and sheer obsession I found while reading this book. Sosososososososososossoooooooooooooooooooo good!!! AGH!
That ending though…..
Review to come.
Related Posts