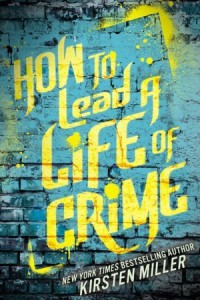 How to Lead a Life of Crime
by
Kirsten Miller
Purchase on:
Amazon
, 
iBooks
, 
Book Depository
Add to:
Goodreads
Synopsis:

A meth dealer. A prostitute. A serial killer.

Anywhere else, they'd be vermin. At the Mandel Academy, they're called prodigies. The most exclusive school in New York City has been training young criminals for over a century. Only the most ruthless students are allowed to graduate. The rest disappear.

Flick, a teenage pickpocket, has risen to the top of his class. But then Mandel recruits a fierce new competitor who also happens to be Flick's old flame. They've been told only one of them will make it out of the Mandel Academy. Will they find a way to save each other—or will the school destroy them both?
"What takes more guts? To fight for your own life at any cost-or prove that you're willing to lose it?"

Well, well, well….I am so beyond happy. <<< Eew that sentence, but it's so true! Months ago, I read a series that I absolutely cherished, adored, obsessed over-I Hunt Killers. It took me a long time to get over my Jazz boy, and anyone that didn't grasp my level of obsession over him would have to have been blind or wholly disinterested. But what do you do when you can't make extra books appear out of thin air when your favorite series of the year ends? You find similar books.
I don't care about Ghosts or girls anymore. I don't give a damn about proof. This monster is just waiting for a chance to kill it's creator. One way or another, I'll get out. And then I'm going to destroy him.
But, as it was, when I started this, I couldn't stop thinking of my wonderful Jazzy boy. So, this was put on hold until I could get my head out of that world and I could focus on this one. My long winded story ends here, I promise-This weekend I couldn't get into my book, so I scoured my e-library and saw this beauty. It suited my mood, it reminded me of a favorite, had an addicting and compelling story, and it had an amazing male lead that had me rooting for him from beginning to end. I wasn't sure how I'd feel about this book…but, in the end, it was a thrilling page turner that kept me on the edge of my seat.
I would sacrifice almost anything to stay here with her. And that's exactly why I have to leave. She will keep me from becoming what I need to be. And if she tries to save me, I will end up destroying her.
And that's the best part-It wasn't extremely fast-paced, it wasn't action on each and every page, and it wasn't what you'd expect. But, with all that being said, it was so much better. It was chilling, intense, underhanded, and brutal in it's subtlety. I didn't need non-stop action, nor did I need millions of things to happen at once. This story was so manipulative and gripping that I never once was thinking about anything but what was happening in front of my face-that is so rare for me. I am always thinking to the next chapter, the next page, the next problem, but because this was so intense I was so worried for our main character that I only cared what was happening to him in the here and now.
I thought this time, I was willing to do anything. Now Mandel will know that it's all just an act. Because there's one thing that I will not do. Not even to save the world from a monster. I won't let Joi die.
I don't know what I was expecting when I went into this, but I never expected for it to have The Testing vibes mixed with an I Hunt Killers theme I so immensely craved. And, even more than that, it was sad. Our poor boy, who had lived an inexplicably sad and undeserved life, was hurting-and rightfully so. More than once my heart ached for him and was torn to shreds as he imagined his little brother right beside him, even though he never truly could be again.
I'm not a lost boy, and I'm too old for a Wendy. But I want to remember her once before I let her go. All I get is a faint whiff of jasmine before my dream's interrupted. And then the last person I'll love is gone for good.
I choked on tears, wished for a better life than what he got, and hoped for him to make it out of Mandel Academy alive….but that's hard to accomplish when you set out to make enemies.
Second period just started, and I already have five enemies, a pretty blond stalker, and zero friends. It's a record, even for me.
Flick (No, that's not his real name) is a thief, a boy so good at pick-pocketing on the streets that all it takes is a flick of his wrist and he has your license, your money, your life in his hands-clever, eh?? His humor is exactly what I love in these books. Thrown into a world he'd have never wanted after losing his mother and almost identical brother, the only two happy things in his life, and being beaten for the most minuscule things (I mean it-like, being beaten to a bloody pulp) by his father, Flick is what you could probably call a 'tortured' male lead.
When I was younger, I'd make Jude stand beside me in front of my mother's closet mirror. We looked so much alike. I couldn't see what the difference was-I couldn't understand how my father could love one of us and loathe the other.
So, when he is offered a chance to go to Mandel Academy in exchange for information that will help him take down his father, the reason for all the bad things in his life, he accepts….but at a price-he must leave Joi, his last happy thing, behind without a word or notice.
Suddenly I see the problem with Jude's brilliant advice. Be who you want to be, he said. Well, the person I'd like to be would save View Spoiler »Violet « Hide Spoiler. But that would be dangerous. I could die trying-and there's only one of me to sacrifice.
I'll be quick-Joi is who makes him strive to be better, what keeps him from flipping his switch and turning into a monster. She helps anyone and everyone, never turning down even the most lost of souls, and she is a ray of sunshine in his-and many other children's-bleak world. But don't be mistaken-Joi can be a badass, too. But I don't want to spoil that for you ;).
Maybe he's not going to give me the choice to trade my life for hers. Maybe he's found another way to force me to watch the girl I love be destroyed.
All in all, I never expected much from this story. I didn't know where it was going or when the blurb would come into play-but I was never bored. And the minute the blurb does kick in? Wow. The things Flick has to do, the intense, multi-layered cast of CRAZY characters he has to encounter and go through….Wow. Keep your eye on a certain…yeah, never mind. Just watch out, 'K? It's never safe. Never trust anyone. And don't do anything you can't live with. This chilling cast of characters will make your head spin…..and I still am thinking about it, even a day after finishing.
This is how it feels to lose your last hope. To stop treading water. To unplug life support.

Related Posts