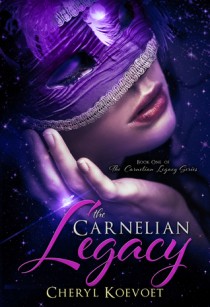 The Carnelian Legacy
(
Carnelian #1
)
by
Cheryl Koevoet
Purchase on:
Amazon
, 
iBooks
Add to:
Goodreads
Synopsis:

Marisa MacCallum always believed that the man of her dreams was out there somewhere. The problem is—he's in another dimension.

After the death of her father, eighteen-year-old Marisa's life is on the verge of imploding. She seeks comfort on her daily ride through the woods of Gold Hill, but when a mysterious lightning storm strikes, she is hurled into the ancient, alternate dimension of Carnelia where she is discovered by the arrogant but attractive nobleman, Ambassador Darian Fiore.

Stranded in a world teeming with monsters, maniacs and medieval knights, Marisa is forced to join Darian on a dangerous mission to negotiate peace with his cousin and archenemy, Savino da Rocha. Along the way, she starts to see Darian's softer side and finds herself falling in love. But once she learns that he is locked into an arranged marriage, her heart shatters.

When Savino falls for her charms and demands her hand in exchange for peace, Marisa is faced with an impossible choice: marry the enemy of the man she loves or betray them both and become the catalyst for a bloody war.
Review:
I desperately wanted this book to hook me, but I kept facing too many issues that prevented me from enjoying The Carnelian Legacy.  Which is regrettable because it was such an interesting take on living in a world with multiple dimensions.  I enjoyed the description of the world that Marisa MacCallum found herself in, and I truly adored Darian and Arrie who she first met upon arriving in Carnelian.  But I started to struggle when little mistakes in the story appeared.  While that's something I can forgive and move on from, the heroine then became someone who I struggled liking.  Throw in the fact that a strong Christian theme became prevalent, which was not stated in the synopsis on Amazon or Goodreads, and I started to realize that this book wasn't for me. At all.
Marisa is someone who I did enjoy in the beginning of the book.  She has just lost her father, and while needing some breathing space from her uncle and brother she takes her horse for a ride and ends up in another dimension.  Upon her arrival in a modern yet medieval dimension, she meets the friendly Arrie and the brooding, sexy Darian.  They sweep her under their wings and take her on a journey across their land.  The description of the places they visited and the perilous situations they found themselves in had me quickly flying through the pages.
But as the story progressed, Marisa became someone I struggled tolerating.  We were told that in the past she was a leader, but I never once saw a glimpse of that version of her.  Instead she became whiny, needy and was hot and cold more times than I could count.  And while I tried my hardest to be forgiving since she did just lose her father, is in another dimension and is scared, she did something that I loathe.  She became fickle and toyed with others feelings, and I can't be ok with that.  Skip this next part if you don't want to be spoiled – View Spoiler »She has finally admitted to Arrie that she is falling for Darian. YAY! But then a few hours later she is kissing his cousin and archenemy Savino! And Darian witnesses it. Then the next day she is referring to Darian as the man she loves. « Hide Spoiler  What?  No, no, no.  Oh, plus she refers to herself, while playing the part of a mute, as a dumb mute.  Just because a mute can't speak, doesn't mean that they are dumb.  Sigh, that irked me too.
So from those parts on, clearly I wasn't the biggest fan of Marisa.  But then the religious tone became more prevalent as the story progressed, and that is not my cup of tea.  I was shocked because not only did I NOT see the Christian aspect mentioned within the synopsis on Goodreads or Amazon, but I also read the first two chapters on Amazon to make sure that this book and I would mesh.  And we did mesh in those first two chapters!  But then talk of God, or Garon as they referred to him in Carnelian, praying, and even a Shepard showing up made me question what was I reading?  I am not one to pickup Christian books, and I definitely would have avoided this tale if I would have known what was inside.
So this book and I did not get along for various reasons.  While I was initially drawn into the story, I found myself struggling to finish The Carnelian Legacy.  While the traveling and friendships were fun, I couldn't find it in myself to like Marisa again.  Top that off with a religious theme and little mistakes here and there, such as a conversation being written to convey one thing but upon going back it clearly doesn't make sense now that I understand the correct context, and this book and I were not destined to be.
*ARC kindly provided by Abbott Press via Netgalley in exchange for an honest review*
Related Posts