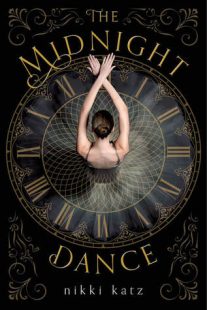 The Midnight Dance
by
Nikki Katz
Purchase on:
Amazon
, 
iBooks
Add to:
Goodreads
Synopsis:

When the music stops, the dance begins.

Seventeen-year-old Penny is a lead dancer at the Grande Teatro, a finishing school where she and eleven other young women are training to become the finest ballerinas in Italy. Tucked deep into the woods, the school is overseen by the mysterious and handsome young Master who keeps the girls ensconced in the estate – and in the only life Penny has never known.

But when flashes of memories, memories of a life very different from the one she thinks she's been leading, start to appear, Penny begins to question the Grand Teatro and the motivations of the Master. With a kind and attractive kitchen boy, Cricket, at her side, Penny vows to escape the confines of her school and the strict rules that dictate every step she takes. But at every turn, the Master finds a way to stop her, and Penny must find a way to escape the school and uncover the secrets of her past before it's too late.
I'm… not quite sure how to feel. On one hand, the writing was absolutely lovely, but I think the story was a bit of a miss for me personally, though that might be due to personal preferences! But let me say this first- this would make an incredible film! Can someone please make this into a movie? Thanksssss.
Penny is one of many dancers held up in the Master's estate. At the beginning, she starts to realize her memories are off kilter and something is very wrong. Despite being drawn to the (very handsome) Master (the owner of the estate), Penny discovers he's doing something to manipulate all the girls. (Sounds cool right?)
I was super into the first few chapters. The plot takes no time to dive you in deep, and I was totally into the whole Master concept. So much in fact, that I think it set my hopes too high for the end. I was expecting some majorly cool plot twists and while there were a few small ones, nothing really caught me off guard. So that's probably my fault-my expectation levels with the whole mystery thing were sky high, so I was sad when there were no big surprises. I DID like the few small ones though. I also felt like there were quite a few loop holes, but it could be that I missed some important details.
The concept was strong, but the characterization fell a bit flat for me. The focus was much more on the present circumstances and mystery vs the character's pasts or personalities, so I had a difficult time connecting to anyone, especially at the beginning. I get it, everything was supposed to be a mystery, but since the mystery aspect didn't have many surprises, I just had a hard time with it.
The Master totally had 'Darkling' vibes, and I LOVED that bit, but he kinda disappointed me in the end. It was cool that we saw bits of his story in the past but it didn't feel like strong enough motivation for him to become who he was. I'm SUPER particular about my villains though, so I doubt anyone else will feel the same.
Now I know that all sounds a bit negative, but trust me, those are all personal opinions that I doubt others will share. This book had MANY redeeming qualities. For instance, the setting was SO COOL and the writing (which I mentioned earlier) was absolutely lovely. While the mystery aspect was a bit of a let down for me personally, the story was still really cool and I really enjoyed several bits. I would definitely read another book by Nikki because she's an extremely talented author.
So all in all, If you're in the mood for a mystery/semi-thriller with hints of romance, check out this book!
Related Posts