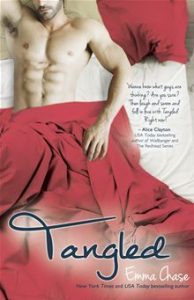 Tangled
(
Tangled #1
)
by
Emma Chase
Purchase on:
Amazon
, 
iBooks
, 
Book Depository
Add to:
Goodreads
Synopsis:

Drew Evans is a winner. Handsome and arrogant, he makes multimillion dollar business deals and seduces New York's most beautiful women with just a smile. He has loyal friends and an indulgent family. So why has he been shuttered in his apartment for seven days, miserable and depressed?

He'll tell you he has the flu.

But we all know that's not really true.

Katherine Brooks is brilliant, beautiful and ambitious. She refuses to let anything - or anyone - derail her path to success. When Kate is hired as the new associate at Drew's father's investment banking firm, every aspect of the dashing playboy's life is thrown into a tailspin. The professional competition she brings is unnerving, his attraction to her is distracting, his failure to entice her into his bed is exasperating.

Then, just when Drew is on the cusp of having everything he wants, his overblown confidence threatens to ruin it all. Will he be able untangle his feelings of lust and tenderness, frustration and fulfillment? Will he rise to the most important challenge of his life?

Can Drew Evans win at love?

Tangled is not your mother's romance novel. It is an outrageous, passionate, witty narrative about a man who knows a lot about women…just not as much as he thinks he knows. As he tells his story, Drew learns the one thing he never wanted in life, is the only thing he can't live without.
Women fall in love quicker than men. Easier and more often. But when guys fall? We go down harder. And when things go bad? When it's not us who ends it? We don't get to walk away.
We crawl.
This book was seriously so much fun! At this point in my life I've read a crap load of romances and I can easily list off what formulas do and don't do it for me. As long as the book and characters have that little something extra to set them aside, chances are I'm going to genuinely like them. This one for instance was a classic hate-to-love story BUT the thing that this book has going for it is that it's entirely narrated by Drew. I've read a lot of dual POVs before, but I honestly can't think of any that are by the male perspective. It was a HILARIOUS idea. Throughout the book if he or his friends would say something sexist, inappropriate, etc. he would do a little aside and kind of be like, "sure, I sound like a total douche right now, but you know it's true" or just explain himself in some way that had me kind of shaking my head like, 'okay, yeah, he's right, I get it' and then laughing to myself. I basically was laughing out loud for what felt like 75% of the book and when the world around is you stressful and chaotic, that can be a very good thing. 
Then I flip Kate the finger. Immature, I know, but apparently we're now both functioning at the preschool level, so I'm guessing it's okay. Kate sneers at me. Then she mouths, 'You wish'. Well—she's got me there, now doesn't she?"
I also was a big fan of the way it took a good 20% of the end of the book for Drew to make up to Kate. I feel like most of the time when the guy fucks up, he shows her one kind gesture to sweep her off her feet and all is well. Nope, Kate does NOT let up easy here. Drew has to work his ass off to show her that he's serious about her and I really appreciated that. I would very much recommend this as a lighthearted read that will have you laughing almost the entire time!
Assume nothing. Even if you think you know everything. Even if you're sure that you're right. Get confirmation. That whole "ass" cliché about assuming? It's right on the money. And if you're not careful, it could end up costing you the best thing that's ever going to happen to you.
And another thing—don't get too comfortable. Take chances. Don't be afraid to lay it on the line. Even if you're happy. Even if you think life is happy. Even if you think life is freaking perfect.
Related Posts