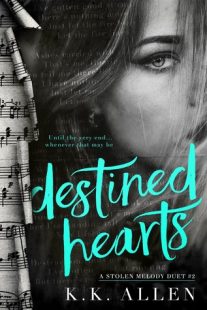 Destined Hearts
(
A Stolen Melody Duet #2
)
by
K.K. Allen
Purchase on:
Amazon
Add to:
Goodreads
Synopsis:

Two wrongs don't mend hearts like ours.

Lyric Cassidy is off the tour, lost as to what her next career move will be, and certain that she'll never love again after Wolf. All because of a social media scandal that left her with no choice but to pack up and face the consequences. When she learns that the fate of her career is in her hands, she has a difficult decision to make. Step back on the tour bus with Wolf and deal with the mess she left behind, or end her contract early and lose her job at Perform Live?

Wolf's shattered heart finds no resolve in giving Lyric a chance to come back on tour. He can never be with her again. Not after she walked away. Conflicted with wants and needs, he struggles to remember who Wolf was before Lyric. That's what he needs to become again. Maybe then his heart will be safe. Or maybe there's no hope for the damaged.

But with stolen dreams, betrayals, and terrifying threats--no one's heart is safe. Not even the ones that may be destined to be together.
Review:
I've found my perfect song. And there will never be a sweeter melody than Lyric.
Destined Hearts was a fabulous follow-up to Dangerous Hearts.  Angst, true love, devotion and friendship flooded the pages and I kept my fingers crossed that Lyric and Wolf would get the HEA they deserved.  But while reading this duology, I realized that I had fallen in love with the way KK Allen uses her words.  How she uses them to tell a story and capture the characters thoughts and actions is emotionally powerful.  Her writing is captivating, enchanting and entirely addicting.  I definitely need to binge the rest of her books!  So looking back, here are a few of my favorite things about Dangerous Hearts……
Wolf's palms rub up and down the top of my thighs as he looks at me darkly beneath hooded lids. "What the fuck are you doing, Lyric?" His voice is low and gravely, filled with hurt and desire. Such a dangerous combination. But isn't that what we've always been together? Two dangerous hearts that happened to find solace in each other's arms?
✩Figuring It Out:
Lyric and Wolf's words hurt each other, and they sliced each others hearts open.  It was raw and this book was even more emotional than Dangerous Hearts.  Especially since we got to dive back into their lives and learn even more about who they were.  As we started to see the full picture of Lyric's past, my heart broke for her.  It was obvious how much the past hindered her, and I loved watching her try to figure out how to help herself heal.  For her to be happy with her life, she had so much to work through.  From trusting Wolf, to dealing with her mother, to rekindling a relationship with her father, she had so much on her plate.  I was so proud of how hard Lyric worked and how far she came.  Especially with Wolf.
Fear and hope crash like waves inside my rib cage. Fear that he'll awaken and push me away. Hope that he'll eventually forgive me.
✩Side Characters That Mattered:
Thankfully Lyric had some amazing people in her life, like her best friend Terese.  I loved how Terese gave Lyric advice that was straight and to the point.  She desperately needed that in her life.  Since Terese was dating one of the band members, I was grateful that she there when everything kept crashing down.  I was also so grateful for Doug.  He was like family to Lyric and I loved how he looked out for her.  But my favorite of all was Lyric's dad. I can't say why, because of spoilers.  But he was an amazing and heartfelt human being.
God, I've missed this man. The way my body responds to him. The way he worships me with each touch.
✩Different Elements:
There were some scenes in Destined Hearts that was unlike anything we saw in Dangerous Hearts.  There was mystery, suspense and some intense action packed moments.  My heart beat faster and I was so terrified for what unfolded that I actually screamed out loud. So hold on tight because it was a wild and crazy ride!
"You have my everything for as long as you want it."
"Forever, then. I want all of you. And I want you forever."
Ohhh I also have to mention that one of my favorite things about this book was Wolf's patience.  It was the most beautiful thing ever. He was truly a remarkable being, inside and out.  Plus, the romantic moments were again scorching hot.  KK Allen knows how to right a scene that is beyond seductive and erotic.  Sigh.  So yes, I definitely recommend this duology!  If you adore romance, rockers or stories that have a beautiful way of being told then definitely pick up A Stolen Melody Duet!  I'm so thankful I did!
Related Posts