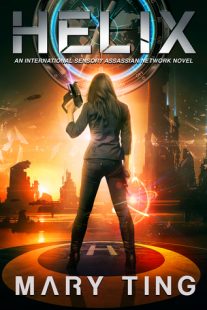 Helix
(
International Sensory Assassin Network #2
)
by
Mary Ting
Purchase on:
Amazon
, 
iBooks
Add to:
Goodreads
Synopsis:

ALLIANCES ARE FORMING. THE RESISTANCE IS GROWING.
EVERYTHING IS ABOUT TO CHANGE.

With her memory still fragmented, Ava returns to the International Sensory Assassin Network (ISAN) to find the twin sister she never knew she had.

But as Ava hunts for information, she finds herself tangled in a web of yet more lies and conspiracy. The Helix serum may not be required to access her superpowers, and the number of male assassins-previously considered too volatile to tolerate Helix-is growing in every territory.

The more Ava uncovers, the more of a threat she becomes to ISAN. Her only salvation may be to join the rebels-if she isn't killed first.
Review:
Helix was an action packed ride that had me on the edge of my seat.  The story was rich and intricate, the characters had my emotions pulled every which way and I loved how the stakes were even higher!  This book was just as addicting as the first, and I loved being back in this world.  If you love dystopian and books that play out like a movie, then you have to pick up this series!
I wasn't just a daughter whose father had experimented on her. I was the very thing ISAN should fear.
✮ A Different Take:
There was nothing I wouldn't do for her, even give up my own life. She was my world. No matter how long it took to get her memory back, I would be patient. But we were running out of time.
This story started out with Rhett's point of view!  And we switched back and forth between Ava and Rhett throughout the story.  I was dying to get into Rhett's head, in ISAN, and now we got to hear every single thought of his.  It added so much emotion and allowed us to learn about Rhett inside and out.  I absolutely loved how much depth it added to the story!
✮ Love is Powerful:
I love you with every breath, with every fiber of my being. My favorite place in the world is next to you. – Rhett to Ava
This story held the most beautiful love story.  With little pieces of the past coming back to Ava, it filled my heart with so many emotions.  There were moments that made me smile, made me have tears in my eyes and others that gutted me.  We got to see every single side of Ava and Rhett, and it made me love them that much more.  What they would do for each other?  It. Was. Breathtaking.  If you like to read about a power couple with an ever lasting love story, Ava and Rhett are it!
✮ Friends are your Family:
I ran to a hole in the floor and caught a glimpse below. Gunshots echoed and red Taser beams flashed across the darkness. I had no choice. My team needed me.
I jumped in just as the floor sealed.
The side characters in this series had so much life and shined so brightly!  We got to spend time and learn even more about Brooke, Tamara, Ozzie, and Reyna.  And while yes they were two groups of friends, they felt more like family to me.  They had each other's backs.  They trusted each other.  They would even sacrifice it all for one another. 
✮ Action and Twists:
"You're a traitor. You're a monster. You made me do what I had to do. I had to … You made me forget Rhett . Forget Ozzie. Forget Reyna . This is all your fault. My father. My sister. My mother …" My lips quivered as the words died on my tongue, and I couldn't hold it any longer. I choked on my words and sobbed.
The action and peril was intense, and I loved how this story continued to build and grow from the first book.  It became even more intricate and I soaked in every single tiny detail I could.  Especially since we were starting to get pieces to the bigger puzzle.  We still have a lot to learn, but what we did learn in this book?  It was exciting!  But there was one twist I never saw coming.  My mind was blown!  And it made me want to go back and skim certain parts of the first book and parts of the second book too.  So I did.  And ohhhhhhhh it was such a tricky and genius twist, I loved it!
Breathless. Speechless. His words filled me. A warm tingle traveled through my veins. His featherlight fingers journeyed up my arm to the curve of my neck, and then his thumb glided over my mouth.
Helix ended at the perfect spot.  I loved that we could finally have a moment to breathe, but at the same point I'm dying to know what happens next.  Especially since I'm not exactly sure how everything is going to play out.  So if you love action packed stories, intricate characters and a story line that'll keep you glued to the pages, definitely add this series to your tbr!
PS There was a line in Chapter 4 of ISAN that made me think I knew something about Ava's past and I can't wait to see if I guessed correctly or not in the next book.  Because I know we'll get our answer in there, eeks, I can't wait to find out!
*I voluntarily read and reviewed an advanced copy of this book, provided by Xpresso Book Tours. All thoughts and opinions are my own.*
Reading Order & Links:


Amazon

(click on covers),

iBooks (click on titles) & Book Depository (click on book #)


ISAN #1
Review:
Jen

HELIX #2
Review:
Jen

GENES #3
Review:
Jen

CODE #4
Review:
Jen
About Mary Ting:
International Bestselling, Award-Winning Author Mary Ting writes soulful, spellbinding stories that excite the imagination and captivate readers all over the world. Her books run a wide range of genres and her storytelling talents have won her a devoted legion of fans and garnered critical praise.

Becoming an author happened by chance. It was a way to grieve the death of her beloved grandmother, and inspired by a dream she had in high school. After realizing she wanted to become a full-time author, Mary retired from teaching after twenty years. She also had the privilege of touring with the Magic Johnson Foundation to promote literacy and her children's chapter book: No Bullies Allowed.

Mary resides in Southern California with her husband, two children, and two little dogs, Mochi and Mocha. She enjoys oil painting and making jewelry.

Website / Goodreads / Facebook / Twitter / Instagram / Bookbub
Giveaway:
Related Posts
I. LOVED. THIS. BOOK! I'm so grateful I got to be on this tour and I devoured this book oh so fast! So please check out my 5 Star Review below and enter in a fabuous giveaway. Enjoy!