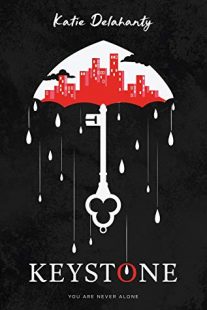 Keystone
by
Katie Delahanty
Purchase on:
Amazon
, 
iBooks
Add to:
Goodreads
Synopsis:

When Ella Karman debuts on the Social Stock Exchange, she finds out life as a high-profile "Influencer" isn't what she expected. Everyone around her is consumed by their rankings, in creating the smoke and mirrors that make them the envy of the world.

But then Ella's best friend betrays her, her rankings tank, and she loses―everything.

Leaving her old life behind, she joins Keystone, a secret school for thieves, where students are being trained to steal everything analog and original because something―or someone―is changing history to suit their needs.

Partnered with the annoyingly hot―and utterly impossible―Garrett Alexander, who has plenty of his own secrets, Ella is forced to return to the Influencer world, while unraveling a conspiracy that began decades ago.

One wrong move and she could lose everything―again.
Review:
Keystone was an instant favorite! It enraptured me in its spell and was impossible to put down. With characters that quickly snuck into my heart and a story-line that had me turning the pages faster and faster, I absolutely loved this book! It's unlike anything I've ever read before. If you enjoy dystopian, science fiction, a fabulous group of friends or even rooting for a heroine in a new world, then definitely add this one to your tbr!
Right then, I bottled up my feelings, turned them off, buried them so deep I'd need a treasure map to find them. I understood the flat look in Deena's eyes, the one that took my friend. Like her, I had to die inside.
It was the only way I was going to survive.
Katie Delahanty painted a vivid world that I easily got lost in. The first chapter started out with a bang. And there were lots of missing pieces to the puzzle. So I absorbed every single word trying to figure out what in the world was happening. We met Ella Karman, who just left her influencer life. With her name changed to Elisha DeWitt, she was on her way to train at a secret organization called Keystone. There she would learn how to steal information, since someone was changing history. We were just as clueless as Ella, for what was to come, and I loved learning right along with her!
He'd be great for my numbers. Stupid. This is why I can't trust my instincts. This isn't who I am anymore.
But I can't look away.
And neither can he.
My heart thumps.
One of the most ingenious things was the way the story unfolded. We started in the present, and I loved watching Ella train and figure out her new life. Her tests were intense and they made me nervous and have sweaty palms. But I was excited for what she was capable of doing. I felt every single thing she did and I was so proud of how hard she worked. But the people she trained with? While I didn't know what to think of some of them, others warmed my heart. I loved watching her form true, heartfelt friendships. Especially since she didn't have that in her past.
A slow smile spreads across his face. "I like to keep an eye on the competition is all. I know you're a fortress, Ellie. Don't worry. I have no intention of scaling your walls."
Stupid disappointment dips in my belly, but I shrug it off, fluttering my eyelashes. "You're welcome to try. I'm confident the dragon will get you in the end, anyway."
He bites his lip, holding back a laugh. "You're nothing like I expected."
Just when I thought I had a good grasp on what was going on, we jumped into her past. It was brilliant how we seamlessly would get glimpses of her past throughout the story. And it made me not only understand Ella better, but I saw how toxic her world was. People were ranked through their presence online and it established their worth. To keep her numbers up and her parents happy, since she influenced their worth too, she went along with or witnessed stuff that was horrific. The injustice and fakeness of it all made me sick. Yet Ella was trapped. I watched as lies and secrets shrouded her past. It was like a train wreck that I couldn't look away from.
Swallowing hard, I stare at him. "My heart runs deeper than you could ever imagine."
"I highly doubt that." His words are ice, and tears spring to my eyes.
"You don't know anything about my hurt," I say, my voice cracking. "Don't pretend to."
Not only was the story unique, but so were two of the guys I fell for. When we were in her past, we met Adam. With fake people surrounding her, he was a breath of fresh air. He was real. He spoke from his heart. And even though he played the influencer game, his connection to Ella made my heart beat faster. I fell in love with him through all of their moments together. Yet from that first chapter, we know he was there, when there was an explosion that killed Ella's friends.
"Need you? I need you."
His eyes sparkle. "Yes."
"You're right. I do need you. I need you to realize you're not God's gift to thieves."
"I love it when you're angry."
"I love it when you're silent."
He laughs.
And in the present, we met Garrett at Keystone. He was such a huge mystery to me. Garrett intrigued me and captivated my attention. He was completely addictive. Yet I didn't know where Ella stood with him. Especially since it seemed like he had a girlfriend. I wanted to know his thoughts and understand why he kept certain people around him. So I desperately wanted to know all of Garrett's secrets.
Garrett points to the ceiling, and I glimpse stars twinkling through a skylight.
CLICK
Grabbing me, Garrett throws me to the ground, covering my body with his. My insides leaping, I squeal, certain we're done for, waiting for the bullets to ravage us. He clamps his hand over my mouth as the walls around us shift, rearranging themselves into a new layout.
The latter part of this book, I swear I lived between having sweaty palms and smiling my face off. And here's the thing, I thought I knew where this story was going. But as we learned more about their world and started to see the bigger picture, there was a twist that was beautifully done. I never saw it coming. But looking back, I could see the clues, I just hadn't grasped what they meant.
The tears flow, my aching throat sobbing out the betrayal. Is anything real? Hiccupping, I gasp for breath, the fireplace blurring before me. Is anyone loyal?
So if you love stories that you can't stop thinking about, long after you close the book, then definitely add Keystone to your tbr. With a smart heroine who held her own, and a group of friends that were total squad goals, Keystone landed on my favorites list! Now I'll desperately be waiting for that next book. We got a lot of answers and ended at such a great spot, but I need to know where Ella's story goes next. I can't wait!
*I voluntarily read and reviewed an advanced copy of this book, provided by the publisher. All thoughts and opinions are my own.*
Related Posts